Comics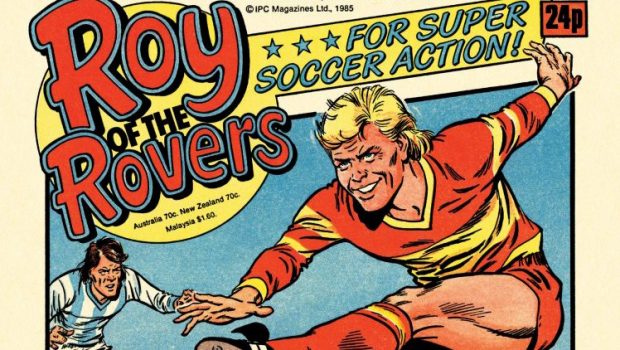 Published on June 11th, 2023 | by Tim Chuma
Roy Of The Rovers: The Best Of The 1980s Volume 2 Review (2023)
Summary: How much you will get out of this one depends on how much you like English football and the 1980s band Spandau Ballet which seems pretty niche even for one of these.
Originally starting as a comic in Tiger magazine in the UK in 1954 in the 1970s it became popular enough to warrant being published as its own weekly comic. This best of collects the stories around the issues with the two lead singers of the band Spandau Ballet being picked for the fictional side of Melchester after Roy the team captain and coach is impressed enough to ask them to join the side.
Having gone to the Community Cup in Melbourne for around 20 years I had to laugh at this as the musicians in that match are not so great playing any sport until they started running the pub football teams and it got a lot more serious.
How much you will get out of this one depends on how much you enjoy reading about football as you can just follow the games and the different plays at a surface level and not so much the main story if you want.
Having Spandau Ballet in the story absolutely dates it and makes the story pretty much a fantasy. From what I have read there are several storylines for this comic that do not really align with what would happen in the real world.
Although I didn't get as much out of it due to not being really into sports and it did not have the other stuff in the story like  Gene Luen Yang's Dragon Hoops but not sure if it was really trying to be that deep.
If you remember it from the time it first came out or are really into stories about football I would recommend it.
Book details:
Writer: Tom Tully
Artist: David Sque
Publisher: ‎ Rebellion
Published date: 8 Jun. 2023
Language: ‎ English
Hardcover: ‎ 176 pages
ISBN-10: ‎ 178618950X
ISBN-13: ‎ 978-1786189509