Comics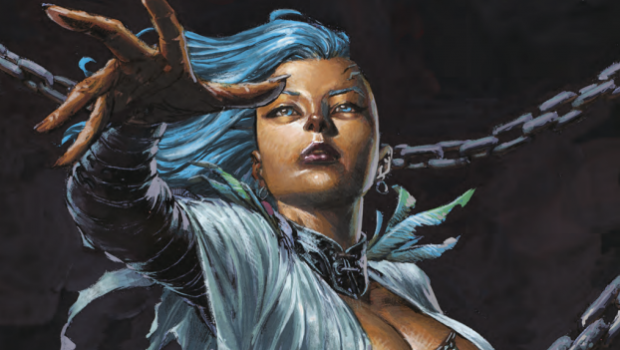 Published on September 13th, 2017 | by Dana Folkard
ROSE #6 REVIEW
Summary: The battle has begun!
The future of Ttereve hangs in the balance, as Drucilla's forces descend on the town of Millhaven. The odds are stacked against the rebels, as they are poorly equipped and outnumbered, however, they won't go down without a fight. Meanwhile, Rose and Thorne make their way to the frontline, but will they get there before it's too late?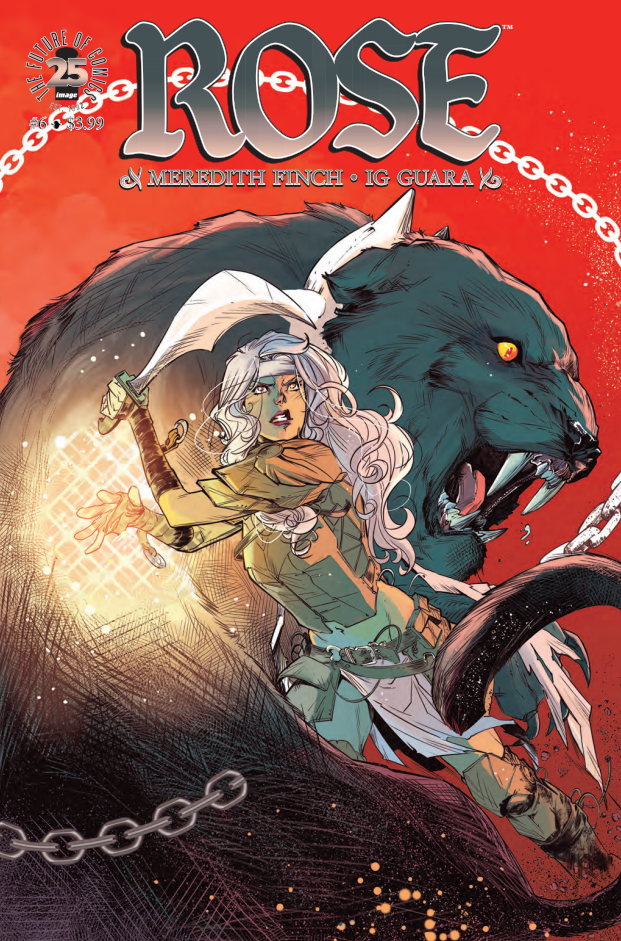 We begin this issue on the frontline, with Queen Drucilla's army pounding on the gates of Millhaven. The rebels have put up a fierce resistance and this prompts Drucilla to look at new ways of "motivating" her troops to fight harder. Unfortunately, this means threatening the lives of her troops children and families for motivation, as she is willing to sacrifice them if it means victory for her! The resistance is fighting strong, however, their luck begins to fade as their gate is nearly breached. Ila and Will fear for the progress of the battle, and desperately begin to think of ideas so that they may save their people. A cunning plan is hatched, that will take Drucilla by surprise, but the success of this plan rests on the sacrifice of one of their own. Meanwhile, Rose, Thorne and Dante begin to make their way back to Millhaven, seemingly unaware of the unfolding chaos of the war. Dante is confused and perplexed about why Rose saved him, and questions her about this, which prompts him to question his loyalty and allegiance to Drucilla. Thorne, however, is wary and warns Rose about trusting Dante too much, but the conversation abruptly ends, as smoke is spotted on the horizon, in the direction of Millhaven.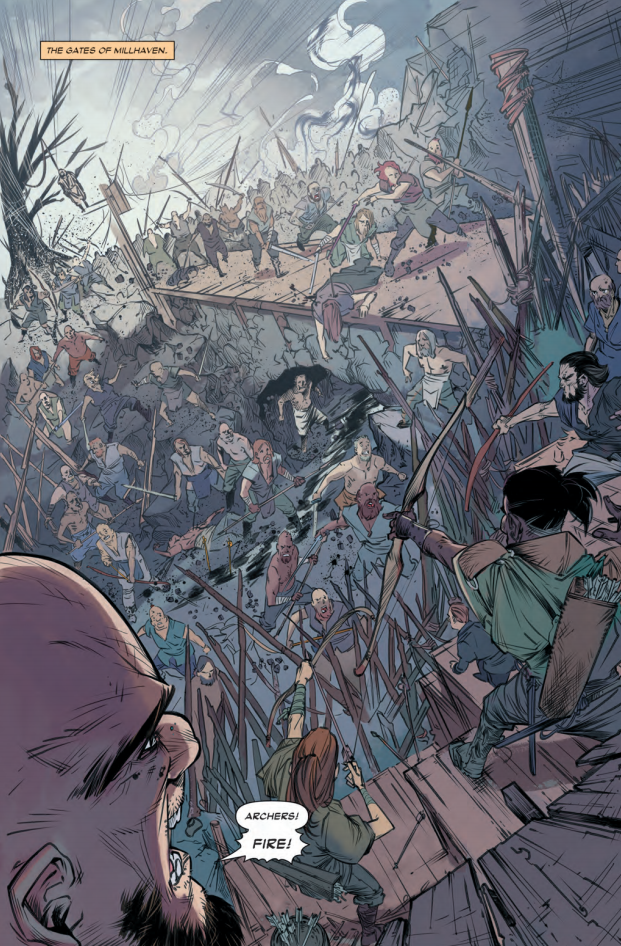 So here we are at the end of the first story arc, with things progressing quickly, ending with a cliffhanger. The pace is fast, as we are thrown headlong into the chaos of battle with the fate of the rebellion on a knife-edge. Drucilla's cruelty and depravity knows no bounds, as we see her sink to incredible lows…yep, this vile despot has gotta go! It isn't all doom and gloom though, as we see some selfless acts of bravery and sacrifice coming out of the rebel camp, which contrast dramatically to how Drucilla commands her army. It's great to see Rose and Thorne journeying together, and I enjoyed the new dynamic that the addition of Dante brings to their relationship. Rose is quick to trust and accept Dante as a new companion, however, Thorne is distrustful of this knight, and this may have something to do with his past, reflecting his misgivings towards powerful warriors. I'm curious to see how they will travel together, and definitely keen to know how Dante will react when he faces Drucilla again.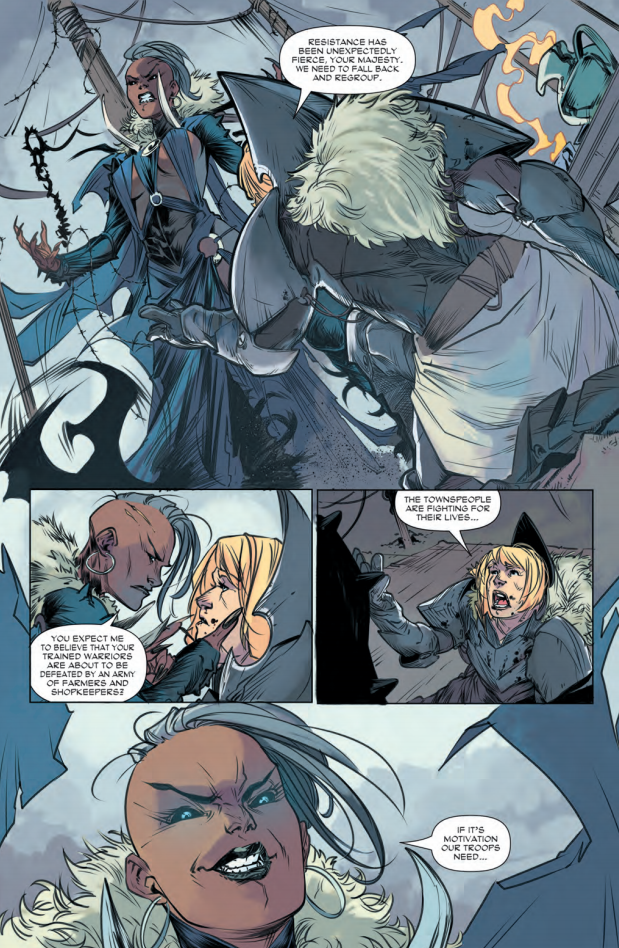 Artist, Ig Guara, captures the exciting and animated energy of battle through his intense and expressive illustrations. There is a lot of action unfolding on these pages, with every space taken up with beautiful details. I particularly loved seeing Drucilla's livid expression when she sees that her troops are struggling to break through the gates of Millhaven. Her face turn into a twisted grimace, filled with rage and frustration, reflecting her anger perfectly. I also like how Drucilla contrasts dramatically to Rose's kind and gentle face. Guara has done a great job at capturing the nurturing nature of Rose, as her thoughtful expressions reflect her kind soul and good nature. There is a childlike innocence with Rose, that may be a result of her sheltered life, and I find this is reinforced through her facial nuances and interactions. Triona Farrell's colouring is excellent, and I found it captured the dramatic tone of the battle perfectly. There are some scenes where she used dramatic splashes of colour, and I found this to be a very striking visual effect. I also enjoy how light reflects and radiates, whether it be from the blue haze emanating from Drucilla's eyes, or the humble glow of a burning candle.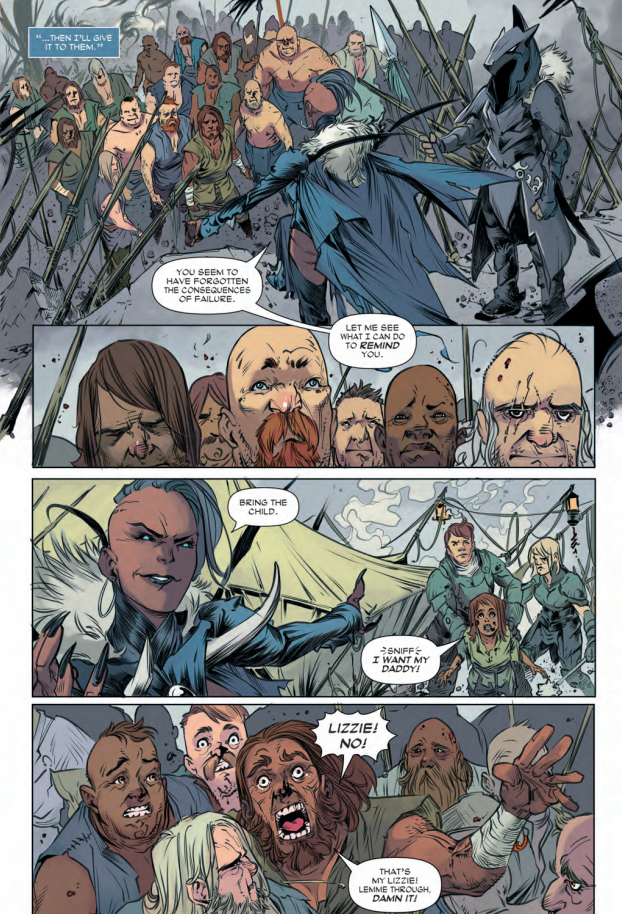 Overall, I found this to be an exciting and engaging end to the first story arc. I'm looking forward to seeing how the aftermath of the battle with unfold and what steps Drucilla will take next, and whether she will go ahead with the threats she has made. Grab a copy ASAP and prepare for battle!
I'm giving this issue 4.2 out of 5 stars!
---
COMIC DETAILS
CREATIVE TEAM: Meredith Finch, Ig Guara, Triona Farrell, Cardinal Rae and Andy Schmidt
PUBLISHER: Image Comics
PUBLICATION DATE: September 13, 2017
REVIEWER: Dana Folkard