Comics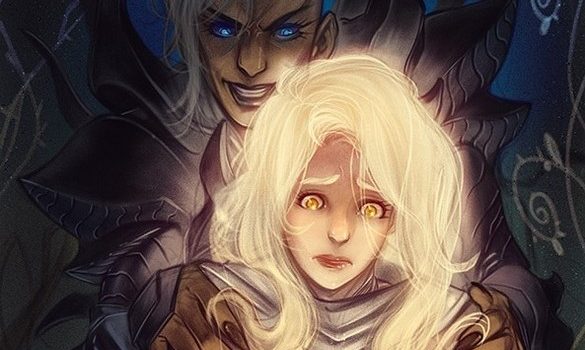 Published on February 27th, 2019 | by Dana Folkard
ROSE #17 REVIEW
Summary: A sacrifice is made forcing Rose to make a harrowing decision.
The epic finale is here!
The battle between good and evil has reached its climactic conclusion, as Rose and Drucilla face-off against one another for the very last time.
There is a lot of action in this issue, opening with Felix fighting the servant of Balor. The main bulk of the story, however, focuses on the conflict between Dante, Drucilla and Rose. Whilst Dante and Drucilla are engaged in combat, Rose mourns the loss of Thorne. As she clings to his lifeless body, she decides that she will summon her healing powers to try and save him. However, before she can begin, she is interrupted by two fallen guardians, who plead with Rose to leave Thorne as he is. They want to spare him the torment of what they have experienced, warning her that he will be like them, a shadow of himself existing between the realms of life and death. The fate of Thorne and Ttereve lies in Rose's hands, as she is forced to make a harrowing decision. This is the moment where we see the full power of Rose's magic shine, and it's a damn pretty sight to behold!
Meanwhile, we see Will return to the rebel camp, which is a joyous occasion as Ila is seated there recovering from the illness that had afflicted her. Artus' healing tonic has worked, meaning that the fight to overcome the plague is now finally over.
If you're wondering what happened to Dante, Drucilla and some of the the characters, well you'll just have to wait and read for yourself. I've decided to leave out a few important details when writing my overview of this issue, for fear of letting slip some spoilers. Never would I dream of spoiling the final issue of a series for anyone. So, keeping that in mind, I'm going to talk about a few things whilst being a little ambiguous.
We have seen our central protagonist, Rose, grow and develop over the course of this tale, as she encounters various trials, obstacles and heartache. Each of these events has shaped her in some way, often forcing her into a place where she has to make a crucial decision, but none more so than the choices she must make in this final issue. This is the moment where we see Rose's true character, as the path she takes quite literally reflects her inner self. We get to see this side of Rose personified in an interesting way that I found to be quite provoking and compelling.
I also thought that the overall ending was nicely wrapped up. It felt quite neat with a lot of tying up of loose ends, so to speak. I personally would have liked to have seen more from the rebel's camp, as I found their story to be an interesting one, however, I understand that the majority of this issue needed to be dedicated to the main story, focusing on Rose and Drucilla's conclusion. My only gripe, and it's a small one, is with the demonic god Balor. I was enjoying the excitement and anticipation that had been built up around this character, but in the end was left wanting more from this part of the story.
Ig Guara's art was very moving in this final chapter, perfectly capturing the raw emotion that we see in Rose and Drucilla. There were some very intense and impassioned moments between these two, both embodying very different emotions from one another, and each perfectly captured in their moving expressions. There is also a hell of a lot of action in this issue, with heaps of excellent fight sequences. I absolutely loved the fight between Felix and the servant of Balor, with the fluid feeling of movement as they darted about the page. Very compelling visually and just what you want to see when reading a high fantasy comic. Overall, I felt that Guara has been a wonderful and consistent artist, who has a natural ability of capturing the essence of each character effortlessly. The colouring by Triona Farrell is really quite lovely, framing the entire mood and tonal shifts of the story well.
Overall, I thought that this was a strong ending from an enjoyable series. I'm sad to see Rose finish, but all good things must come to an end. Thanks guys and great job!
I'm giving this issue 4.5 out of 5 stars!
---
COMIC DETAILS
CREATIVE TEAM: Meredith Finch, Ig Guara, Triona Farrell, Cardinal Rae and Andy Schmidt
PUBLISHER: Image Comics
GENRE: High Fantasy
PUBLICATION DATE: February 27, 2019
REVIEWER: Dana Folkard