Comics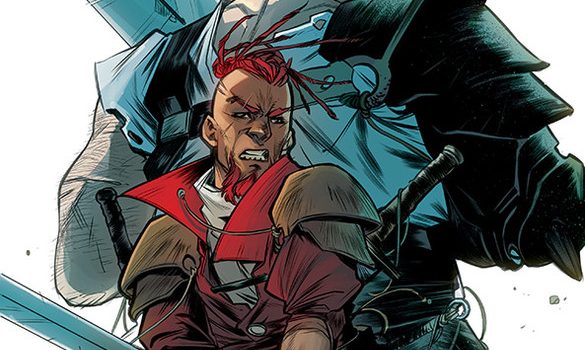 Published on January 9th, 2019 | by Dana Folkard
ROSE #16 REVIEW
Summary: The penultimate issue for the second arc packs a punch with intense and fast-paced action.
4.8
Swords and claws clash!
The moment has finally arrived where Rose and Thorne come face-to-face with each other. Will Rose follow Thorne into the darkness, or will she rise above it and fight for him, proving that she is the most powerful Guardian?
This action-filled issue begins with Dante and Thorne viciously fighting one another. Swords and claws clash as Rose helplessly watched on, chained and depleted of her magical powers, proving that Drucilla has been successful in eroding Rose's fighting spirit. Dante appeals to Rose to muster up the power, to fight for her Khat and the future of Ttereve. Whilst all of this is unfolding, Drucilla stands in the shadows, relishing in Rose and Dante's distress…the evil sod. Ultimately, it all comes down to Rose and what little strength she still possesses that will determine whether she can she summon the magic within her to free Thorne and herself from Drucilla's evil clutches.
Elsewhere in the castle, we see Prince Felix wandering through the family crypt. Deep within the catacombs, he encounters a demon-like creature of darkness. Without a moment's hesitation, Felix launches into battle, facing the beast head on! Meanwhile, Will and Artus devise a hasty plan so that they may get the potion back to the rebel camp so that they may stem the spread of the deadly plague before it's too late. Hectic times ahead for all!
Our heroes are certainly being tested in this issue, with swords clashing on all fronts. Rose, Dante, Will, Felix and Artus are all engaged in battle, fighting for their lives and for what they believe in. This is finally the culmination of this story, coming together to give us one hell of an epic and fast-paced issue. The odds are against them but not one of them gives up the fight, battling right on until the very end. Without giving away any spoilers, what I will say is that some sacrifices are made, which will hopefully turn the tide of battle. There is also an unexpected development with Rose's story, which will no doubt be a bit of a tear-jerker for some and leave others on the edge of their seat. We'll just have to wait until the next issue, the final showdown to see what will transpire. I'm biting my nails.
Ig Guara's art shines once again, as he perfectly captures the fast action and intense fighting sequences spot on. Every page is a feast for the eyes, with swords swinging, claws thrashing and men dashing. This is what I love to see when I'm reading a high fantasy comic: heaps of epic battle scenes and highly compelling fight sequences. It's exciting and all comes together to create a visually intense and powerful issue. I also really loved the emotional intensity that we see, especially during the Rose and Dante storyline. Here we get to see a lot of impassioned expressions between our leading characters. I have to say, however, that Drucilla's malevolent and somewhat mad face is my favourite. I just love seeing her all fervent and passionate with her hate towards Rose and Dante. The colouring by Triona Farrell really does a wonderful job at reflecting the various tonal shifts that we see unfold in this issue. From intense fiery reds during the combat sequences, to cold vivid blues during Drucilla's scenes, the palette is a winner and finishes off the visual narrative perfectly.
Overall, I loved this penultimate issue, finding it to be an intense and exhilarating ride. It's all coming to a head, with our heroes and the rebels getting ready for the final showdown.
I'm giving this issue 4.8 out of 5 stars!
---
COMIC DETAILS
CREATIVE TEAM: Meredith Finch, Ig Guara, Triona Farrell, Cardinal Rae and Andy Schmidt
PUBLISHER: Image Comics
GENRE: High Fantasy
PUBLICATION DATE: January 09, 2019
REVIEWER: Dana Folkard