Comics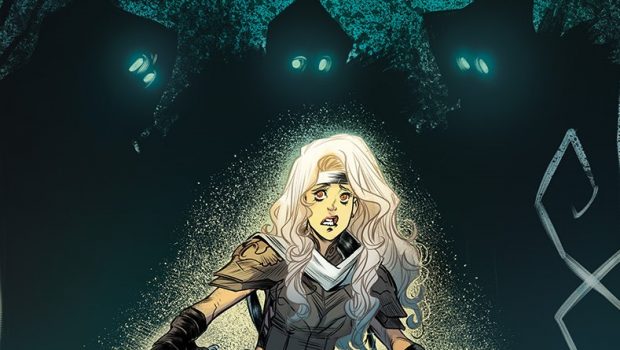 Published on November 14th, 2018 | by Dana Folkard
ROSE #14 REVIEW
Summary: Dante and Felix look for a way to free Rose and Thorne.
With Rose captured, Dante and Felix devise a plan so that they may find and deliver her back into the hands of the rebellion forces, hopefully with Thorne by her side. Meanwhile, Drucilla suspects that someone is plotting against her, prompting her to investigate.
This issue begins with Rose helpless and in the clutches of Dolora. Plans are being made for a ritual, involving Rose, and the time is quickly approaching for when it begins. Trapped and alone in a dungeon, Dolora's parting words are ominous, suggesting that something big and nasty lives deep inside the cavern. Rose isn't the only one in dire straits, as Thorne grows progressively weaker with each passing day. He is trapped, isolated and magically bound and unable to get to Rose. Time is swiftly running out for Thorne, which is concerning, as his fate is somewhat linked to Rose's. In another part of the castle, Drucilla grows impatient and frustrated believing that Rose has alluded her once again. Unaware that Dolora has Rose held captive, she takes her frustration out on her Fallen Guardians for failing in their quest to retrieve her. Drucilla is no dummy though, and begins to suspect a covert plot to usurp her is being hatched.
Meanwhile, at the rebel camp, Will's pessimism grows as he adopts a defeatist attitude and fail to see the point with continuing on with their campaign. This bleak outlook riles up Artus, who can only see the positives in the things they have achieved, and would rather focus on moving forward. Elsewhere, Dante and Felix are attempting to enter Drucilla's castle so that they may find Rose and Thorne. Quick thinking Dante devises a bold plan that will take them both inside and face-to-face with Drucilla herself.
Right, straight away this issue doesn't waste time, delving right into the important core elements of this story. The pacing throughout this entire issue is fast, with each new development being delivered in a quick and tidy fashion as it bounces around from character to character. There is a lot going on and a lot to take in with all of the various storylines, but Meredith keeps it clean and uncomplicated, making it easy and enjoyable to follow. I also want to mention the interesting character dynamics that we are beginning to see develop as they face conflict and their own personal struggles. For me, Rose has always been a story that delves into the heart and emotions of its characters, exploring their vulnerabilities and strengths in poignant and revealing ways. I enjoy seeing these developments, with many of the characters starting to open up about their feelings more as they begin to change.
Ig Guara's art is very emotive and highly compelling. For me, it's all about the intense and animated expressions that we see, which help to reinforce the emotional shifts in this issue. His linework is gorgeous and detailed and his inking is intense and heavy, which makes for some beautiful and provoking art. I also found this issue to be quite moody and atmospheric, with the overall outlook for the rebel side to be rather bleak. This is definitely echoed in Guara's art, with many of the scenes unfolding in Drucilla's dark and foreboding castle and dungeons. The colouring by Triona Farrell is quite beautiful, with deep purples and intense blues dominating. It's a striking palette that works really well alongside Guara's art.
Overall, I thought that this was an intense and fast-paced issue of Rose. Things are certainly progressing at a quick rate, with many interesting developments in the fold. Right now, my main concern is Rose and Thorne, and I hate that I have to wait a whole month until I find out what happens next!
I'm giving this issue 4.8 out of 5 stars!
---
COMIC DETAILS
CREATIVE TEAM: Meredith Finch, Ig Guara, Triona Farrell, Cardinal Rae and Andy Schmidt
PUBLISHER: Image Comics
GENRE: High Fantasy
PUBLICATION DATE: November 14, 2018
REVIEWER: Dana Folkard