Blu-ray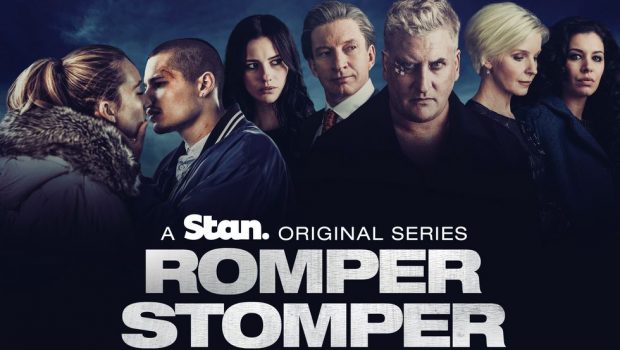 Published on January 28th, 2019 | by Admin
Romper Stomper Season One Blu-ray Review
Summary: Romper Stomper is a disturbing yet compelling TV series
The hit Stan TV series Romper Stomper is now available on Blu-ray (reviewed) and DVD that revitalizes Geoffrey Wright's 1992 classic film which starred Russell Crowe and is just as powerful which provides an eerily gripping social commentary of Australia. The series also goes into high gear from the very first episode that sees a Hala festival shattered due to two protesting groups invading the event.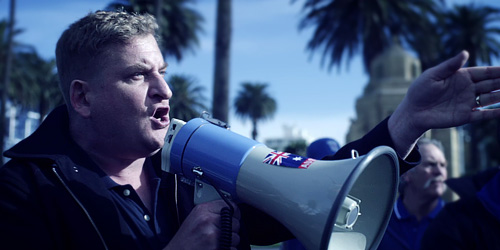 One of the main protagonists of the story is Blake Farron (Lachy Hulme) who plays the leader of Patriot Blue, a far right group of nationalists whose hatred towards the minority is quite scary. Adding to this toxic mix is Blake's girlfriend Zoe (Sophie Lowe) who has her own dark history with drugs and her addictive personality has been drawn to this man. Then you have Kane (Toby Wallace), a former solider in the military who really channels Russel Crowe's character in the classic film and is just as nefarious.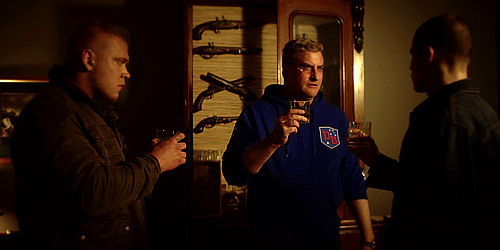 Adding to the turmoil of the story are the Antifasc who are their own power and as far-left as you can get compared to Patroit Blue which includes Lalia (Nicole Chamoun) and Farid (Julian Maroun), two Lebanese youths whose hands have been forced due to the lack of intervention by society. It's definitely a toxic mix which has strong parallels to the 1992 film but it's great seeing a contemporary twist. Although six episode, each is quite powerful and the series finishes with a violent cliffhanger as both groups clash.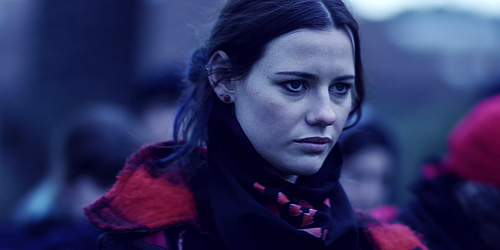 Episode Listing
Episode 1 – Arrival
Patriot Blue clash with anarchist group Antifasc at a Muslim festival. Kane's arrival disrupts the balance, and causes ripples through his estranged family. Laila is thrust into the role of publically representing a community.
Episode 2 – If Blood Should Stain The Wattle
Kane broadens Patriot Blue's mission and his relationship with its leader's wife, Zoe, reconnects with his sister Cindi. Gabe is heartbroken by Kane moving in fascist circles, but has keeps own shadowy connections.
Episode 3 – Poetry
Blake is suspicious of Kane's rising popularity and puts him to the test. Kane makes his move to assume power. Gabe alerts Marco of Kane's return, and police intelligence is compromised.
Episode 4 – The Dark Heart Of Things
Kane's takeover of Patriot Blue gathers momentum. After a failed ambush at a Patriot Blue funeral, Antifasc strikes back, with consequences spiralling out of control, inflaming racial tensions.
Episode 5 – Chaos
Both sides become focused on George Anabasis, a centrist politician with influence over a controversial Muslim immigration bill. Laila seeks his protection. Kane's attention is diverted by his feelings for Zoe and a potential deal with Marco.
Episode 6 – Anabasis
The story concludes in real time, as the competing groups converge on Anabasis. Extreme sentiments are enflamed on all sides and a violent conclusion ensues.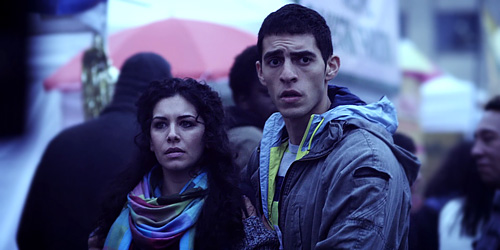 Video & Audio
Romper Stomper is a high quality release on Blu-ray with some exceptional video detail and audio quality. There's also an interesting colour tone which suits the dark element of this story.
Final Thoughts?
If you're looking for a gripping drama series, Romper Stomper makes for an excellent yet disturbing television series.