Comics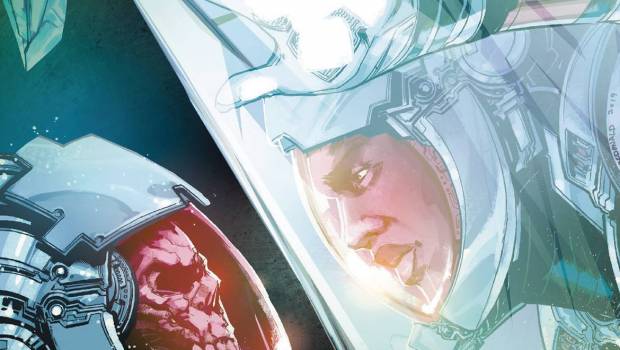 Published on September 10th, 2020 | by Sandro Falce
ROGUE PLANET #4 (2020) Review
Summary: The stakes are high, the clock is ticking, and the tension is turned up like never before in the fourth chapter of Rogue Planet.
Once again, Rogue Planet delivers an incredibly tense and fast-paced issue of sci-fi horror goodness.
This is the new title coming to us from Cullen Bunn (Harrow County, Deadpool), Andy MacDonald (Batman, Loki) and Nick Filardi (Umbrella Academy), and so far I've been a big fan. Despite a simple and familiar premise, Rogue Planet has consistently been a tightly told tale of exploration and survival, mixing in classic sci-fi horror concepts with grotesque, almost Lovecraftian alien designs.
In this fourth chapter though? Everything is turned up to the extreme.
As the lead characters begin to learn more about the world they've landed on, they realize that the stakes are higher than anticipated. There's some dangerous stuff going on here and they need to get off as soon as possible. There's a real desperation in the way this issue is told, which keeps it moving along as a rapid pace.
Everything is really ramping up as it feels like we're approaching a big story-point in this tale. If you're a fan of sci-fi horror, Rogue Planet is a title you need to jump onboard of right now. It can only get more tense from here.
Rogue Planet #4 is out right now via Oni Press.