Comics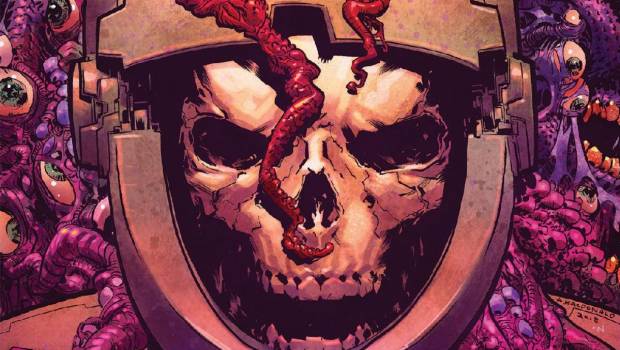 Published on May 11th, 2020 | by Sandro Falce
ROGUE PLANET #1 (2020) Advanced Review
Summary: An exciting new adventure with a likeable cast of characters, some unique sci-fi concepts, and disgustingly wonderful alien designs.
Out in deep space, the crew of a salvage vessel named Cortes pick up a signal. They follow it to a planet, believing there to be a massive payload down on the surface. Going out to explore, they find the barren, ugly landscape of this planet holds nothing for them but unimaginable alien horrors.
This concept is nothing new in the world of sci-fi horror; the idea of a crew landing on a planet filled with dangers is a tried and tested formular that can usually offer a couple thrills, but nothing much else. However, this opening chapter of Rogue Planet has something else… Something special.
From writer Cullen Bunn (Harrow County, Deadpool), illustrator Andy MacDonald (Batman, Loki), and a coloring credit from Nick Filardi (Umbrella Academy) comes this new, thrilling Oni Press title.
The opening couple pages act as more of a cold opening, introducing you to the potential threat while also showing off some of the gruesome alien designs that will be coming your way throughout the book.
Then we meet the crew of Cortes. Right from the start, you can tell that these are fleshed out characters, each with their own personality that's sure to shine in different points during the title's run. The dialogue flows naturally, the exposition is hidden well, it's just all-round excellent writing.
The art for these lead characters is also quite distinct. It's a little rough but still refined, and the shading is excellent. But where the art really shines is when you arrive on the deadly planet. The landscape is very well realised and the various creatures are disgustingly wonderful. It's almost lovecraftian, the way that they are made up of various organs, all mashed together to create a towering monstrosity. Right from the opening page, you get a sense of the inherent danger on this planet and worry for these unaware characters who are walking right into it.

On top of the clever alien designs, there's some fairly unique sci-fi elements in play here as well. In particular, this universe's idea of hypersleep. Usually on a title like this, characters would enter a statis pod while traversing space, however that is not quite the case here. I won't spoil it but it was a very interesting idea that I hope comes into play in future issues.
The first offering of Rogue Planet blew me away. As soon as it ended, I wanted more, so you bet that I'll be returning for future issues. It's sharp, tight, clever, and suspenseful – everything a great sci-fi horror should be.
Rogue Planet #1 is released May 27th via Oni Press.