Hardware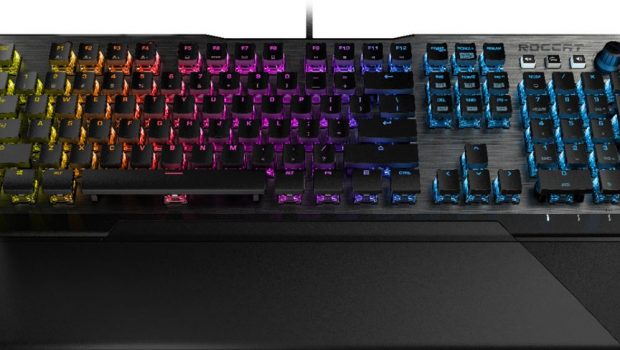 Published on May 30th, 2019 | by Tony Smith
Roccat Vulcan 120 Aimo Review
Summary: Roccat Vulcan 120 Aimo is a super responsive gaming keyboard that is a joy to use!
The Vulcan 120 Aimo is the new mechanical keyboard from Roccat that makes for a great arsenal for gamers as you take on the villains or heroes of your gaming universes. Design-wise, the Roccat Vulcan 120 Aimo screams gamer and with the inclusion of backlit keys, it gives you another layer of functionality. Furthermore, it comes with mechanical Roccat's own Titan switches which for us are similar to Cherry MX Brown switches in terms of their click and more importantly, the 1.8mm actuation that make it great for typing as well!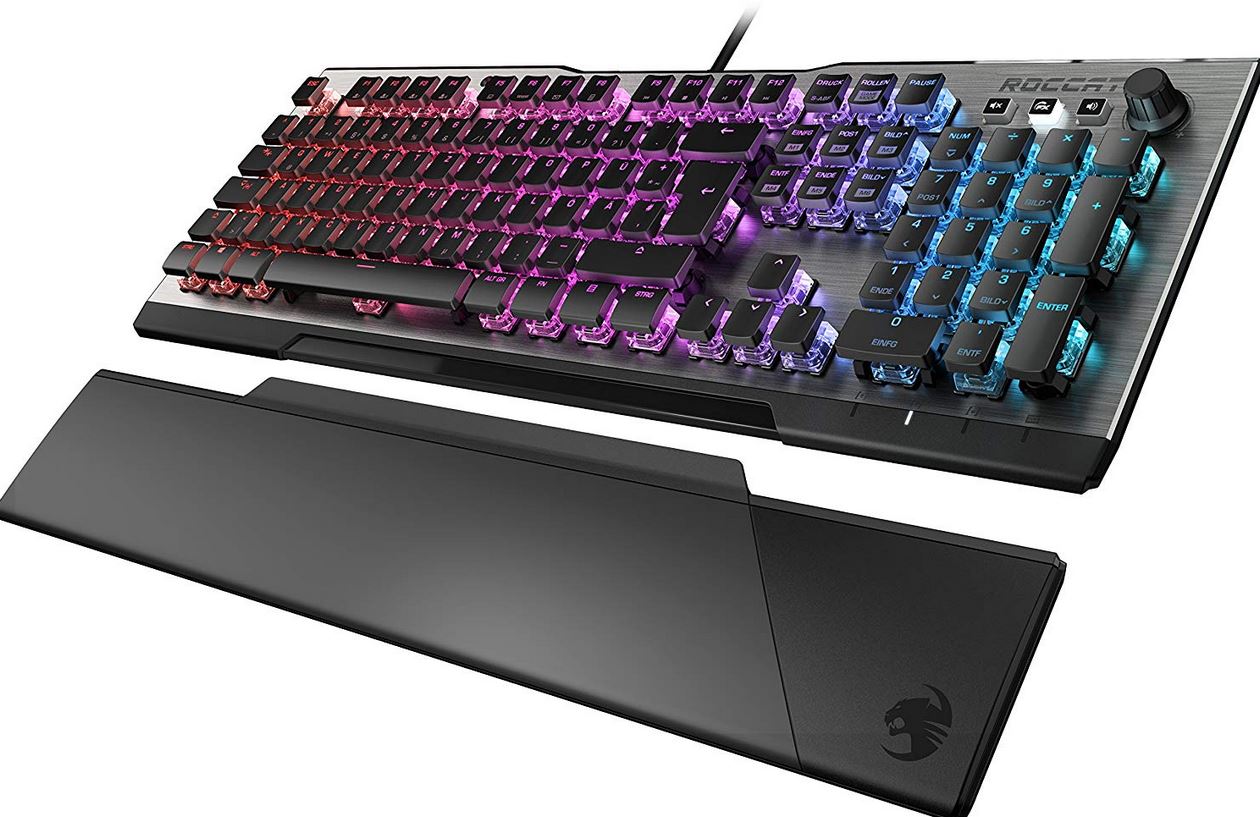 So let's check out the official blurb from Roccat, including the specifications and features of the Roccat Vulcan 120 Aimo.
The Vulcan is a precision gaming tool that lets you sense its performance from the first glance and the first key stroke. Developed following the renowned principles of German design and engineering, it is the best keyboard ROCCAT has ever built.
Specifications & Features
Brown Titan Switches
Full Keyboard
Actuation Point: 1.8mm
Switch Travel Distance: 3.6mm
Polling Rate: 1000Hz – 512kb
Integrated Macro & Settings Memory
All Keys are Remappable
Dedicated Media Buttons
Anodised Aluminium Top Plated Shields
Detachable Ergonomic Palm Rest
1.8m USB Cable
AIMO Lighting Engine
ROCCAT® Easy-Shift[+]™ technology
ROCCAT Swarm Software Suite
12 Months Limited Warranty
In terms of cost, the Vulcan 120 Aimo retails from 289.00AUD (May 2019) which is a good price point for this keyboard, especially for its features. However the first thing that we noticed about the Vulcan 120 Aimo were its aesthetics. Unlike more common gaming keyboards with a plastic shell, the Vulcan 120 Aimo has a brushed body which definitely channels some impressive style to a gaming keyboard. Then you have the lights and wow, this looks awesome and allows for zones as well.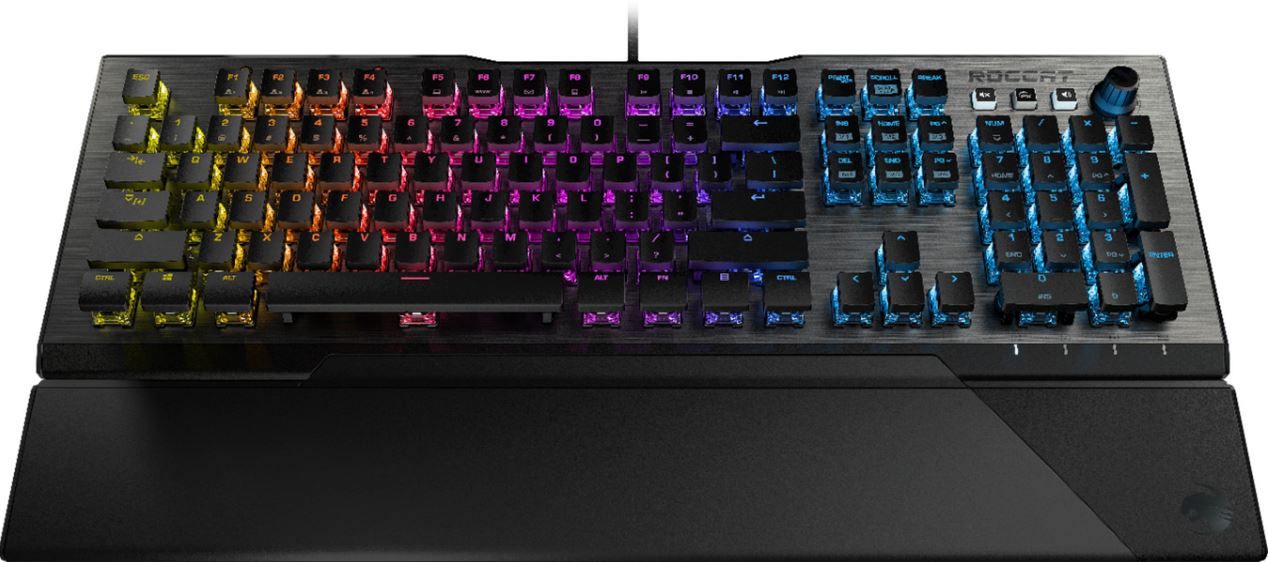 The keyboard also has an interactive dial on the top right plus three additional buttons, two to control audio (one lets you control volume with the dial and the other mute) with the third button allowing you to control the light effects with the dial. Another interesting element about this keyboard are the key caps themselves which don't cover the full mechanics of the key switches in order to add speed and when matched with the RGB LED, the entire design really comes together well. The only thing missing from the Vulcan 120 Aimo are dedicated macro buttons but you can use the function buttons so it's a moot point for us.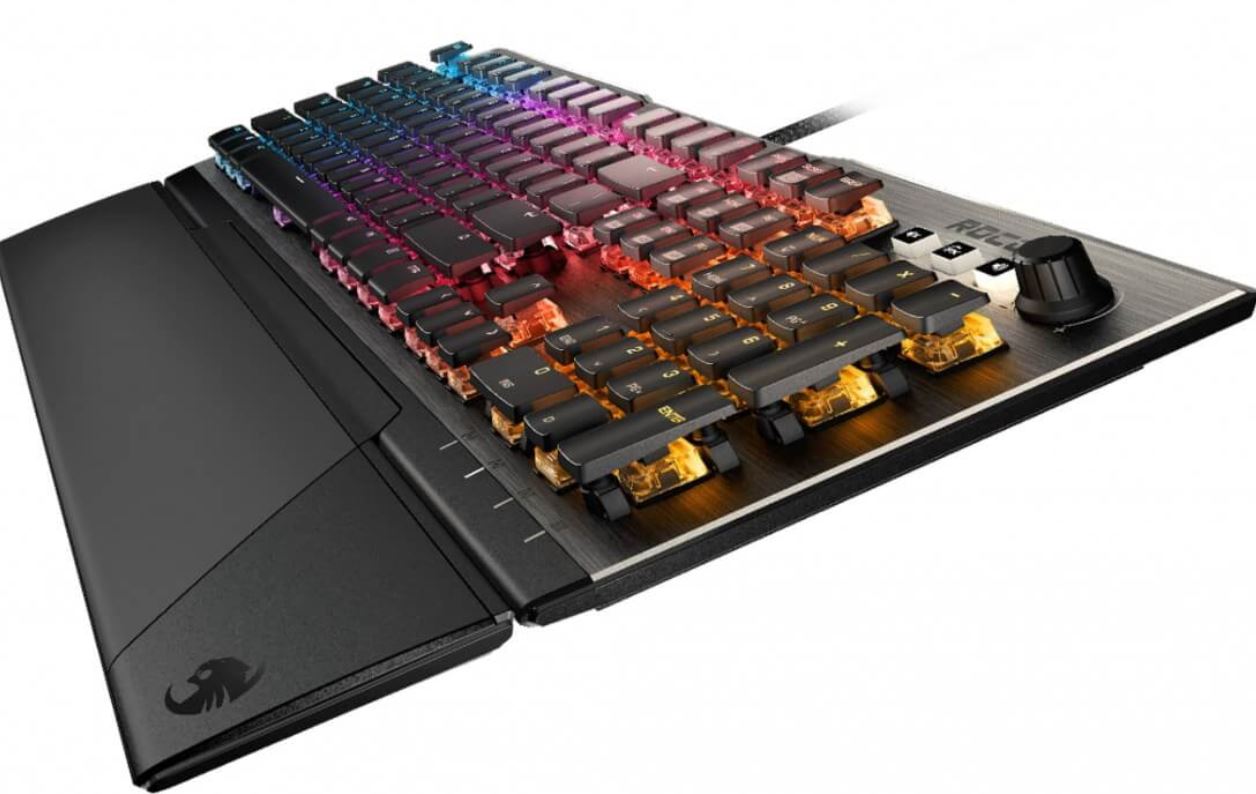 In terms of performance, the Roccat Vulcan 120 Aimo is very responsive and the switches feel great that in turn allows you to type or interact with the game quite fast. The Titan switches are also relatively quiet compared to other switches. Needless to say, games such as Overwatch, Battlefield I and World of Warcraft allowed us to hammer out our in-game interaction quite fast. There's also no ghosting so when you push a myriad of keys, they are all registered. All in all, a powerful gaming product from Roccat that was great for gaming.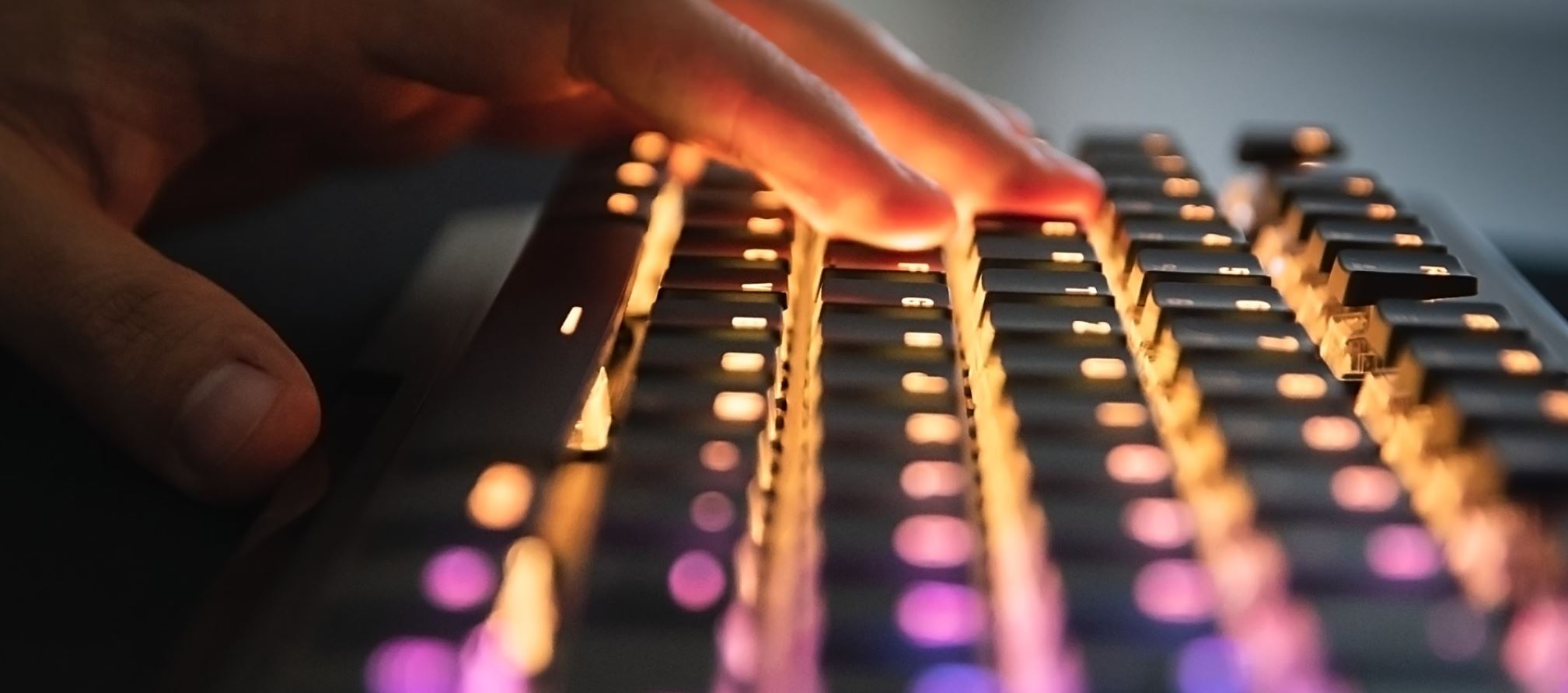 Final Thoughts?
After smashing out a variety of games on the Roccat Vulcan 120 Aimo, we found this gaming keyboard a treat to use courtesy of its tactile feedback that not only gives you a smooth responsiveness to your key presses but it also looks the part thanks to its design. Furthermore, it's also great for typing as well and comes with a good price point when compared to other mechanical keyboards with similar features.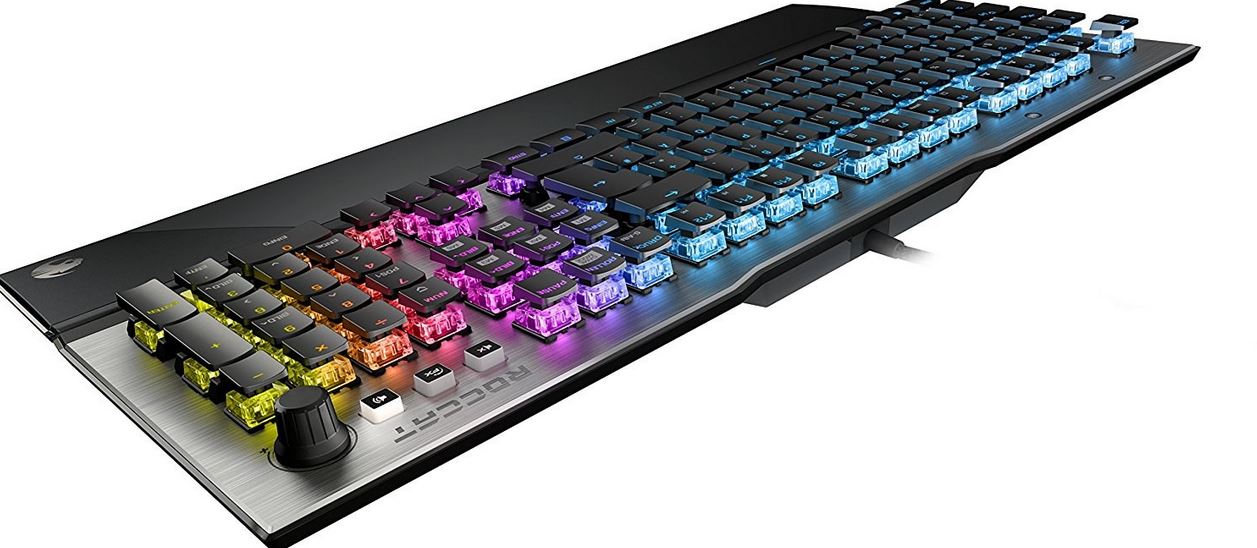 ROCCAT VULCAN – MECHANICAL GAMING KEYBOARD
The ROCCAT Vulcan mechanical gaming keyboard represents a powerful combination of technological innovation, robustness and illumination. It marks the first ROCCAT keyboard to feature inhouse-developed Titan Switches. The switches, designed from the ground up, were built for gamers craving a key stroke that was swift and precise while still being tactile. A toughened metal plate strengthens the Vulcan and protects it from knocks and falls, while keys are optimized to resist dust. The powerful AIMO lighting engine is brought to life with long-life LEDs and transparent switch housing that spreads the light evenly. The living light system is customizable on a per-key basis in 16.8M vivid colors/iconic ROCCAT blue color.
The Vulcan was developed with passion following the renowned principles of German design and engineering. It is a precision gaming tool that lets you sense the performance from first glance and feel it from the first key stroke.
NEW TECHNOLOGIES
The Titan Switch is the pride of the Vulcan. It was developed to breathe new life into aspects of mechanical switch technology in which innovation was long overdue. As well as a tactile and silent 1.8mm actuation point with a 3.6mm travel distance, the switches feature structural housing to reduce wobble while being pressed. They were also designed to bring electrical contact bouncing to a minimum, allowing firmware to recognize input 20% faster. Combined with the Vulcan's ultra-light key caps – 50% lighter than standard – key strokes feel incredibly swift and precise, responding rapidly to your commands.
BUILT TO LAST
A reinforcing anodized aluminum top plate bolsters the Vulcan, strengthening its structural integrity and shielding it from wear and tear. The detachable palm rest and the flat, low-profile design of the keyboard significantly improves the ergonomics, making it comfortable to use even after long periods of game time. The key caps were specially designed with easy maintenance in mind. They match the spacing and surface area of traditional key caps but feature a shortened height to make cleaning easy, complementing the Titan Switch's dust-resistant housing perfectly.
AIMO ILLUMINATION
The Vulcan provides the best possible platform for the AIMO lighting engine. Each switch features an individually configurable, long-life LED capable of displaying 16.8M colors in a variety of special effects. Transparent switch housing means the multicolor lighting shines impressively and is spread evenly from every key.
AIMO represents both a lighting engine and an eco-system at once. Its functionality grows based on the number of AIMO-enabled connected devices. It reacts organically based on your usage, presenting state-of-the-art illumination scenarios without the need for configuration.
Product Details:
1.8mm actuation point (tactile, silent)
3.6mm switch travel distance
512kb integrated macro & settings memory
All keys remappable
ROCCAT® Easy-Shift[+]™ technology
32-bit ARM Cortex-M0 based processor
1.8m USB cable
1000Hz polling rate
ROCCAT® Swarm software suite
RGB per-key illumination with 16.8m colors
Removable ergonomic palm rest
1150g weight
462mm x 235mm x 32mm dimensions