Hardware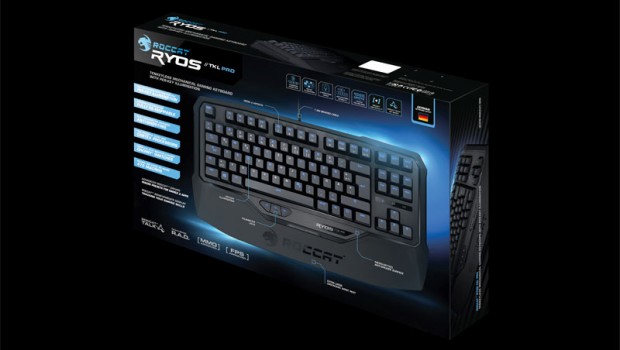 Published on February 3rd, 2015 | by James Wright
Roccat RYOS Pro Keyboard Review
Summary: Roccat RYOS Pro Keyboard is one of the best compact mechanical keyboards to date with some amazing gaming features and unparalleled accuracy
RYOS TKL Pro Tenkeyless Mechanical Gaming Keyboard with Per-key Illumination
Company: Roccat
Product: Gaming Keyboard
ROCCAT  CHERRY MX
Price: From $189AUD (Feb 2015)
Reviewer: James Wright
The Roccat Ryos TKL Pro keyboard is basically the baby brother of the Ryos MK Pro and contains very similar features at a more affordable cost. However when it comes to gaming accuracy, mechanical keyboards are your best arsenal for winning in your virtual worlds and Roccat's latest keyboard not only gives gamers access to CHERY MX key switches but also a plethora of other useful features to take your gaming to a whole new competitive level!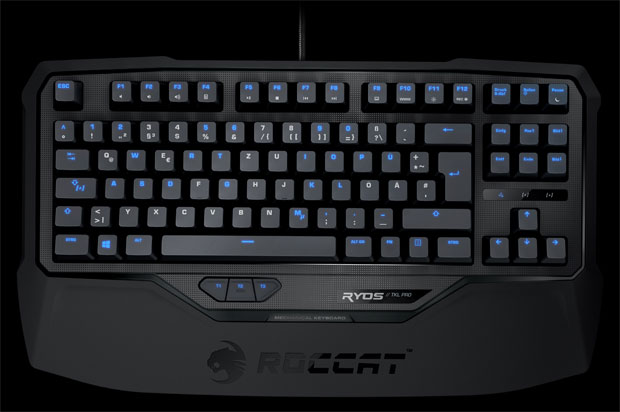 FEATURES
ENHANCED PER-KEY ILLUMINATION
insane customization possibilities
EASY-SHIFT[+]™ BECOMES EASY KEYBOARD
assign a secondary function to virtually any key
N-KEY ROLLOVER
means advanced anti-ghosting
HIGH-POWERED HARDWARE
two 32-bit ARM Cortex processors + 2 MB of flash memory
ROCCAT™ ACHIEVEMENTS DISPLAY
keep track of your vital statistics
KEY SWITCHES TO SUIT EVERY GAMER
CHERRY MX key switchs in blue, black, brown, and red
SMUDGE-PROOF GLOSSY LOOK
killer look – with no fingerprints
TENKEYLESS FORMAT
compact design without compromise
COMPLETE COMFORT, ROCK SOLID
jumbo-size integrated wrist rest
CLUTTER-FREE, SUPER-STABLE SUPPORT
in-built cable channel and five rubber feet
ROCCAT™ TALK® – SET BONUS
get more out of your ROCCAT™ devices
by combining their functions
For those that don't know, there are four main mechanical switches available which include blue, black, brown and red (reviewed). Each of the colours also require a slightly different force level that are aimed at your personal gaming preferences. Courtesy of Roccat, they have included the following descriptions of their CHERRY MX key switches and for this review, we tested the CHERRY MX Red version of the Ryos TKL Pro Tenkeyless Mechanical Gaming Keyboard.
BLUE
Keystroke feedback: audio and tactile
Force required: 50 g
Hint: The blue switch provides audio and tactile feedback. As well as feeling a slight bump when actuating the switch, you'll also hear a click. The switch is actuated when the key is pressed halfway down. This means that when you get used to the switch, you can have fast, fatigue-free typing.
BLACK
Keystroke feedback: none
Force required: 60 g
Hint: The black switch is completely linear, which means it does not provide any keystroke feedback. The switches also require above-average force to be actuated, making them ideal for gamers who want to avoid hitting the wrong key by mistake.
BROWN
Keystroke feedback: tactile
Force required: 45 g
Hint: The brown switch provides tactile feedback. This means you'll feel a slight bump when you actuate the switch, but you won't hear an audible key click as you would with the blue switch. This makes the brown switches a good middle ground between the blue and black switches.
RED
Keystroke feedback: none
Force required: 45 g
Hint: The red switch is linear, meaning it does not provide any keystroke feedback. Since the force required to operate to switch is below-average, the keys respond rapidly, precisely, and quietly – great for people who want silent, effort-free typing.
The keyboard is professional packaged and definitely feels like a high-end gaming keyboard when you take it out of the box. The keyboard also comes with a quick installation guide but for most users, you can pretty much connect the keyboard to your PC, download and install the software and you're ready to rock 'n' roll. It's that simple!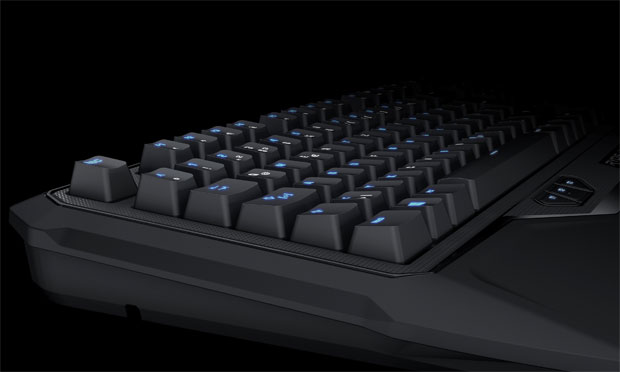 In terms of design, the Ryos TKL Pro is definitely a very sturdy keyboard that has this military aura to it and is oozing with gamer chic. It should also be noted that the CHERRY MX switches boast up to 50 million keystrokes so you can rest assured that this keyboard will easily outlast your current gaming rig.
Another cool aspect about the keys themselves is that they are laser-etched and UV-coated to ensure additional longevity. They also have a smudge proof layer on them to help keep them clean. Then you have the size and for a gaming keyboard, it's very compact and measures at 23.3cm x 40.4cm making this a very compact product. It is ideal for people who don't want to be cluttered in their real gaming space or don't want their desks to be cluttered.
Another addition to this keyboard is its streamlined designed that is ideal for gamers that want a shorter distance to their mouse thanks to the inclusion of Tenkeyless construction. So what does this all mean? Basically there is less space between your WASD keys and your mousepad and thanks to its streamline design.
The high quality braded cable is also quite long at 1.8 metres but once again Roccat have thought ahead and even included a Velcro strap to help with cable clutter or for transport. On the rear of the keyboard you can channel the cable in a number of different configurations that include two up the top, one on each side and two down the bottom.
If you've used the Roccat software before, then you'll be no stranger to it on the Ryos TKL Pro keyboard because it's essentially the same as its predecessors. Nonetheless, it's quite well created with five main tabs at the top which include main control, key assignment, key illumination, ROCCAT R.A.D. and Update/Support. Generally, the main two tabs is where you'll be spending your time with the main control allowing you to adjust the key illumination (aka brightness) or the key assignment which is ideal for setting up all those game macros via the profiles.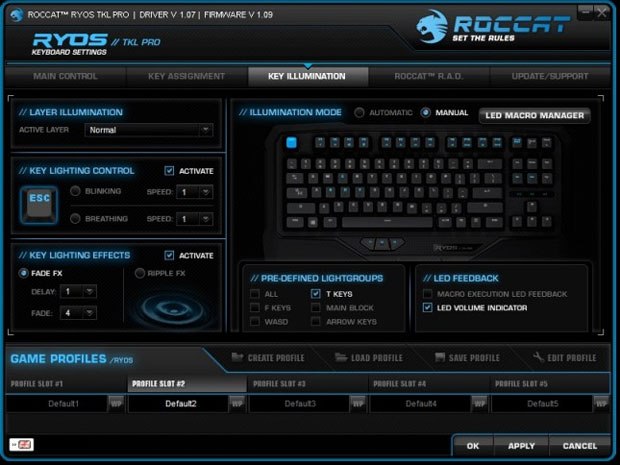 Apart from the choice of CHERRY MX switches, the Ryos TKL Pro supports some great configuration options, especially when it comes to illumination. Unlike traditional keyboards with limited illumination options, the Ryos TKL Pro takes this one step further with its customisation options and even pre-generated lighting configurations like starlight that makes your keyboard look like the night stars.
Also, rather than having only a couple of lighting choices with colours, this keyboard gives the user the ability to add their own special effects to the illumination such as fading or patterns. Given that, I really love the subtle backlighting of this keyboard, especially its fading effects while typing.
Add in custom configurations for macro sequences and even system controls and this keyboard is one of the most customisable gaming peripherals to date. However in order to experience the illumination and keyboard configurations, you do need to install the latest driver for this product which is basically the behind the scenes which allows the magic to happen.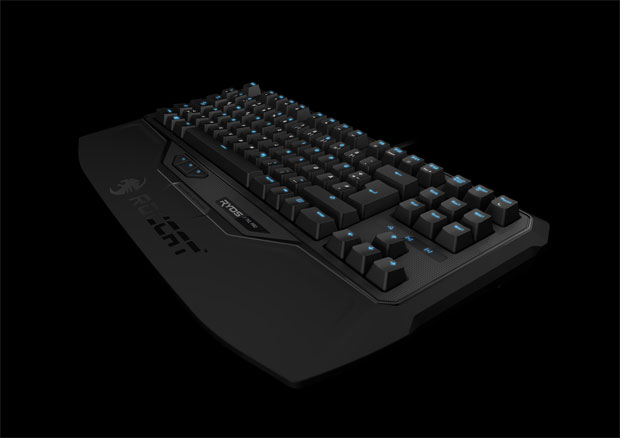 Under the hood, "so to speak", the Ryos TKL Pro boasts two 32-bit ARM Cortex processors with up to 2MB of flash memory which means you can store up to 470 macros that also include real-time. Hardcore gamers will also be pleased with the ROCCAT™ R.A.D that basically monitors your keyboard skills and even awards the player on how they play.
These statistics can then reviewed and even improved by the gamer and for those that like to boast, these can even be shared on Facebook. Who would have thought that I now know how many time I've pressed WASD over the last couple of weeks.
Using the red CHERRY MX switches definitely blurs the boundaries between gaming and business and although it may not have the keyboard feedback as the other switches, it definitely gives a smoother experience with less noise but still with the same quality and response time. It's also great for touch typers as well! The keyboard layout is quite clever and I love how Roccat have included the thumb buttons just beneath the spacebar. All in all, it's a well designed product.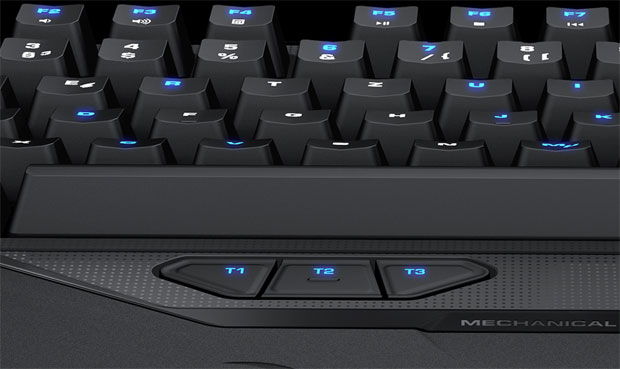 Final Thoughts?
What I love about this product is its compact design that definitely reduces clutter on your desk. The quality of the keys is another highlight and I'm definitely a fan of red CHERRY MX switches as they are a little less noisy. Add in great illumination features with some fun preset choices plus the ability to record up to 470 macros and Ryos TKL Pro is easily a first class gaming keyboard with more bells and whistles than you can poke a stick at!
Recommended!
Technical Specifications
Lighting engine 2.0-powered per-key illuminated mechanical keyboard
Advanced anti-ghosting with N-key rollover
Choice of four CHERRY MX key switches
3 programmable thumbster keys (T1 – T3)
91 total programmable keys
1000 hz polling rate, 1 ms response time
1.8 m rear-exit braided cable
System requirements
Windows® XP/Windows Vista® 32/64-bit/Windows® 7 32/64-bit
Windows® 8 / Windows® 8 Pro
USB 2.0 port
Internet connection for driver installation