Hardware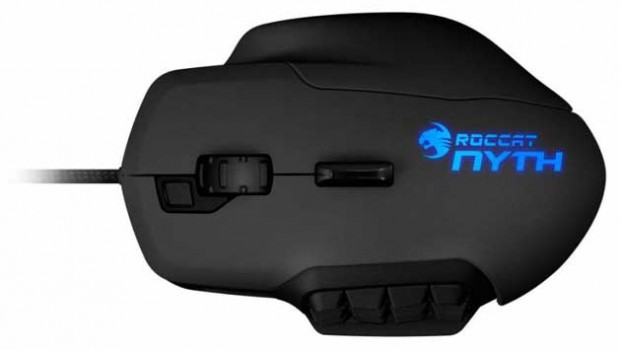 Published on September 2nd, 2015 | by Tony Smith
Roccat Nyth Review
Summary: The Roccat Nyth gives true customisation options to the gamer!
Welcome to a new breed of gaming mice with the Roccat Nyth Modular MMO Gaming Mouse that gives gamers of all different genres a powerful mouse that is not only comfortable to use but offers some great customisation options. Roccat also label this mouse as a modular MMO gaming mouse which means it can be used on a variety of different games such as MMO, MOBA or FPS thanks to its customisation options. In actual fact, you can use it with most gaming genres that require a mouse.
So what does modular really mean? Basically as a gamer, you can choose the buttons (including size) of what will be available on the mouse. That's right, simply by unlocking the release button on the bottom of the Nyth, players can individually place 12 high quality tactile mechanical buttons for their personal favourite configurations with buttons of all different sizes. According to Roccat, the Nyth supports up to 18,369 different layouts which is quite insane! You can even change the sidegrips of the Nyth to suit your own personal style which includes palm grip (my favourite) or claw grip.
In terms of design, the Roccat Nyth Modular MMO Gaming Mouse looks like no gaming mouse that you may be familiar with and although it is a little larger than most mice, it still features traditional mouse controls like left and right buttons on the top plus its high performance scroll wheel. In terms of cabling, it comes with a high quality cable of 1.8 metres but I wish it was a little longer.
Roccat also include easy shift functionality in order to give the user access to additional macros or secondary functions of the 18 buttons which gives you access to plethora of additional commands like your favourite combat or healing spell. One thing that did annoy me a little were that some buttons felt like they were in the wrong spot or out of reach, more so with the buttons at the back. Even so, it still beats jumping to the keyboard.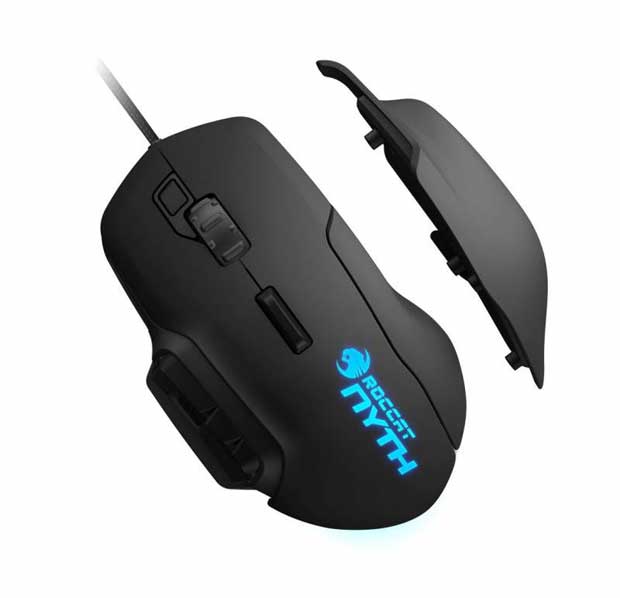 The Nyth is also well packed by Roccat and comes in an excellent looking carry case that not only allows you to transport this gaming mouse to network games or competitions but it keeps the spare parts nice and safe. Roccat even give the user access to 3D printing accessories that basically allows you to create your own parts for the Nyth.
Out of the box, the Nyth is a good looking product that has been ergonomically designed and feels good to use, especially for longer gaming sessions. Even just surfing the net or using Windows feels just right that makes the Nyth quite a versatile product. Then you have the illumination of the product which allows you to change the lighting of the mouse to whatever colour you like… sure it doesn't do much but it looks cool when linked with other Roccat products.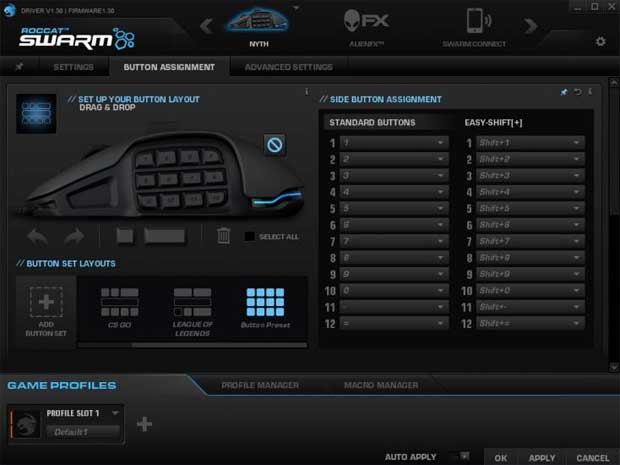 Changing the buttons or the grips of the mouse is quite easy but in order to maximise this gaming mouse, you do need to install the latest version of Roccat Swarm which allows you to customise this product to no end such as speed, button assignment and a plethora of advanced settings. Using Roccat Swarm can be a little inundating for new users but thankfully this company have made tweaking the mouse quite easy, especially setting up macros or rebinding keys.
However the question that must be asked is how does the Nyth handle gaming? Thanks to its 12,000 DPI twin-tech laser sensor, the accuracy of this mouse is very impressive and even allows you to tweak the mouse in 1 DPI increments. Being quite a Blizzard fan, I tested this mouse with Diablo III and StarCraft II which gave me some unparalleled customisation options and definitely gave me a slight edge against my competitors because the Nyth gave me more options at my finger tips thanks to its 18 buttons (plus 39 functions).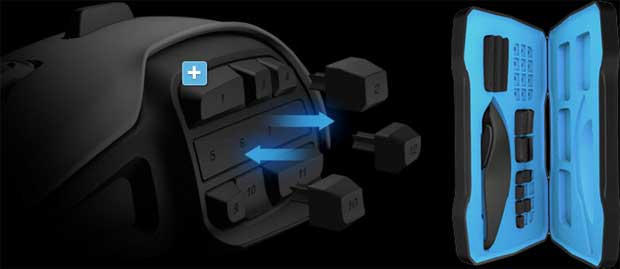 MMORPG's such as World of Warcraft, Smite and Dungeon's & Dragons Neverwinter played really well with the Nyth due to the immediate access of additional buttons and macros. I also tested the game with some first person shooters that include Battlefield Hardline, Counter Strike and Wolfenstein The New Order which once again gave me access to all the buttons that I needed. The final test was The Witcher III and rather than fiddling with menus and the keyboard, I really enjoyed the quick access of additional macros that the Nyth gave me which turned this product into a true gaming mouse.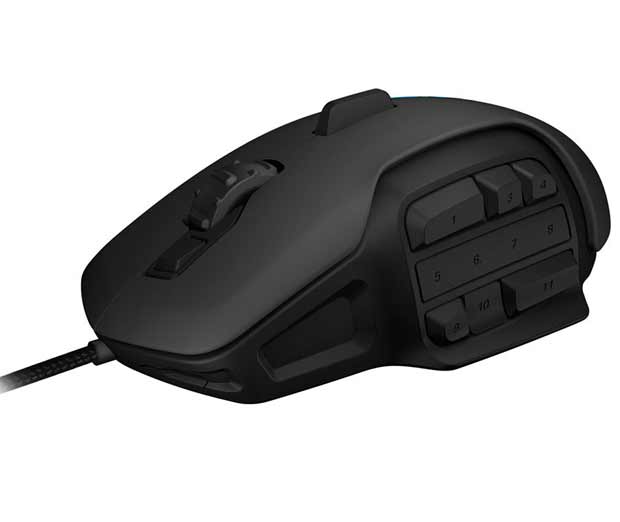 Final Thoughts?
The Nyth is a very interesting gaming product that surprisingly works on all levels. It's definitely one the most customisable mice that I have used and Roccat have really thought outside the square in terms of usability, design and performance. Thankfully it's quite a sturdy product that can be used for everyday use, opposed to just gaming. Given that, it may take some users some time to familiarise themselves with the product but once you do, the Nyth is a very special peripheral indeed that retails for $199AUD (August 2015).
Highlights
2 swappable sidegrips
Only mouse that morphs
3D print support
12.000 DPI Twin-Tech Laser Sensor (adjustable in 1dpi steps)
ROCCAT SWARM
ALIEN FX support
SOLID CARRY CASE
Specifications
 Twin-Tech Laser Sensor R1 with up to 12000dpi
 1000Hz polling rate
 1ms response time
 50G acceleration
 3.8m/s (150ips) single axis / 5.4m/s (212ips) both axis
 16-bit data channel
 Adjustable lift-off distance
 Adjustable click accuracy to mitigate against minuscule movements
 Tracking & Distance Control Unit
 72MHz Turbo Core V2 32-bit Arm based MCU
 576kB onboard memory
 Zero angle snapping/prediction
 1.8m braided USB cable
System requirements
Windows® 10, Windows® 8, Windows® 7
Internet connection for driver installation
USB 2.0 Port