Hardware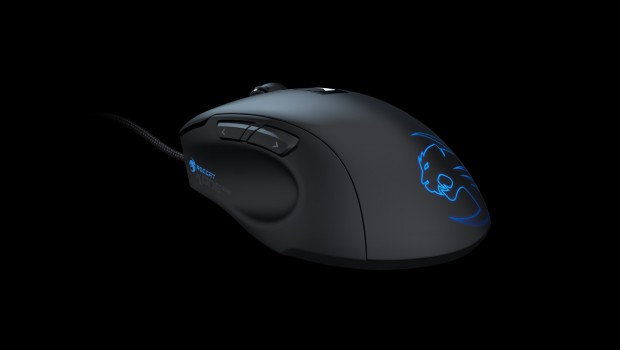 Published on August 6th, 2014 | by Admin
Roccat Kone Pure Review
Summary: The Roccat Kone Pure Gaming Mouse seriously ticks all the right boxes for gaming, especially with 8200 DPI, 1000Hz polling rate and 1ms response time which gives the gamer all the accuracy they need.
Kone Pure Gaming Mouse Review
Company: Roccat
Product: Gaming Mouse
DPI: 8200
Reviewer: James Wright
One of the top gaming mice has arrived in Australia with the Roccat Kone Pure that not only offers an unparalled accuracy of up to 8200 DPI plus a laser sensor, it also offers some amazing customisation features that makes it is perfect for both the battlefield (e.g. gaming) and productivity (e.g. Windows).
It also looks the part and more importantly is extremely comfortable use, especially for long sessions. Add in a high quality braided cable and you have everything you need to connect the mouse to your PC. With that said, I've been using this mouse religiously for over 2-weeks now and I haven't looked back at my old gaming mouse at all.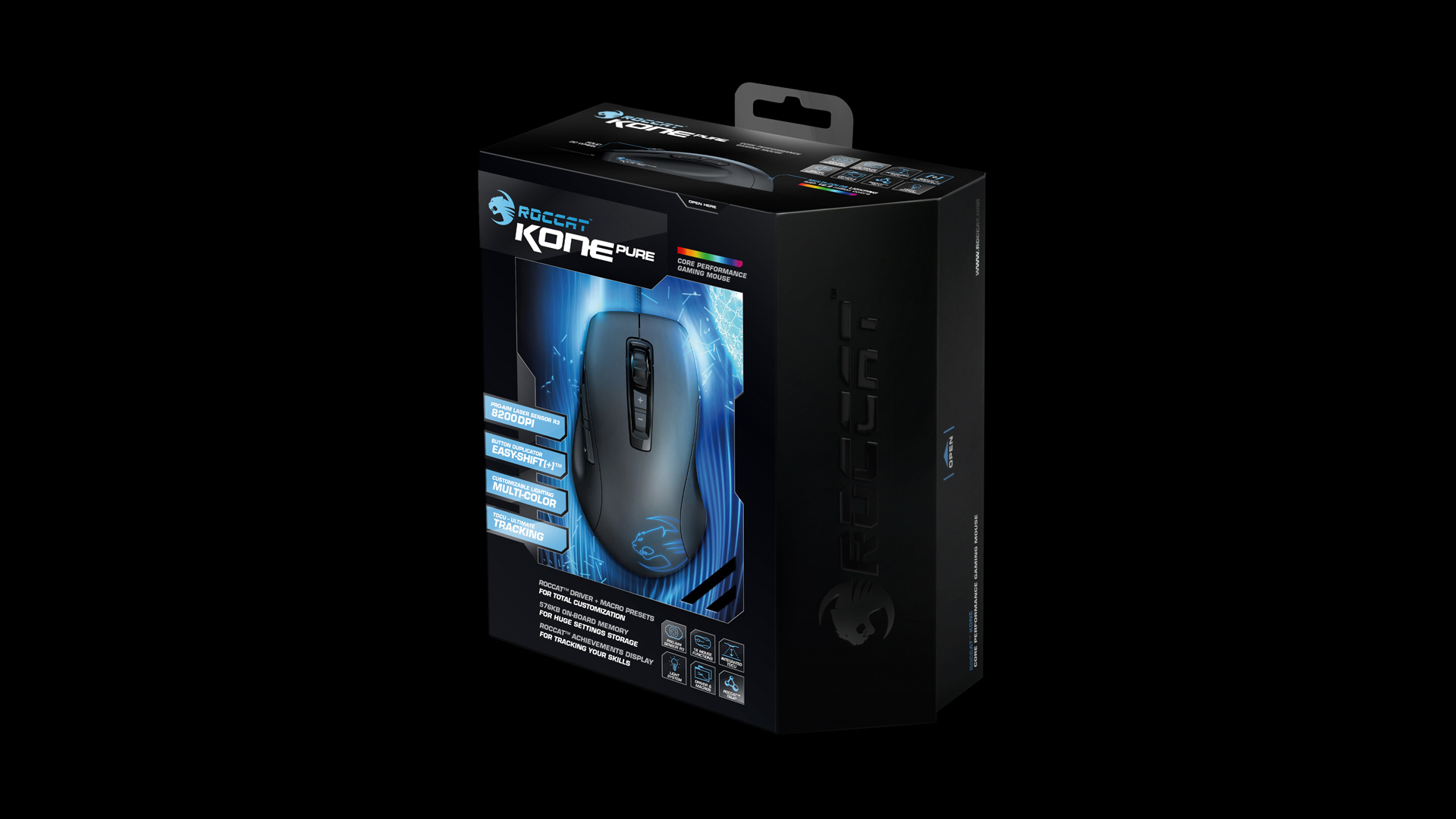 Technical Specifications
Pro-Aim Laser Sensor R3 with up to 8200dpi
1000Hz polling rate
1ms response time
12000fps, 10.8megapixel
30G acceleration
3.8m/s (150ips)
16-bit data channel
1-5mm Lift off distance
Tracking & Distance Control Unit
72MHz Turbo Core V2 32-bit Arm based MCU
576kB onboard memory
Zero angle snapping/prediction
1.8m braided USB cable
In terms of design, the mouse itself measures at 13.5cm (length), 7.8cm (widge) and 4cm (high) with an approximate weight of 123 grams. The mouse is also compatible from Windows XP to the latest version of Windows 8, both 32 and 64-bit, however in order to get the most out of the mouse, you do need to install Roccat's priority software which gives the user a bevvy of options and is perfect for a variety of games from MMO's to first person shooters and just about everything else in between. Also, like other gaming mice, the colour "glow" of the mouse can be tailored to suit the player via the software.
The Pure is a well designed product that is quite ergonomic and the button layout is laid out well, especially if you are a right handed mouse user. Apart from the standard two mouse buttons, the Pure has two buttons below the scroll wheel and another two thumb buttons on the right side of the mouse. These are in the perfect spot for quick access.
Features
FULLY-ADJUSTBALE 8200DPI PRO-AIM (R3) SENSOR
with 41 true DPI setting ranging from 200 to 8200
ROCCAT™ CLICK MASTER
switch tech powered by Omron©
EASY-SHIFT[+]™ BUTTON DUPLICATOR
with Easy-Aim + Easy-Wheel functions
32-BIT TURBO CORE V2 PROCESSOR
for lightning-fast computing speed
TRACKING & DISTANCE CONTROL UNIT
for less pick-up flight & more precise gaming
576KB ON-BOARD MEMORY
for storing a wealth of macros and settings
16.8 MILLION-COLOR LIGHTING SYSTEM
for customizable colors + effects
7 MOUSE BUTTONS + SOLID 2D WHEEL
for a full complement of command options
SOFT-TOUCH SURFACE
for extended gaming in total comfort
ROCCAT™ DRIVER + MACRO MANAGER
for advanced customization + presets for games & apps
ROCCAT™ ACHIEVEMENTS DISPLAY
for monitoring gaming performance
We tested the mouse with a variety of games that included Tomb Raider, Battlefield 4, Wildstar and Infinite Crisis with the mouse performing quite admirably. For games such as Battlefield and Wildstar, the easy-shift[+] function is definitely a blessing as it allows you to set two functions for not just each mouse button but also the scroll wheel.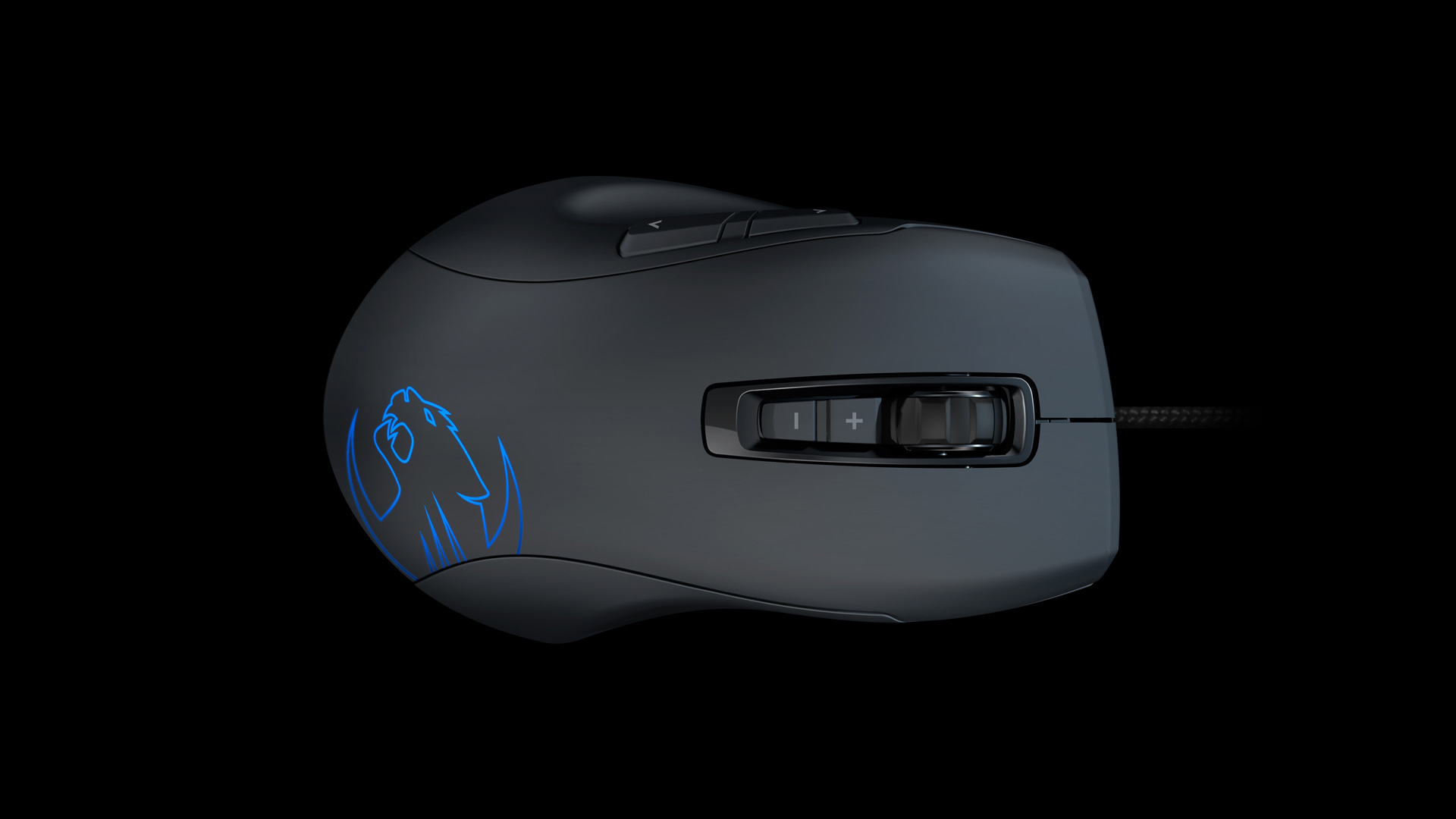 Creating macros was another useful feature of the mouse that once again is ideal for online games as it prevents you from trying to find the right button when the action commences. Whether I was sniping during Battlefield 4 or taking on a group of twisted Justice League members from Infinite Crisis, the accuracy of the mouse was flawless and it was good to swap between DPI, depending on what was required in the game. With that said, there is some fiddling required to setup macros but well worth the effort. The mouse also comes with 576K of onboard memory to support this feature.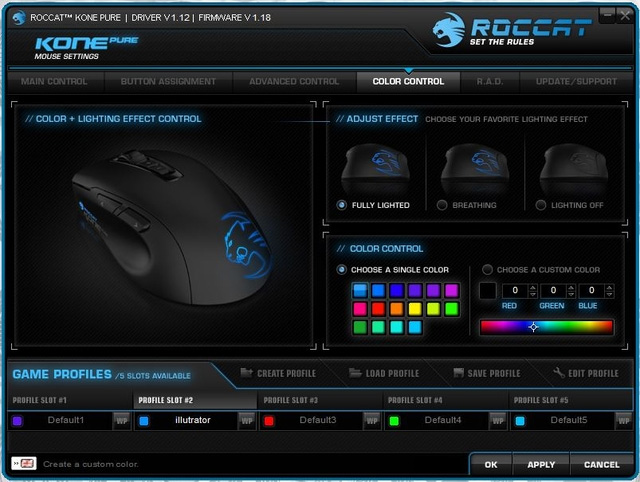 I also loved tweaking the various the colour settings of the mouse, especially on the Roccat logo which looks too cool for school. Another good aspect of the mouse is that it remains relatively clean while using it, especially from finger prints. The rubber coating also gives the mouse some additional grip when gaming as well.
Roccat also ensure that the mouse is quite a sturdy build and nothing feels cheap or lightweight. I also appreciated the Roccat Titan Wheel which allows up to 3 kilograms of force in every direction. Not that you generally use that much force while using the scroll wheel but sometimes accidents do happen, especially if you've walked into an enemy ambush. In laymen terms, the axis shaft of the scroll wheel is one of the strongest available to gamers. The mouse can even be paired with a Roccat keyboard for additional shared functionality between both input peripherals.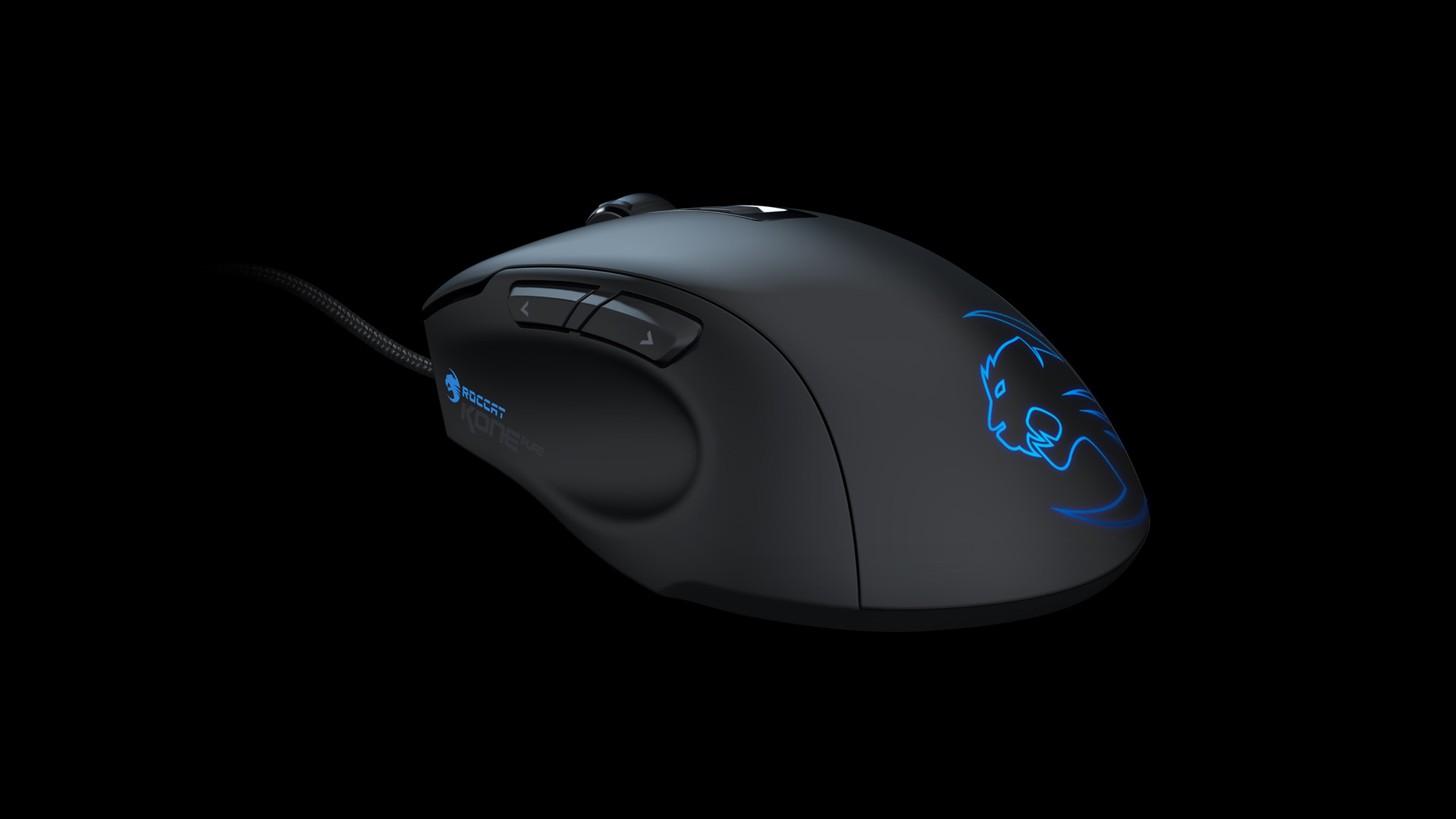 Final Thoughts?
The Roccat Kone Pure Gaming Mouse seriously ticks all the right boxes for gaming, especially with 8200 DPI, 1000Hz polling rate and 1ms response time which gives the gamer all the accuracy they need. Thankfully the mouse looks quite cool, especially the customisable Roccat logo that boasts a colour palette of over 16 millions colours.
If you need an extra card up your gaming sleeve than the Roccat Kone Pure is that answer!