Games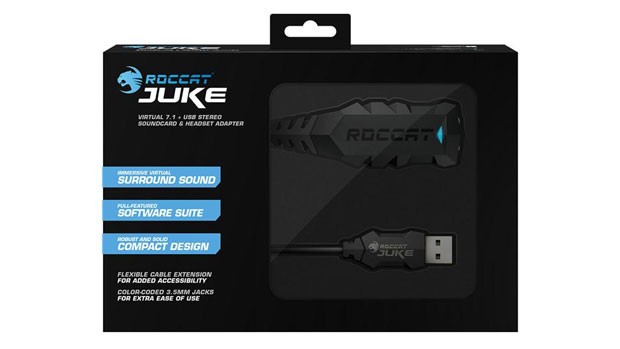 Published on July 26th, 2015 | by Tony Smith
Roccat Juke Review
Summary: The Roccat Juke definitely creates the illusion of 7.1 surround sound
This clever little product from Roccat is a Virtual 7.1 USB Stereo Soundcard and Headset Adapter which basically transforms your existing stereo headset into a virtual 7.1 audio experience. Simply by connecting the Roccat Juke to your USB 2.0 port and install the relevant software on your PC, your audio experience now simulates the 7.1 surround sound experience and best of all, it's affordably priced!
Does it work? Technically yes and no… it does simulate a 7.1 audio experience but compared to dedicated 7.1 headphones or a 7.1 speaker setup, the Juke cannot reach these heights of sound quality. However when you do plug in a standard 2.0 stereo headset or headphone and once the software is installed, it definitely creates the illusion of 7.1 and I personally believe that the audio quality sounded better as well.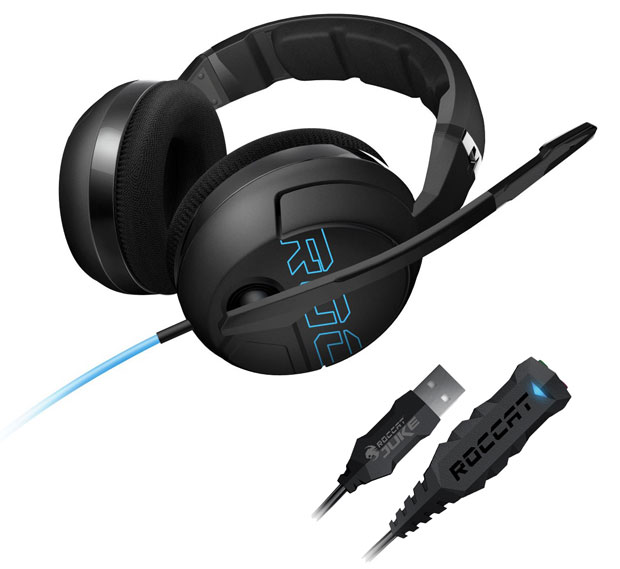 However before you can commence the virtual 7.1 audio, you first need to install the software for the Roccat Juke which is available via their website at around 40MB. By installing the Juke Driver, it basically puts the software into your system tray and one reboot later, you can run the Juke Software to tweak your audio settings. Besides giving users the ability of having virtual 7.1 sound, it's also great for users who may not have a sound card that supports this feature like some laptops or desktops.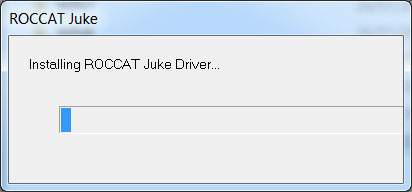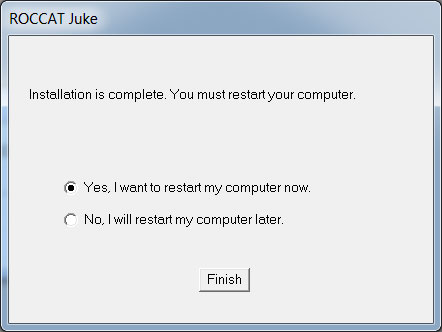 So after the reboot, the Roccat Juke Software is installed into your system tray and by double clicking on this, it gives the user access to Main Setting, Mixer, Effect, Karaoke/Magic Voice and Information. The magic happens in the Main Setting which allows you to tweak your audio and what will be simulated on your headset. This allows you to enable the DSP (Digital Signal Processing) Mode or the 7.1 Virtual Speaker Shifter which allows you to tweak where the speakers are around you. By moving things around, you can really notice the difference but thankfully the standard settings work well.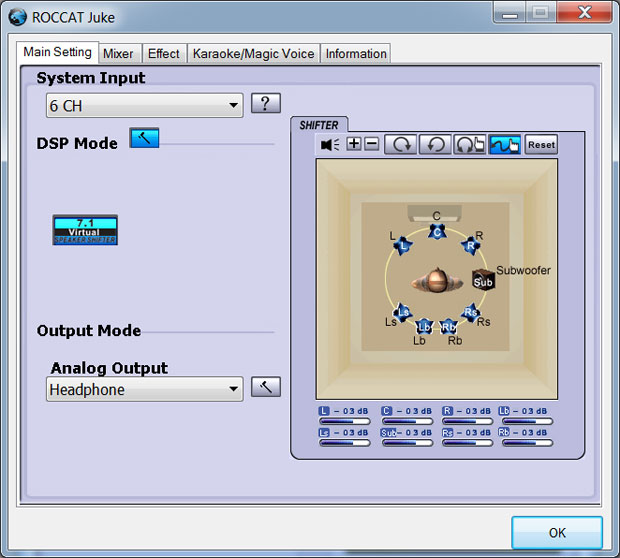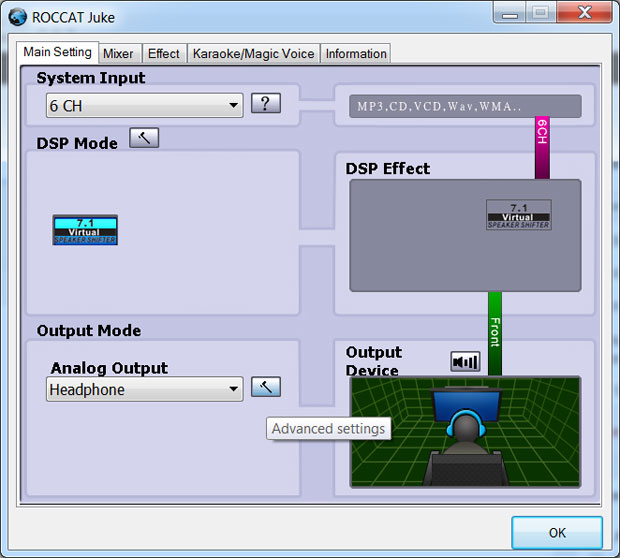 In terms of testing, I  tested this product with a variety of games that include Diablo II, StarCraft II and Call of Duty Advanced Warfare which all did sound a little clearer on my stereo headset, even mimicking the virtual surround sound experience. However as mentioned earlier, you still cannot beat a dedicated speaker setup but given the price of around $25AUD (online), it's definitely affordable and gives the faux surround sound experience with easy installation, decent software options and the ability to use the microphone as well.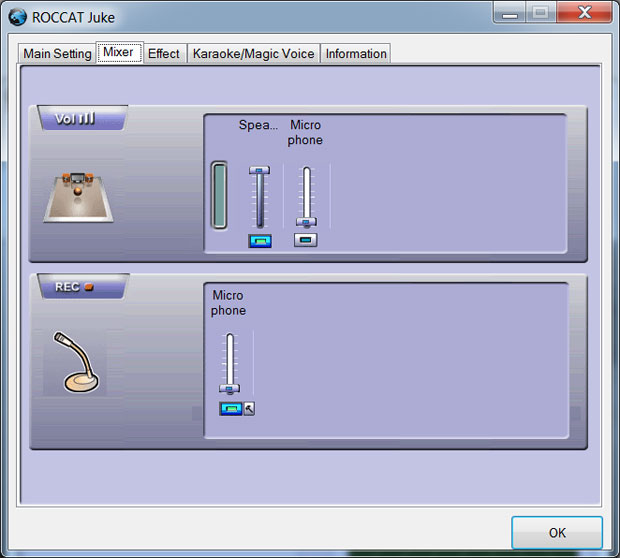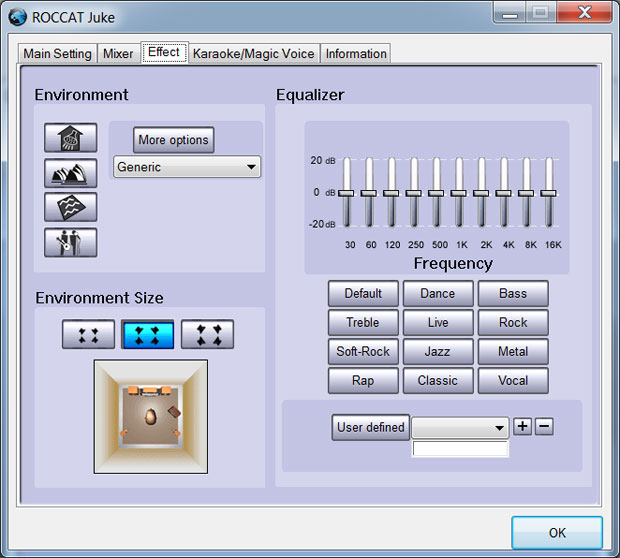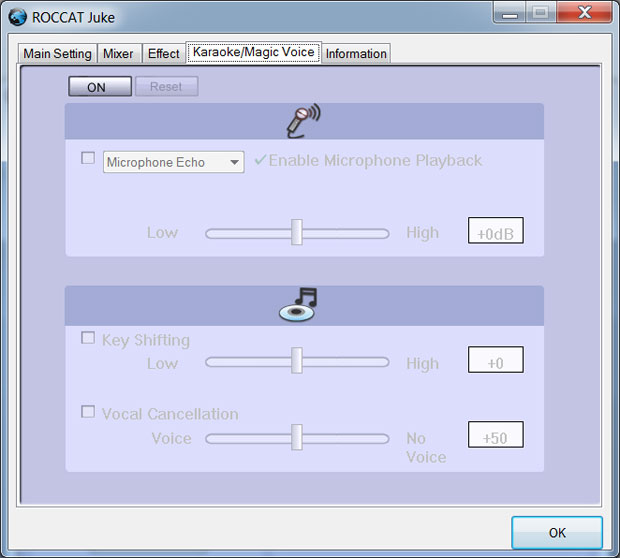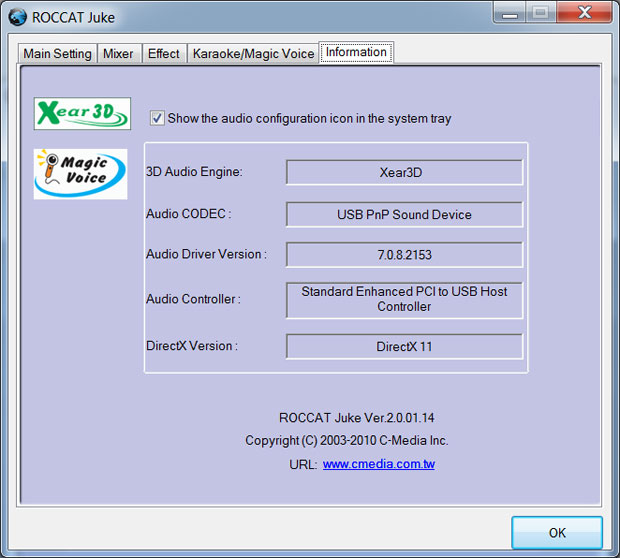 Final Thoughts?
If you're on a budget and need that surround sound experience, than we could happily recommend that you check out the Roccat Juke which transforms your existing stereo headset or headphones into virtual 7.1 sound. It's an illusion but it's an illusion that works and whether it was my mind or the Juke itself but the audio definitely sounded a little clearer when my headset was plugged into this product.
Technical Specifications
Sampling Rate: 48K/44,1KHz
Connection: USB
Jacks: 2 × 3.5mm
Max. height/length: 27mm/250mm
System requirements
Windows® 8.1 64 Bit, Windows® 8.1 32 Bit, Windows® 8 64 Bit, Windows® 8 32 Bit, Windows® 7 64 Bit, Windows® 7 32 Bit, Windows® Vista 64 Bit, Windows® Vista 32 Bit, Windows® XP 32 Bit
Internet connection for driver installation
USB 2.0 Port