Hardware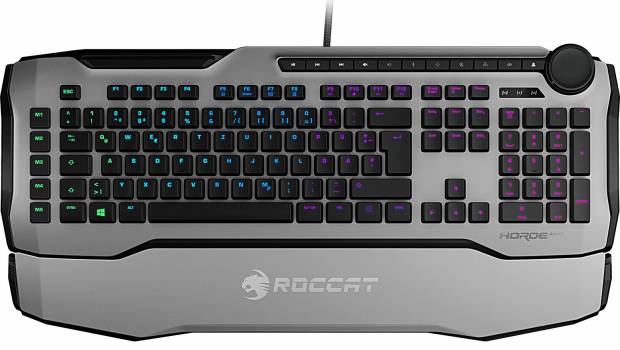 Published on June 17th, 2018 | by Tony Smith
Roccat Horde Aimo Review
Summary: The Horde Aimo from Roccat is almost a mechanical keyboard with all the bells and whistles of a gaming keyboard.
The Horde Aimo (which is an interesting name) from Roccat, retails for around $149AUD (June 2018) and is obviously aimed at the gamer from its design to its features. In terms of product placement, the Roccat Horde Aimo sits somewhere well above a standard computer keyboard and just below a mechanical gaming keyboard, however comes with a wealth of useful gaming features.
Tech Specs
ARM Cortex-M0+ 50MHz
512kB onboard memory
1000Hz polling rate
1.2mm actuation point for macro keys
LED driver, 256 steps PWM control
Six-zone illumination with 12 RGB LEDs
Wheel encoder with 20 steps
1.8m braided USB cable
Firstly, this is not a mechanical gaming keyboard but rather uses tactile membrane technology or as Roccat call it "membranical", including RGB backlighting and additional buttons for quick-fire macros (five) or hotkeys to support your gaming needs. The lighting feature of the keyboard is also organic which adapts to what you are doing and can link up with other devices.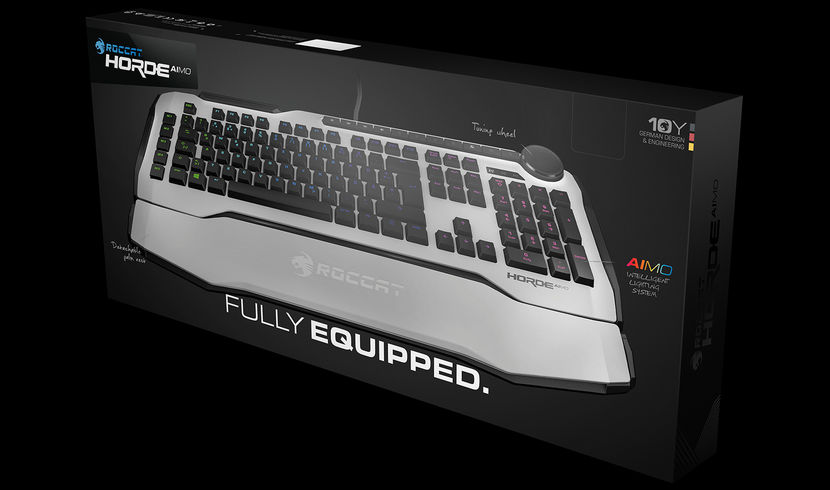 Out of the box, the first thing that we noticed about the Roccat Horde Aimo was its size. The Horde Aimo is quite a large keyboard with a weight of 1.1kg, including a removal wrist rest. The design definitely screams gamer and layout of the additional buttons are in easy reach which is definitely needed when the action gets intense in your virtual worlds. Given it's slightly on the larger/heavier size, it also sits quite firmly on your desk which is great for gaming as it doesn't slide.
Interestingly, there is a large dial on the top of the keyboard which allows you to control elements such as volume and even the RGB lighting. There are also additional buttons to control volume, mic, key brightness, lighting colour, RGB effects, swapping between Windows and a user button. By pushing one of these buttons such as at volume button, it then allows you to control this function via the dial or RGB effects which is quite nifty. The user button gives you access to a Windows Dial that allows you zoom, scroll or even set your own functionality.
Although this gaming keyboard works straight out of the box (e.g. Windows 10 detected the product immediately), you do need to install Roccat Swarm, a software package to fully maximise the features. Navigating the software is rather straightforward which easily allows you to reassign keys, setup macros, create your own gaming profiles and more importantly tweak the lighting (plus effects) on the Horde Aimo. You can even assign sounds to the keys to make different noises when pressed.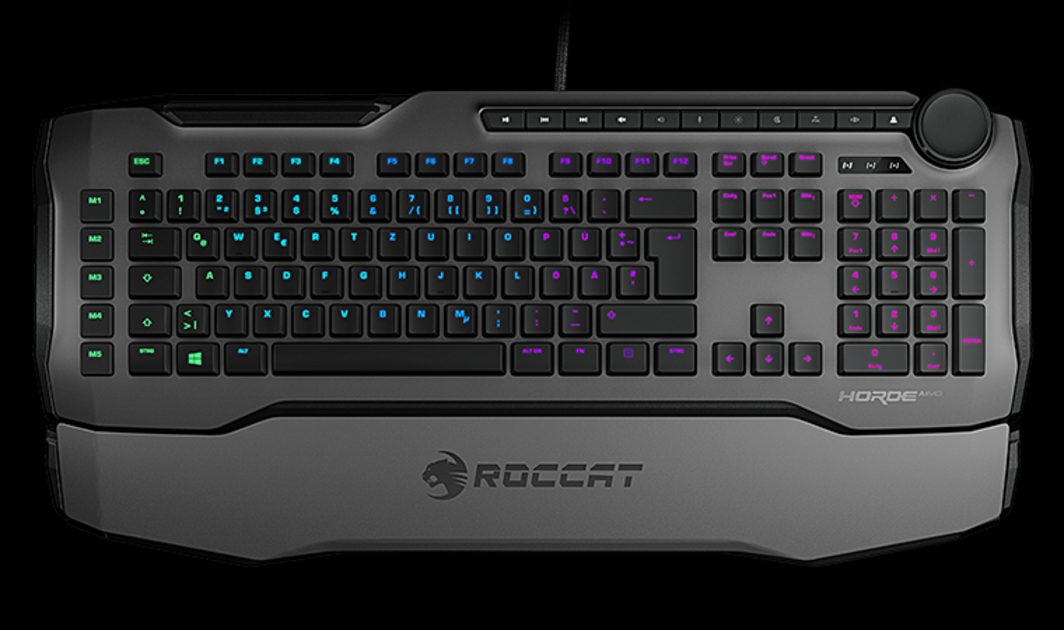 In terms of lighting, this keyboard isn't as bright as some other gaming keyboards, especially in a bright room and it has three lighting zones, so this aspect is quite subtle. Also, there is no option to record macros on the fly, so you do need to rely on the software which may be a slight inconvenience for some.
Typing on the keyboard does feel more like at traditional keyboard, including playing games, however with the inclusion of the membrane keys, it does feel considerably faster. I tested a variety of games on the keyboard that included Overwatch, PlayerUnknown's Battlegrounds, StarCraft II, Star Wars Battlefield 2, Fortnite and Paladins.
Needless to say, after putting this keyboard through its gaming hoops over the last few weeks, I had no issues with any of these titles and in the end, the Horde Aimo is quite a responsive keyboard and definitely one of the better membrane keyboards available.
Compared to a mechanical keyboard, I do believe that these products still have the edge on the Horde Aimo, particularly for their overall responsiveness. Oh… the Horde Aimo is so much quieter then mechanical keyboards, however it does have that mechanical switch feel courtesy of Roccat's membranical technology when you push a key.
Final Thoughts?
The Roccat Horde Aimo is a high-end membrane keyboard with some very useful features, particularly with the on-board dial. The lighting may not be as bright as some of its competitors but overall it's quite a responsive, sturdy and quiet keyboard with an easy to use software package to tailor it to your gaming needs.
Check it out!
For more information please visit – https://www.roccat.org/en-AU/Products/Gaming-Keyboards/Horde-AIMO/