Hardware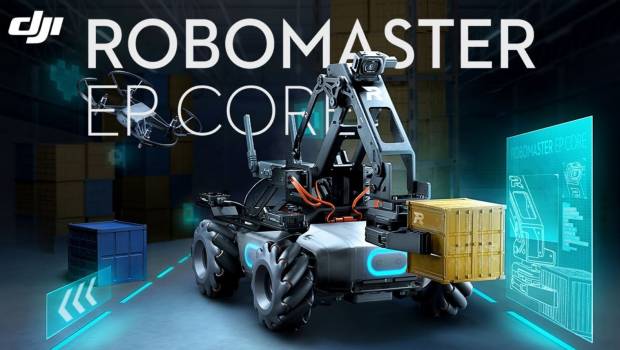 Published on October 13th, 2020 | by James Wright
RoboMaster EP Core Review
Summary: The RoboMaster EP Core is perfect for both students and tech-heads that takes programming to a whole new level!
Before I jump into this review and just fanboying a little here… my god, the RoboMaster EP Core is truly an awesome and totally enjoyable experience! Okay, regaining my composure and enough hand clapping, onto the review!
Welcome to DJI's RoboMaster EP Core that is actually one of the world's most accessible educational tools that gives its users a fully functional and programmable robot with a whole wealth of expandable options. Furthermore, this customisable robot is made from steel to last and while it might be a little intimidating unleashing this device from its packaging, DJI (most notably known for drones) ensure that it comes with everything you need to start your robotic experience.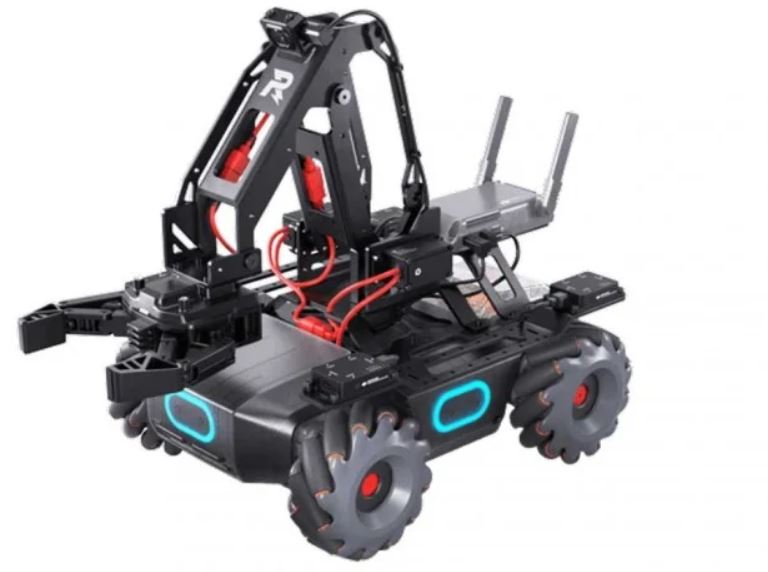 While this robot has been designed for classrooms with educational resources, this device also targets the tech enthusiast. Needless to say, this is not a toy but a fully functional robotic system that can be programmed to perform an almost endless variety of tasks.
Although like LEGO or if you're old enough to remember Meccano, the RoboMaster EP Core needs to be built that is a great edutainment activity as it literally takes you behind the scenes of this intelligent droid on what makes it tick. However as we had a review unit, the majority of the device was already built which allowed us to get straight to the crux of it!
Review Gallery
.
.
RoboMaster EP Core Features

Robotic Arm: The EP Core's Robotic Arm is incredibly durable, yet compact and flexible. It supports precise FPV control, allowing students to complete tasks even when the target objects are out of sight.
Gripper: The Gripper transforms the EP Core into a powerful robot with multiple functions. A convenient structural design and adjustable gripping force empower it to firmly and reliably grasp and move objects of various shapes, weights, and sizes.
Mecanum Wheels: The EP Core comes with four Mecanum wheels, each with 12 rollers that allow omnidirectional movement and precision control. Front axis suspension allows for added versatility during operation.
High-Performance Servo: As a propulsion driver for the EP Core, the servo supports customized control abilities through the EP Core's main control board. It ensures high control accuracy and large output torque. It can also power the Robotic Arm and allow students to build lifting structures using their knowledge of physics.
Sensor Adaptor & Power Connector Module: Each sensor adaptor has two ports and provides power supply. A power connector module can connect and power third-party hardware, offering multiple ports to connect hardware and create custom programs and applications.
Intelligent Controller: Using a powerful CPU, the Intelligent Controller can simultaneously support functions such as low-latency high-definition image transmission, AI computing, and programming development. It also coordinates transmission seamlessly to execute command signals.
Infrared Distance Sensor: With a measurement range of 0.1-10 meters, the infrared distance sensor provides reliable distance measurement information. This enables the EP Core to sense its environment and avoid obstacles, deepening students' understanding of advanced autonomous driving principles.
High-Performance Motor: The EP Core comes with a customized motor that features an integrated FOC ESC with an output torque of up to 250 mN•m. Linear Hall-effect sensors with advanced algorithms allow closed-loop control for added precision. Additional safety mechanisms deliver outstanding stability.
Out of the box, the RoboMaster EP Core is a large device and actually reminds me of those bomb robots used by police in terms of its design or something you could use to explore another planet with. It also measures at H33 x W25 x L39 cm with a weight of 3.4kg so it's not a small robot. Given that, it's quite a rugged device with its oversize off-road wheels.
In terms of navigation and speaking of wheels, the RoboMaster has access to omnidirectional wheels, including four hit detectors plus a proximity sensor and stopping this device is super fast. It has a 2-axis grabber to add to the interactive nature of the device, including a HD camera (that boasts super clear video), a microphone and onboard speaker. The battery size 2,400 mAh which boasts a running time of one hour.
The connectivity supports local Wi-Fi or router connectivity and we tested the the Wi-Fi connection which was a simply process in connecting it to our network. Given that, you can connect to the RoboMaster to your PC or a smartphone. Once we connected the robot to our smartphone, that's when the fun begins, especially seeing the mecanum wheels in action that allows this smart device to quickly travel in all directions.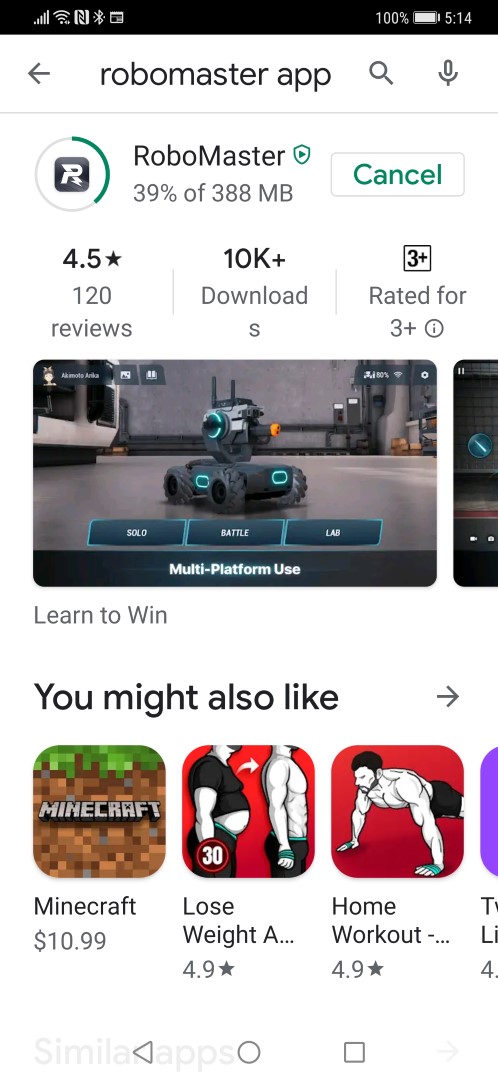 App Gallery Setup and Tutorial
.
.
Controlling the device via the smartphone is like playing any game on this device thanks to its virtual thumbsticks. Once you master the control system which is relatively easy, the RoboMaster EP Core is a super fast and responsive device which really zips around and the high quality HD camera really makes a difference in terms of controlling it. Another element is the 2-axis grabber that surprisingly is quite strong and yes, it can carry a filled drink cup!
What the RoboMaster EP Core sees
The app is a fun way to familiarise yourself with the RoboMaster EP Core that offers three modes (solo, battle and lab). Solo allows you to control the robot and its grabber, including the ability to save videos and play pre-recorded sounds as well. Battle is great for racing around a course and is a fun diversion of what this device can really do and finally you have lab, which is where the programming (Python or Scratch) comes into play. If you've never done programming before, Scratch is the way to go as it is more a visual medium. Thankfully there are tutorials and lots of online resources to help in your programming mastery.
RoboMaster Programming App
If you're doing programming through the app itself, I would highly recommend you use an iPad or a tablet opposed to a mobile phone. It makes the programming element a lot easier to navigate opposed to the smaller screen of a phone. Needless to say, there's lots of sensors and clever features that allow you to create your own programming modules for the RoboMaster. However if you complete the tutorials (e.g. The Road to Mastery), it goes into some depth of how you can program this robot to do a whole wealth of different activities, including interacting with the physical environment. I mean with almost 40 sensors on it, this alone shows you the scope of what you could potentially achieve with the RoboMaster. You can even connect third party accessories to it that are powered, including accessing other programming languages so again, it's a very powerful educational and real-world tool.
Video
.
Final Thoughts?
To change a quote from Star Wars, the RoboMaster EP Core is indeed the droid you're looking! I/We had a great time reviewing the RoboMasterEP Core and its interactive and programable nature is unparalleled and its usage is only limited by your imagination. If you thought creating virtual computers in Minecraft was fun, you should check out the RoboMaster EP Core that takes creation to a whole new level in the physical realm.
Highly Recommended!
For more information, please visit https://www.dji.com/au/robomaster-ep-core