Interviews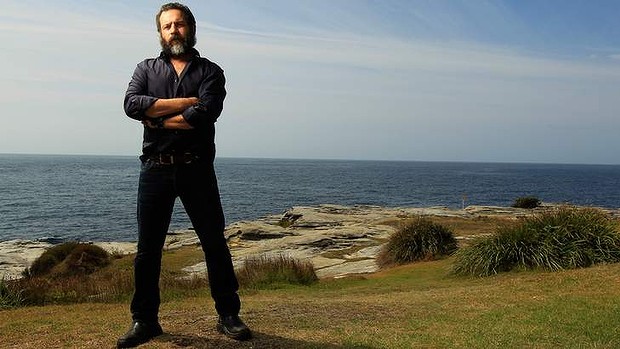 Published on April 10th, 2014 | by Admin
Robert Mammone Interview (Fat Tony & Co)
Hi Robert, welcome to Impulse Gamer and how have you been?
I've been good and enjoying the success of the show (Fat Tony & Co) and now with the DVD available, there's a bit more to talk about.
So what was it like playing one of Australia's most wanted men?
You know what, I've never really allowed myself to think about that because if you think of being the most wanted guy, then you're not really being true to play a role or character. However when Tony makes the escape by skipping bail and heading over to Greece, you can then start getting into the mindset. So until the actual story required it, I didn't start thinking it at all.
Did you do much research into getting in the mindset of Tony Mockbel?
As much as I could but there really isn't a lot of information about him. There's stuff written about him but no interviews with him or even many of the guys involved in the Melbourne Gangland War. You've got access to Mick Gato who's not a man to be effed with but he is quite amicable or so I'm told. Simon Westaway who plays him in the show has a friendship with him and Mick was gracious enough to allow Simon to enter his life in order to portray that character. I didn't have that opportunity and even though Tony is not dead, he is incarcerated and access to him was pretty strict as he's Victoria's number one prisoner. You don't just walk up to the front gates of the prison and say "hey, I want to have a chat to Tony" which makes it a bit difficult.
When we were doing the original Underbelly it was only a week before we started that he was actually in Greece. I remember one media report where Tony actually called the head of the Piranha Task Force like we did in the show and he had access to all these numbers. He also rang a journalist and there was like a 40-minute conversation he had with this journalist that I actually got a copy of. From that, I garnered as much information as possible to help with his character like how he spoke or thought which was really all I had to go on.
You were in Home & Away before making Fat Tony and the character you played in that was Sid Walker who looks totally different to Tony Mockbel. How did you fine tune the look of Tony like his weight and hair? Did you actually put on weight or was movie magic involved?
The weight part was no magic, I just put the weight on and went on a weight gaining program which basically meant lots of the wrong foods at the wrong time. A lot of people has asked me if I went to McDonalds all the time but the problem is if you're going to load up with the junk foods, it's almost impossible to get rid of as it's bad weight. So I was careful in that area and had help from a nutritionist. Basically anyone who's been on a diet knows that you shouldn't have sugar, too much carbs in the evening and I had a role reversal and a great time doing it which was pretty cool <laugh>.
In terms of the hair, I had help from Helen Magelaki who was in charge of makeup and hair design on Fat Tony and she worked out that the best way to do it was to shave the top of my head that made me look like a Franciscan Monk for four months in Melbourne. She then applied a hairpiece to bring my hairline back and to thin it out. There's an extraordinary wig maker here in Sydney called Kylie Clarke who made the wig for me. The combined hair and makeup job took a good hour each morning so what was the movie magic.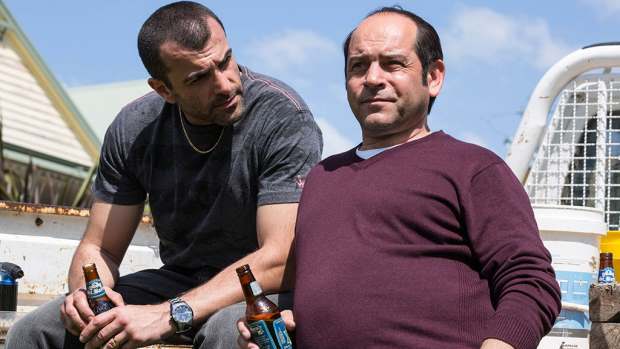 Robert Mammone (right) as "Fat" Tony Mockbel
With the weight gain Robert, how long did it take to return to normalcy?
It was about 3 months and by the time the show went to air in Feb, it was pretty much all gone.
That's dedication to the field of acting then?
Absolute mate but I did give myself a week off during the Christmas New Year period because I thought to myself this is too silly because as you know, there's several barbeques, dinners and lunches which would have been too torturous for me.
We've enjoyed the Underbelly franchise and Fat Tony has a similar style, do you think its creators glorify the criminal underworld when it comes to their extravagant lifestyle, what are your thoughts on this? Or is it more a stylised view of the criminal underworld for television?
There's no doubt that it is stylised and that's because it's on commercial television and channel 9 is a commercial network. You need to present it in a way where people want to watch and if it was an urban view on reality, it would be on pay per view or the ABC. So does it glorify it? I think it was more about alerting the Australian public to what's going on out there. Obviously we read in our papers everyday on some criminal gang out there that is pretty outrageous but I think we were a little innocent at that time and it took us to expose these guys. But yeah, there's a lot of glorification with fancy cars, nightclubs and that's the lives these guys lead and we're not making it up. That's just what they do, they frequent strip bars, they hang around with types who are pretty flash and others who are not. Particularly when you're at the top end of the criminal world, that's certainly what's available to you and we're only just portraying what's actually going on.
In filming Fat Tony & co what was your favourite part?
There was no one singular favourite part but when I was in Athens atop a mountain overlooking the city and arms raised like a triumphant boxer Rocky style, that was quite a special moment for me because not often on an Australian TV show do you get to travel overseas for a shoot and Athens is a pretty magnificent city and I've not been there before. I thought to myself how good is this, I'm doing what I love doing and I'm getting paid for it and here I am in this ancient city, telling an Australian story which was a pretty cool moment.
What about the chalenges that you faced on set?
Some of the boat stuff was pretty challenging and we had a day where we were in the harbour and shot in the morning and by time we needed to get out to the see in the afternoon, the weather had changed and was rougher than anything. Everybody was throwing up and it wasn't a pleasant day. People throwing up over the sides and the smell… you just need to keep going and the circus roles on. But yeah that was a pretty tough day.
So when Tony was seasick, you didn't have to act?
Funny enough I was actually okay because I was out on deck and not that I'm a boatie but a key to preventing sea sickness is to keep your eye on the horizon. But when I went inside the boat and talked to the director, I was only in there for 3 minutes and could feel myself getting a bit sick so I quickly jumped out on deck and I was right as rain again. But the poor crew who had to hide inside the boat, they were not well.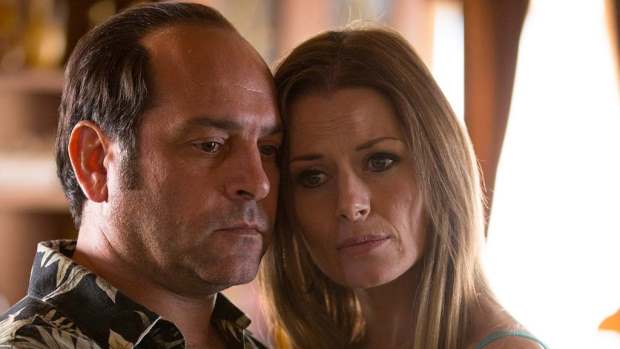 Robert Mammone & Madeleine West
You had quite a few scenes with Gyton Grantley and each time I see him, he always cracks me up as Carl Williams who seems to channel this serial killer perfectly, what was it like acting with him and do you guys joke around a lot?
There's always a bit of banter on sets and we had fun both on and off camera. Gyton is a great actor  and I have nothing but respect for him. I was really pleased and happy that he decided to reprise the role for Carl because he could easily have said "no I've done that" and he was doing a stage show in Brisbane, I think it was the South Pacific, so he really worked hard for us to come back on board. But yeah, I think all the actors on the show are terrific such as Madeleine West who played Danielle Maguire is a brilliant actress and a real team player that goes anywhere for the character. When you work with actors who are prepared to put their egos away and nail the truth of the situation than you're always going to have fun.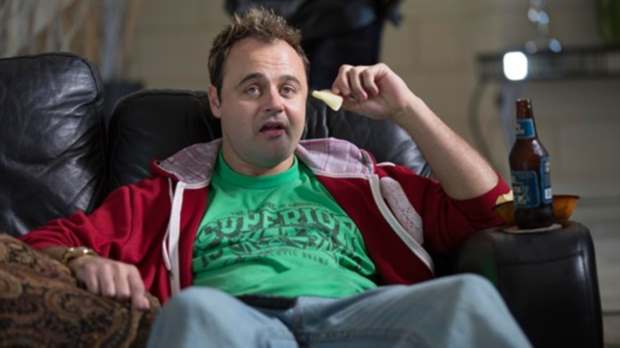 Gyton Grantley as infamous serial killer Carl Williams
Speaking of professionalism, the show's producers do have a reputation for their explicit sex scenes, how do you prepare for something like that?
It's good that you know the actress you're working with so that you're both comfortable and it's all about being a gentlemen and being respectful which also includes the crew. You basically have to get it done and it can be awkward so that's the thing about the DVD, the extra 25 minutes as there's a lot of stuff we couldn't show on 8:30 on a Sunday evening and that's a lot of the stuff you're going to see on the uncut version. Perhaps the scenes will play out a bit more as it's about drugs, ultra violence and the sex stuff which you'll get more of with the DVD version.
After finishing Fat Tony & Co, what have you taken away as an actor?
Being a smart criminal can be quite lucrative <laugh> but seriously, I got so much satisfaction working with an awesome crew, cast and network that I really respect. It was truly a great experience and I loved being in Melbourne in winter. I'm originally from Adelaide so I follow the AFL and took every opportunity to absorb myself in the spirit of Melbourne and watch as many games as I could and that I really loved being there. It was actually quite sad that I left.
That's great memory and experience. Also Robert, can you tell us a bit about the project you're working on with Russell Crowe?
It's called the Water Diviner that is a feature film starring Russell Crowe and is his directorial debut. It's about a man whose three sons fought in the First World War and ended upperishing in Gallipoli. He makes a journey to Turkey to recover his son's bodies and return them to Australia. While there, he gets caught up in the political mayhem that exists in Turkey in 1919, because the war is not over for those guys. We buggered off in 1918 but Turkey was still fighting wars on several fronts. One being against the Greeks who decided that the land that the lost from the Turks 480 years ago should be theirs again and they fight them while they're vulnerable to get it back. So Russell or his character Josh Connor finds himself in the middle of a very delicate situation to do with war and so forth. I can't tell you the whole story but that's the premise and it's a beautiful script. Russell is also a really fabulous director and he's going to be really good.
What else are you currently working on?
The other thing that I've been working on as executive producer is 8060 which is the number of a particular train carriage on the Sydney to New Castle line and it's based on an urban myth such as a haunted train. So we've used that urban myth and created a thriller/horror where a dozen or so people board a train in Sydney but by the time they get to Newcastle, they all seem to disappear along the way. We're going to be shooting that in June which is not far away now.
That sounds great and I love the premise behind it.
Yeah it is a great premise and I tell you what, I have a new respect for producers as it is a tough fucking game <laugh>.
Thanks for your time Robert and all the best for 8086 and the rest of the year. Also, thanks for a great portrayal of Tony Mockbel and we thoroughly enjoyed Fat Tony & Co, so kudos to you and the team.
Thanks mate and it's been a pleasure talking to you.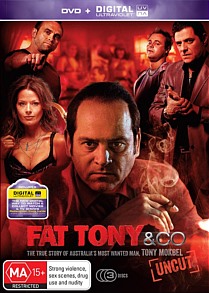 Fat Tony & Co is now available on DVD, Digital Ultraviolet and Blu-ray