Events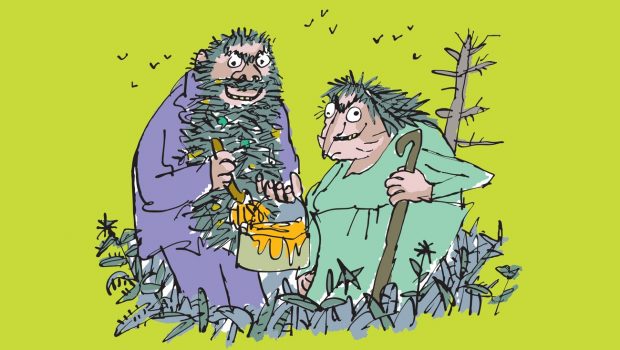 Published on April 4th, 2023 | by Andrew Bistak
Roald Dahl's classic tale The Twits will be brought to life at Arts Centre Melbourne
Roald Dahl's tale of gruesome twosome The Twits will be brought to life on stage at Arts Centre Melbourne's Playhouse in a visually-spectacular, delightfully-disgusting, revoltingly-funny production for the whole family from 27 June – 1 July.
Packed with Dahlicious mischief, hilarious mayhem and big belly laughs, The Twits is unmissable fun for all ages, from shake & stir theatre co the award-winning team behind the sold-out seasons of Fantastic Mr Fox and George's Marvellous Medicine.
shake & stir theatre co, Co-Artistic Director, Ross Balbuziente said the company was relishing the opportunity to play and be a bit wicked with this production.
"This is the fourth Roald Dahl adaptation I have had the privilege to direct, and I could not be more excited – it was one of the first Dahl books I ever read," he said.
"Embracing that unbridled sense of abandonment and joy that Dahl's words give will be a much-needed distraction, especially given the last few years. It is more important now than ever to take some time to laugh."
"The story has the trademark grit, wit and grotesque deliciousness readers have come to expect from Dahl. Front and centre are two of his most hilarious meanies – Mr and Mrs Twit. At the same time, the beating heart of the story is the importance of being nice to one another and that if you have friendship and family and work together, anything can be accomplished."
"It's a passion for us at shake & stir theatre co to use Dahl's books as inspiration for reimagined theatre works for audiences of every age to enjoy."
Roald Dahl's gruesome twosome The Twits are ready to delight and disgust, in equal measure. Mr and Mrs Twit are the nastiest couple you could ever hope (not) to meet. Both are on a quest to be meaner than the other – but is there someone out there who can out-twit the Twits?
Full of trickery and wickedly-funny pranks, Dahl's adored classic encourages us to treat others with love and care and proves that if you have good thoughts, they will shine out of your face like sunbeams.
Families who have read the book and even those that haven't will enjoy this family classic from the wacky mind of the world's No. 1 Storyteller live on stage.
The production will be presented as part of Arts Centre Melbourne's Winter Families and Children Program. Launched in August 2009, the families program has grown in reputation to become highly respected nationally and internationally. Featuring intimate and large-scale theatre from some of the world's most respected companies and a diverse range of interactive workshops, the program is robust and growing in size, scale and scope.
★★★★★
Perfect. Broadway World Honed to perfection. Stage Whispers Should not be missed.
– Arts Hub
★★★★★
You and your child do not want to miss this remarkable piece of theatre.
– Broadway World
Honed to perfection. The team behind this production are absolute stunners.
– Stage Whispers
A full-bodied visual and aural experience – should not be missed. Arts Hub Being long time Roald Dahl fans… we were not disappointed!
– Brisbane Kids
For this fan of Dahl, it was a dream come true to see his characters come to life, years after reading his novels as a kid.
– Arts Hub
Arts Centre Melbourne, shake & stir theatre co and QPAC present
Roald Dahl's – The Twits

Adapted by shake & stir theatre co
Arts Centre Melbourne
Playhouse 27 June – 1 July
Duration: 60 minutes (no interval)
Tickets: $28 – $45
Age Recommendation: 5+
Accessibility: Auslan interpreted
Warning: Loud Music and sound effects, strobe lighting, haze and two very nasty individuals

Tuesday 27 Jun – 1:00 PM
Wednesday 28 Jun – 10:00 AM, 1:30 PM*
Thursday 29 Jun – 10:00 AM, 1:30 PM, 6:00 PM
Friday 30 Jun – 10:00 AM, 1:30 PM, 6:00 PM
Saturday 1 Jul – 10:00 AM*, 1:30 PM
*Auslan Interpreted Performances:
Wednesday, 28 June 1.30pm and Saturday, 1 July 10am.
Auslan (Australian Sign Language) is used by the Deaf community in Australia. Auslan Interpretation is offered for select performances. To book seats near the interpreter, select 'Book tickets' on the event page and add the code AUSLAN into the promo code box. These seats are subject to availability.