Trailers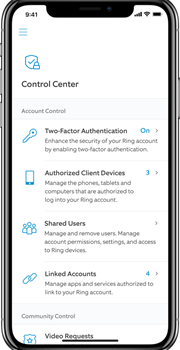 Published on April 8th, 2020 | by Adrian Gunning
Ring rolls out Control Center – new privacy and security dashboard
Ring's new in-app privacy dashboard, Control Center, is now available to Ring customers.
Control Center will initially enable Ring users to see and manage their connected mobile, desktop and tablet devices, Linked Accounts, and Shared Users. In the future, Control Center will continue to provide users with the ability to easily view and control additional privacy and security settings right from the Ring app. For example, Ring will soon add to Control Center the ability to easily view third-party service providers working with Ring and opt-out where applicable.
The Control Center feature set includes (click here to view screenshots of Control Center):
Account Control

Two-Factor Authentication: Check to see if two-factor authentication is enabled for your Ring account.
View and Remove Authorised Client Devices: See and remove all the phones, tablets, and computers that are authorised to log into your Ring account.
View and Remove Shared Users: Manage the Shared Users associated with your Ring devices, and easily remove them from those devices.
View and Remove Linked Accounts: Manage all services that have been authorised to link to your Ring account, such as Alexa, Smart Things, and IFTTT, and remove any of these individual services. (This only includes those accounts that you've linked by signing into your Ring account. To control links to smart devices from Ring+ Partners, go to Device Settings.)

Privacy Content

View information about how we keep your personal information confidential and private.
Ring is also excited to launch some additional new security features. Currently, email notifications are sent to a Ring user when a login using their credentials occurs from a new client hardware device or a new IP address, and now users will also see:
Approval Broadcast: Users will be able to use two-step verification to authorise any new client device that logs in with correct credentials before that device can gain access to the Ring account. Users will receive an email letting them know that a new device has logged into their account, and the user will have to manually confirm the new client device before it can gain access to their Ring account.
Two-Factor as the Default Setting: Two-factor authentication will be a mandatory part of the setup flow for all new accounts, meaning users will have to manually opt-out of two-factor authentication setup