Games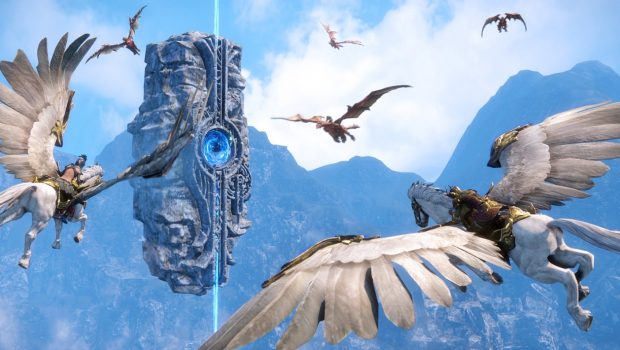 Published on July 29th, 2016 | by Admin
Riders of Icarus gets first major content update today
Blight of Frost Keep update brings increased level cap, new mounts, new dungeons & more
Riders of Icarus players today receive a wealth of new content in the first major update for the game since it arrived in Open Beta earlier this month. With a level increase to 35, Riders will now have an all-new zone to explore, with its own unique mounts to capture and tame, dungeons to conquer and bosses to vanquish. The "Blight of Frost Keep" update brings content including:
Parna's Coast: Enter the new snow-covered lands of Parna's Coast to discover new dangers and new mounts as you explore this fascinating new high-level region. With powerful monsters and a misty frost that permeates the area and can affect a players' mobility if they're not prepared, Riders will want to team up with others to succeed in the new 'Field Raid'.
The Frost Keep: Riders level 34 and above will find an icy challenge awaiting them in the new Frost Keep dungeon, the stronghold of the Frost Guard and their enigmatic leader. In this barren and lifeless keep, players will have the chance to add ghostly new mounts to their collection.
Cavern of the Veil: More mysteries will be unearthed by Riders level 28 and above in the Cavern of the Veil, where they will face off against a variety of deadly bosses deep underground. As players explore, they should keep their eyes peeled to find and tame a rare mount.
New Mounts: Parna's Coast has its own unique environment, and with it comes new mounts to capture and tame, including the Venomous Caspert, Karas and Terror Kerav, who will lend an advantage in the frosty lands.
Guild Alliances: Forge strategic alliances with other guilds in preparation for future large scale PVP war events! Players' efforts will see their alliances grow stronger and their fame spread throughout the land.
This high-level content is the first of several planned updates that will provide new challenges for players to experience, offering added depth to the game and its ever-expanding world of mounts to capture, tame and collect.
"We are excited and grateful to see such a positive response from players in Open Beta," says Hoon Seok, producer, WeMade. "We have so much more content to come, and can't wait until it's ready to share with the community. Their feedback continues to be immensely valuable in helping us grow and shape the game."
To download Riders of Icarus and delve into the frostbitten Parna's Coast, and to stay up-to-date on the latest news and announcements, join the community today: ridersoficarus.com