Games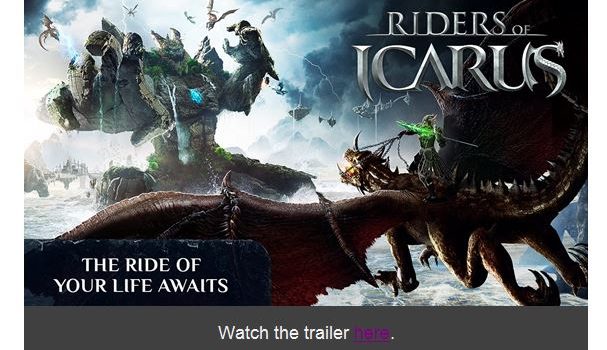 Published on May 6th, 2016 | by admin
Riders of Icarus gameplay trailer revealed!
LOS ANGELES – MAY 5, 2016 – Nexon America and WeMade today revealed a glimpse of the unique flying mount combat in the upcoming free-to-play Riders of Icarus, with the first gameplay trailer for the unprecedented action-adventure MMORPG. Riders eager to tame and collect the hundreds of fantastical mounts in this majestic world – ranging from ferocious bears to fire-breathing dragons – can now purchase a Founder's Pack to receive exclusive in-game benefits and a seven-day head-start before the official open beta launch, planned for July 6.
Three different versions of the Riders of Icarus Founder's Pack are available now, all of which provide exclusive mounts, skins, a title for founding members and other special items to help players become a legendary Rider:
• Elite Riders' Pack: Begin the ride of your life with the Elite Riders Pack and receive an exclusive mount, early access, a special title and more. $24.99 (value $41.70)
• Heroic Riders' Pack: Forge your destiny with everything from the Elite Riders Pack, plus an additional exclusive mount, 30 days of Premium Service and much more. $42.99 (value $105.86)
• Legendary Riders' Pack: Become a Legend with nearly everything from the Heroic Riders pack, plus two additional exclusive mounts, 24 inventory slots, 30 additional days of Premium Service (for a total of 60), and much more. $89.99 (value $252.75)
For additional details on the Founder's Packs and their contents and benefits, or to purchase one of the available packs, please visit: www.ridersoficarus.com/founders.
Riders of Icarus is currently in closed beta and will be available to players in supported regions on July 6 through the Nexon launcher and Steam for Windows PC. To stay up-to-date on the latest news and announcements for Riders of Icarus, join the community today: ridersoficarus.com