Games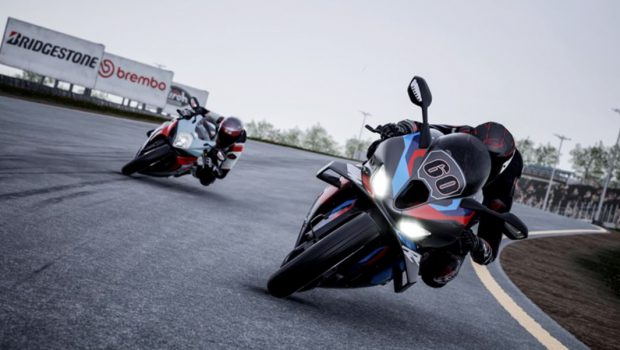 Published on July 14th, 2023 | by Adrian Gunning
RIDE 5: A CAREER MODE THAT SUITS EVERY TASTE
Milestone have released a new blog post for RIDE 5, available on PlayStation®5, Xbox Series X|S, Steam, and Epic starting August 24, 2023.
Antonio Notarangelo, RIDE 5's Senior Game Designer, has composed a blog post sharing some insights on the game design of Ride 5 and the process of creating the career mode for the first new-gen-only Milestone title. The full article is available online and below.
The supporting walkthrough trailer is available here: https://youtu.be/EACqEnXUuF4.
RIDE 5: A CAREER MODE THAT SUITS EVERY TASTE
By Antonio Notarangelo, Senior Game Designer
When we started brainstorming the game design for RIDE 5, creating the Career mode was one of the most important moments. It's not easy to design a video game that can satisfy all potential riders who will hop on our bikes. Whether they are novice gamers or seasoned champions, everyone should have fun and find something that fulfills them, offering the right level of challenge. The game must also be able to reward the time invested in it to both those who have a lot of time to dedicate and those who approach it casually, enjoying a few hours a week.
Now that RIDE 5 is in an advanced stage of development, looking at its Career mode, I believe that the above-mentioned requirements have been met. In fact, the game offers two paths: the main one, the Tour, is divided into four acts with events ranging from championships to various types of competitions such as single races or time attacks. The optional one, the Limitless Challenges, offers four acts, each unlockable by clearing the corresponding main act, featuring a higher difficulty level.
In Career mode, it is not necessary to win every race in order to clear groups; it is sufficient to reach a minimum score. Initially it is quite low, but it progressively increases as players advance in the game. On the other hand, Limitless Challenges do not have a surpassing threshold but only a completion threshold: in other words, to finish them, all races must be won!
The adaptability of RIDE 5 to players' inclinations is therefore evident and is also reflected in the qualifications, that can be time-based or single lap. The former corresponds to a more casual (and usual) approach, while the latter represents a more hardcore experience as it provides only one lap to determine the race placement. Consequently, players must be skilled at giving their best immediately, while also keeping in mind that going off-track results in penalties.
Another challenge we wanted to tackle when conceptualising RIDE 5 was longevity. Unlike annual releases, we wanted to provide virtual bikers with an experience that could entertain them for years to come. The Race Creator is a highly customisable tool that allows players to create their own races. They have control over various aspects, including the logo, name, and format of the competition (single event or championship), as well as driving aids, competition type, number of riders, number of events, scoring, and more. This level of customisation extends to the AI-managed riders as well, where players can personalise their bikes, suits, and even choose their opponents with meticulous detail, setting a new standard in Milestone's games.
Among the races to be won, there will also be Endurances. Their duration can be set from a minimum of 20 minutes to a maximum of 24 hours, thus replicating some of the most iconic races like the 24 Hours of Le Mans. Winning each group of races rewards players with credits, experience, and unique bikes. Endurance races played in the Race Creator, on the other hand, only reward players with credits and experience.
Speaking of rewards, RIDE 5's Career mode rewards players with powerful bikes at the end of each group of races. They serve as prizes and are crucial for tackling future challenges, ensuring that riders always have the appropriate motorcycle for competition. This means that players have the freedom to spend their credits as they wish. They can purchase better bikes than the ones they've won, upgrade their existing ones through the customisation system, or indulge in cosmetic purchases for their rider's attire. In the event that players mismanage their funds, they can still compete with a loaned bike obtained for free. However, credits earned at the end of the race are reduced.
Winning a competition brings satisfaction only if the opponent is a worthy opponent, and that's why the Career mode in RIDE 5 introduces Rivals, opponents with unique backgrounds and dedicated cutscenes and voiceovers. Each Rival has a distinct outfit and preferred track, bike and manufacturer. For example, Charles Nolan races on a 2005 Suzuki GSX-R 600, which players can win by defeating him. Rivals exhibit greater aggression, are the best riders in the game and progress in the rankings to intersect with the player's career at crucial moments, becoming recurring antagonists.
The effort exerted by players in RIDE 5 will be rewarded not only with bikes, credits, and points but also with the evolution of their headquarters, which will change based on their position in the world rankings. It will offer three different environments of increasing beauty, symbolising the journey towards becoming top-ranked drivers. Over time, the scenarios become more prestigious, and new team members will be added. Additionally, players will start their travels on a pickup and eventually progress to a van, ultimately culminating with a fully equipped truck!
But how long will the Career last? For only the four acts of the Tour, without completing all the races but simply reaching the event's surpassing thresholds, players can expect a longevity of approximately 17 hours. However, completing all the events in the four acts of the Tour will require around 30 hours. For completionists who engage with the additional content provided by Limitless Challenges, the fun extends by an extra 20 hours, resulting in a total of 50 hours of gameplay.
With its immersive Career mode, customisable races, rewards, and captivating gameplay, we have designed a game that transcends skill levels and provides endless hours of entertainment. RIDE 5 is ready to ignite the passion for two-wheeled adventures in each and every player and we invite all gamers, from casual to enthusiasts, to join us on this high-speed journey.