Blu-ray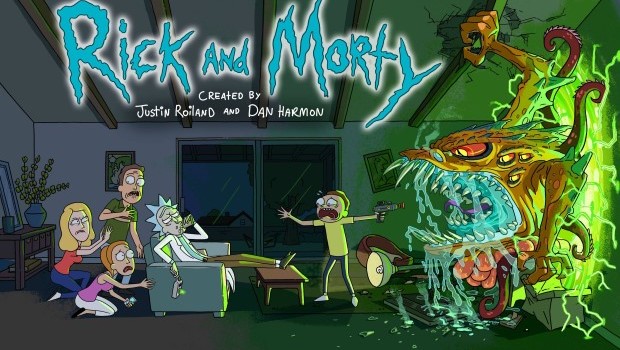 Published on November 14th, 2014 | by Sean Warhurst
Rick and Morty Season One Blu-ray Review
Summary: If you're a fan of shows like Community or any of the offerings from [Adult Swim] then you need to do yourself a favour and pick up Rick and Morty Season 1 as soon as possible!
4.7
Demented Dimension Hopping
Genre – TV Animation
Label – Madman Entertainment
Aspect Ratio – 1.78:1
Audio – English (Dobly Digital 2.0)
Region Coding – B (Blu-Ray)
TV Standard – PAL
Rating – M
Running Time – 242
Format – Blu-Ray
Year of Release – 2013
Reviewer – Sean Warhurst
Coming from the stables of infamously bizarre programming block [Adult Swim], famous for offering up viewing experiences that border on the mind altering and home of surreal animation classics such as Sealab 2021, Aqua Teen Hunger Force and The Brak Show, Rick and Morty is a riotously funny, deftly managed combination of cerebral and politically incorrect humour that will most probably be one of the best series you'll see this year.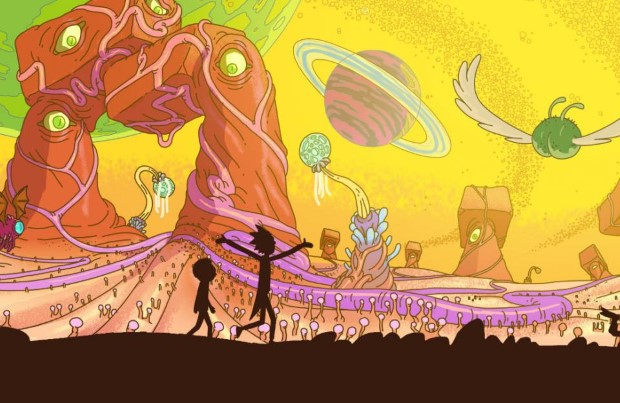 Created by Dan Harmon (Community) and Justin Roiland (House of Cosbys), Rick and Morty's origins lay in Roiland's puerile (And hilarious) animated short The Adventures of Doc and Mharti, basically a subversion of the questionable nature of the relationship between Doc and Marty from Back to the Future featuring an insane amount of situations that can only be saved by Mharti pleasuring Doc's chapped, bloody testicles.
I know, I know… Dick jokes usually don't bode well. However, from that dubious foundation Roiland has managed to build an incredibly rich and vividly realised universe that takes the best aspects of Sci- Fi tropes and applies them to the show in unpredictable and refreshingly unique ways.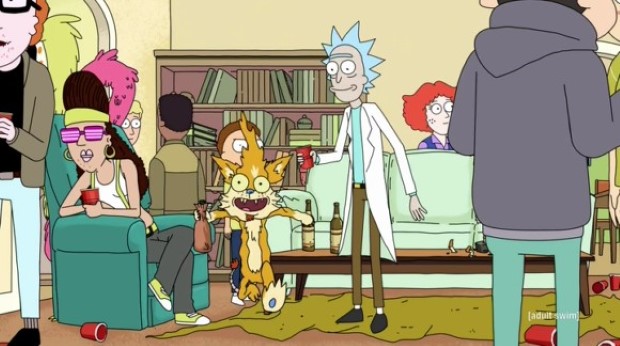 The show centres around the – Thankfully not as perverse as in Roiland's original clip – relationship between Rick and Morty (Both voiced by Roiland), an eccentric, genius inventor and his not quite as sharp grandson, respectively.
Moving into Morty's family home after an absence of twenty years, Rick quickly ropes his naïve grandson into accompanying him on his inter-dimensional adventures through time and space, much to the chagrin of Morty's parents Beth (Sarah Chalke) and father Jerry (Chris Parnell).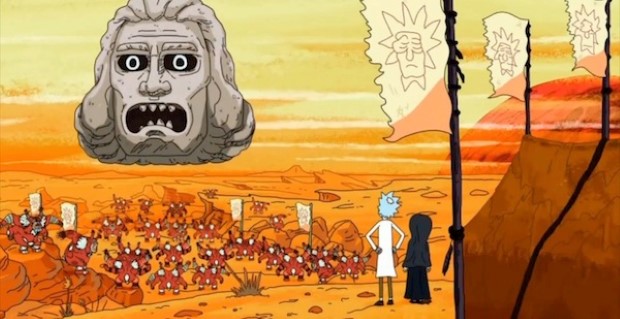 The best thing about a show like Rick and Morty is that the story possibilities are nearly endless, with the simple premise allowing for journeys inside of drunken hobos housing internal fun parks and to dimensions where Hamsters live inside peoples butts, the inadvertent side effects of an infatuation serum eventually leading to the end of the world, an alien sex doll with the ability to give birth spawning a child for Morty to raise whilst Rick and Morty's sister are taken captive by a matriarchal society and an inter-dimensional cable connection that broadcasts an infinite amount of programs from an infinite amount of realities leading Morty's parents to question their marriage (And featuring many inspired improvisational moments in a season highlight).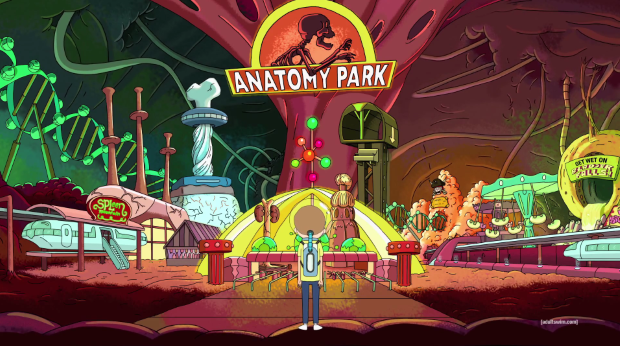 Rick and Morty carefully balances humour with emotion, understanding full well that tragedy and comedy are two sides of the same coin and effortlessly switching between the two with a grace rarely seen in animated programming. When Morty, irrevocably scarred by his adventures, has a one on one chat with his sister Summer where he describes the agony of having to eat breakfast less than two metres from his buried corpse, it's jarring and puts the detrimental effects of Morty's relationship with his grandfather into the limelight; there's an existential angst to Morty that only increases as the show goes along, a poignant juxtaposition to all of the zaniness of the show.
The writing is sharp and intelligent, consistently veering off into unexpected plotlines, and Roiland and co. take great pleasure in taking advantage of the opportunities afforded by the central premise of the show, populating the surreal alternate dimensions and planets with foul mouthed thinly veiled Freddy Krueger analogues, pederast Jelly Bean kings, an amalgamation of Hitler and Lincoln and many, many more inspired creations.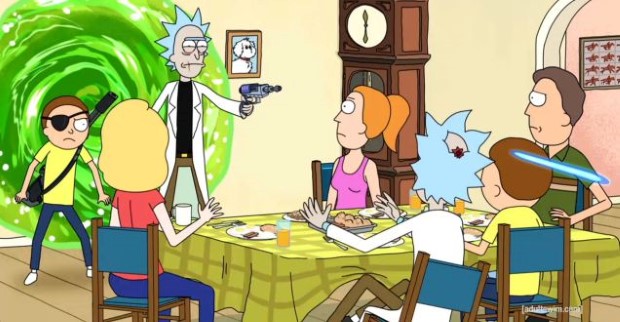 Episode Listing:
Pilot
Lawnmower Dog
Anatomy Park
Night Shaym-Aliens!
Meeseeks and Destroy
Rick Potion #9
Raising Gazorpazorp
Rixty Minutes
Something Ricked This Way Comes
Close Rick-Counters of the Rick Kind
Ricksy Business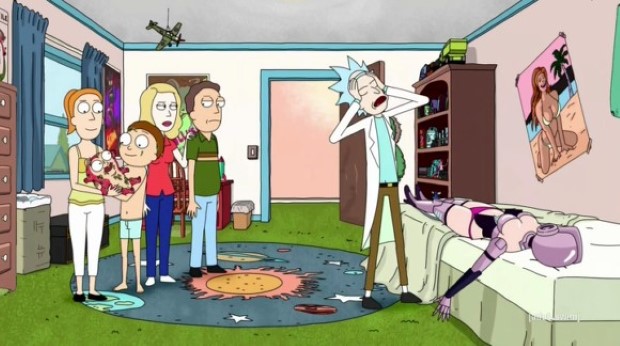 Audio and Visual
Madman's transfer for Rick and Morty Season One is nothing short of superb, with a crisp visual presentation that is absolutely resplendent in detail and clarity and entirely free of any major visual anomalies; the vivid colour palette is displayed in all of its garish glory and the high definition transfer itself is entirely flawless.
Audio wise, fans of other forays into twisted animation like Adventure Time will be ecstatic to find that Rick and Morty comes with a TrueHD 5.1 Dolby surround track rather than the mere two channel option offered by other high profile animated releases; with exceptional directionality, sound prioritisation and placement and precise mastering this is an impeccable transfer that more than does the series justice.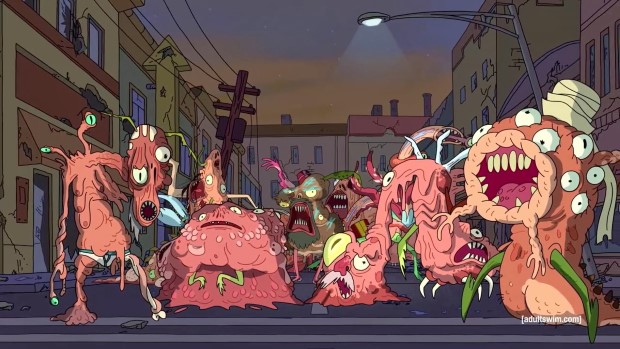 Special Features
Rick and Morty Season One comes with a raft of extras that will more than satiate your desire for an insight into the process of creating the show. Most notable are the eleven increasingly drunken commentary tracks with creators Dan Harmon and Justin Roiland, as well as selected crew; gregarious and managing to stay generally on point, the conversations between the creative minds behind the show make for some genuine moments of hilarity as well as revealing any easter eggs or obscure reference that viewers may have missed.
As an added bonus there's also an extra three "guest' commentaries featuring guests such as Matt Groening, Pendelton Ward and Robert Kirkman of The Walking Dead fame offering their perspectives on their respective episodes as well as their thoughts on the series as a whole.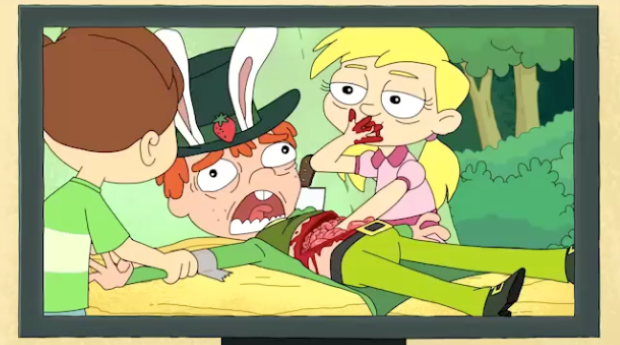 There's also a twenty minute look behind the scenes at Starburns Industries that, whilst offering up a few interesting tidbits, features the most obnoxiously unfunny interviewer/host (Intentionally, I'm guessing) and quickly becomes a grating experience; it would have been great to have actually been afforded a serious look at what creating a series such as this entails rather than rambling tangents where people discuss the quality of staff toilets and being subjected to the painfully unfunny anti-humour of the host, but it is what it is, I guess.
Rounding out the set are selected deleted scenes as well as full length animatics for each episode and a miniature comic book version of The Good Morty, as seen in Close Rick-Counters of the Rick Kind.
List of Features
Cast and Crew commentary on each episode
Guest Commentary on Rixty Minutes, Close Rick-Counters of the Rick Kind and Rick Potion #9
Animatics for Each Episode
Deleted Scenes (6:47)
Behind the Scenes (19:08)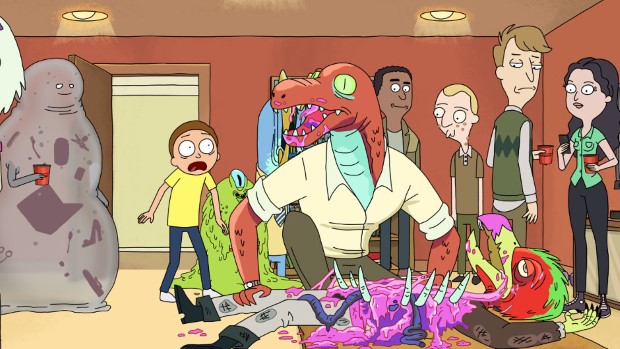 Final Thoughts
In all honesty, the pilot episode isn't the best the series has to offer and may be hard for viewers to get into due to the jarring quality of the voiceover work (Rick's constant belching, especially), but stick with it and if by the second episode where a dog in a mech-suit flatly demands to know where his testicles have gone you still haven't warmed to the demented, quirky nature of the show then Rick and Morty probably isn't for you – Unlike contemporaries like Regular Show and Adventure Time, Rick and Morty doesn't hold back on the profanity and moments of pitch black humour and is definitely not suitable for sensitive or younger viewers.
However, if the wildly anarchic and intelligently crafted writing appeals to you then you're in for a treat, as the show only gets better throughout the season. If you're a fan of shows like Community or any of the offerings from [Adult Swim] then you need to do yourself a favour and pick up Rick and Morty Season One as soon as possible. Seriously. Go. Run, don't walk.