Comics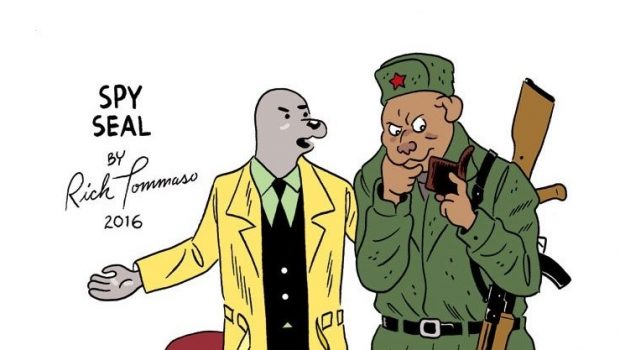 Published on November 11th, 2016 | by Dana Folkard
RICH TOMMASO'S SPY SEAL COMIC SLATED TO HIT STORES 2017!
After the success of Rich Tommaso's playful SPY SEAL drawings, Image Comics is pleased to reveal that it's going to be hitting stores in 2017!
Rich Tommaso had no idea that when he posted his drawings of SPY SEAL, a character that he created as a young teen on Facebook, that it would be met with such success and enthusiasm by fans.
"I never thought I'd be drawing and writing something I'd created as a young teen in the late 1980s again in 2016…The climate seems to be ready for some anthropomorphic fun comics again, so if they're game, so am I!" – Tommaso.
Reminiscent of Hergé's TINTIN and Stan Sakai's USAGI YOJIMBO, the first season of Rich Tommaso's SPY SEAL will take it's readers on an journey that propels them deep into international espionage, filled with high-flying adventures and shenanigans.
SPY SEAL #1 will hit stores in 2017.