News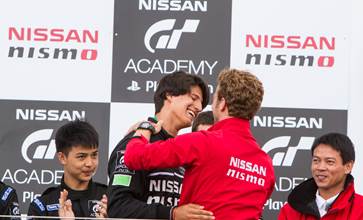 Published on August 15th, 2014 | by admin
Ricardo Sánchez From Mexico Becomes Nissan PlayStation GT Academy International Champion
SILVERSTONE, England (14 August 2014) – The inaugural Nissan PlayStation® GT Academy International Race Camp drew to a thrilling conclusion at the UK's Silverstone circuit today as Ricardo Sánchez, 24 from Toluca in Mexico, was crowned champion.
He will now go on to enjoy four months in one of the most advanced and successful driver development programmes in the world before racing for the Nissan NISMO race team in the international Dubai 24 Hour race in January 2015.
Ricardo now has the chance to show that he has what it takes to become a NISMO Athlete and race all over the world for Nissan, following in the footsteps of the likes of Lucas Ordoñez (now racing in Japanese Super GT) and Jann Mardenborough (a racer-winner this year in the highly-competitive GP3 Formula 1 feeder series).
Ricardo won his place at Race Camp from the hundreds of thousands of Gran Turismo® gamers that entered the competition across Australia, India, Mexico, the Middle East and Thailand. Having won through National Finals, he arrived at Silverstone as one of 6 to represent Mexico, alongside 27 International competitors overall, representing 6 countries split into five territory groups.
Over the course of six days, the competitors were put through their paces both on and off track. They enjoyed some of the best racing instruction and mentoring in the world in a range of Nissan cars, including the mighty GT-R, the 370Z NISMO and 370Z race cars. Each group formed a close bond with their territory judge, who acted as a mentor, but then had to make the difficult decisions when it came to eliminations from the competition.
As well as the circuit driving and assessment, the competitors were judged on a series of challenges that included the Mud Mayhem assault course, Nissan Micra Stock Car racing, the Traffic Challenge in the Nissan GT-R, the Dirt Track Time Trial in the Nissan Juke, the head-to-head Gymkhana, Buggy Racing, and a head-to-head Dogfight pursuit race in Nissan 370Zs. Each challenge was accompanied and assessed by their judges that included ex-F1 test driver Dani Clos, V8 Supercar legend Rick Kelly, ex-F1 racer Karun Chandhok, Rally Driver and Drift King Abdo Feghali and renowned Thai Formula racer Tor Graves.
Gradual eliminations led to today's finale, and yesterday's penultimate day of Buggy and Dogfight challenges formed the decision from each judge on which of their two best drivers would take the wheel of the 370Z race cars for an eight-lap race of Silverstone's National circuit.
The race started as the Middle East's Ahmed Bin-Khanen took immediate lead over Thanaroj Thanasitnitiket of Thailand, who then fell back into fourth just ahead of Abhinay Bikkani from India. Josh Muggleton, who started last on the starting grid following Australia's last minute topple in yesterday's qualifier, made an immediate push to third, putting enormous pressure on Ricardo who went straight into second after his third place start. Ricardo and Josh then took the race to a new level as they raced ahead of the other three teams and widened the gap in what continued as a two man chase for the chequered flag, with Ricardo refusing to lift his lead. While Josh made the race's fastest lap towards the final minutes, it wasn't enough to overcome the Mexican's resilience at the front, and the race was won by Ricardo with a lead of 6/10 of a second over Josh.
After some heated judges' deliberations, it fell to GT Academy head judge Robb Barff to announce the winner on the Silverstone National podium.
"I am proud of the continued globalisation of this important brand asset for Nissan and it's great to see countries with little Motorsport heritage competing as we seek to democratise the sport," said Darren Cox, Global Head of Brand, Marketing and Sales, NISMO.
"We now begin the task of developing our new international winner but alongside that we will be reviewing the winners from each of the International territories to see if we can get them more involved in motorsport in the future, as well as looking forward to welcoming even more countries to the programme next year".
Ricardo Sanchez, GT Academy 2014 International Champion:
"I don't even know what to think! I'm excited, I'm nervous and I don't know what to expect in the coming months. I'll give everything I have in the training programme and I'll try to win the 24 Hours of Dubai. I'll do everything I can to show that I deserve to be a NISMO Athlete."
"My dream now is to win for Nissan at the 24 Hours of Le Mans and at the Nürburgring. But there is still a way to go until I get there, but I have that chance now so I'm going to take it!"
Rob Barff , GT Academy 2014 International Head Judge:
"I'm very proud of all the guys. They've put in a massive amount of effort and come an enormously long way. The journey might be over for most but for Ricardo the journey has just begun. He now starts the hard part, the driver development programme and I look forward to seeing him at Dubai."
"The beauty of this week was how close it was, nobody was set apart. It was a three-way tie almost between Thailand, Mexico and Australia ahead of the final event. Whoever won the race was going to come out on top, and although it was close we feel Ricardo has more to give than the others."
"To Ricardo, my advice is simple. Listen to the coaching. Drive fast. Don't crash!"
Dani Clos, Mexico Judge:
"This is just a great opportunity for these kids to show their potential. You know, they come from out of nowhere through PlayStation to become a professional race car driver, with the chance to drive at Dubai 24 hours and go even further. I'm just really happy that we were able to improve during these days, and that we were able to build a proper driver. There's a lot work to do from now on and it's the first day in a new life for Ricardo, but this is just a great feeling and I'm just so happy for him to be able to live this dream."
Rick Kelly (Australia Judge):
"It's definitely disappointing that we didn't come away with the win because Australia have done such a great job since we got here to Silverstone, a little over a week ago now, but at the end of the day the Mexican team won the race, so it was hard to sway everyone's opinion around. And also, Ricardo did such a good job on all the challenges. He's got a lot of potential and he's a great young guy so it's a great thing.
"From my point of view, it's great to represent Australia over here for the very first time in the GT Academy. It's really opened my eyes to the entire program, not only what's shown on TV, but what training goes into the drivers away from the cameras as well – on the track with really experienced instructors next to them, in a lot of different cars. It's every kid's and young guy's dream to come over here and be able to participate in something like that, so in my point of view, it's really opened my eyes to the entire program and I really hope we can get an Australian group together next year, do a little bit more playing, come back a little bit stronger, and make sure that we take it out and get an Australian into the GT Academy and fill in that success of being able to become a race car driver, because today Australian motorsport, and in motorsport around the world, it is so hard to give somebody that opportunity.
Josh Muggleton (Australia):
"I'm gutted of course, but I knew they couldn't really take a race win away from Ricardo. I'm proud of coming second after starting at the back and I know it must have been close between Ricardo and me but I wish him all the best for the future.
"I'm definitely going to continue to race. I'm going to knock on every door I can until I'm back in a racing car. I intend to use this as platform to forge my own career back home and gain a little exposure so I'm sure this is not the end."
More details about GT Academy 2014 can be found on various platforms including: www.facebook.com/GTAcademy, www.gran-turismo.com and Twitter @GTAcademy.
Follow the official GT Academy http://www.facebook.com/GTAcademy page and NISMO Australia http://www.facebook.com/NismoAUS on Facebook for the latest updates on the competition and status of all GT Academy Champions. Also be sure to follow the #GamerToPro hashtag on Twitter and Instagram.