Games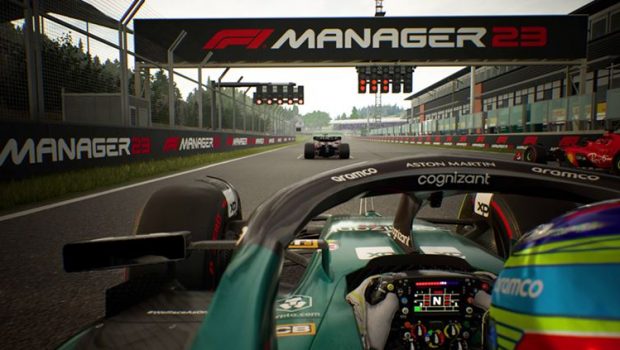 Published on June 8th, 2023 | by Adrian Gunning
Rewrite every high-octane race from the 2023 season in F1 Manager 2023, accelerating on to console this Winter
Frontier Developments plc (AIM: FDEV, 'Frontier') announced today that F1® Manager 2023, the next instalment in the officially licensed Formula 1® management simulation series, will launch this winter on PlayStation® 5, Xbox Series X, PlayStation® 4 and Xbox One.
Returning to the pit-wall, players will experience the most authentic, comprehensive and dynamic F1® management experience to date as they stake out their spot as one of the all-time sporting greats on their own terms.
Players will relive key moments from the 2023 FIA Formula One World Championship™ with the brand-new Race Replay mode, which features two unique types of scenarios. In Starting Grid, players will take control of a team of their choice in a full race which replicates the track conditions and grid positions from its real-world counterpart. Race Moments, meanwhile, will challenge fans to take control of a specific scenario part-way through the real Grand Prix, aiming to achieve a set objective before the chequered flag is waved, capturing key strategic calls from throughout a thrilling season. Following the conclusion of every gripping real-world race in the 2023 season, new Starting Grids and a Race Moment will be added to F1® Manager 2023,testing Team Principals from week to week as they establish their management credentials.
F1® Manager 2023 brings every lap to life in a stunning broadcast-like visual representation, with drivers going wheel-to-wheel across six F1® Sprint events and all 23 circuits, including the brand-new Las Vegas Strip Circuit. Players can choose to watch the dramatic action unfold across multiple on-board and trackside cameras, plot their strategy from the updated 3D map, or immerse themselves in every heart-in-mouth overtake through the new visor cam.
Across every lap, the player's decision making will be put to the test. Intense battles or a mistake will affect a driver's confidence, a new system which guides players on the balance between risk and reward on-track. Fluctuating surface and carcass tyre temperatures will challenge Team Principals to react to changing ambient track conditions as they aim to deliver results for the board. Knowing when to push and when to play it safe is more important than ever before, with dramatic overtakes and corner collisions capturing the heightened emotions of every moment.
Fans will experience unprecedented control over every facet of their team's development. The new Sporting Director provides the opportunity to train the team's pit-crew to mitigate costly mistakes, while drivers now develop following their directed development focus, and players can look to the future with more certainty by scouting talent from the fully simulated F2™ and F3™ Championships, negotiating contracts for the following season to ensure multi-year success. Vital to improving pace across the course of a season is the development of new car parts, where a balance of considerations between performance, weight and cost will challenge players' management skills.
F1® Manager 2023 launches this winter on PlayStation® 5, Xbox Series X, PlayStation® 4 and Xbox One.