Games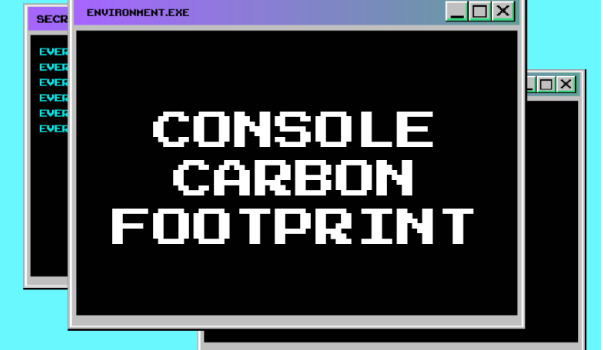 Published on February 13th, 2020 | by Admin
Revealed: FIFA 20 named most polluting game!
FIFA 20 was the most polluting video game title released last year, new research shows, with the estimated CO2 emissions resulting from sales and playing time exceeding 2 million tonnes.
Console Carbon Footprint reveals the total carbon footprint of top-selling titles and consoles over the last year, and found that FIFA 20's CO2 output is equivalent to charging 261,914,710 phones, the annual electricity use of 348 homes, or driving 5,096,065 miles.
FIFA 20 was the best-selling video game of 2019, with the research suggesting that its predecessor FIFA 19 was almost equally as polluting, with a calculated footprint of 912,581 kilograms, or 912.5 tonnes.
This means that FIFA's total footprint over the past two years is a staggering 2,966 tonnes – the equivalent of burning million pounds of coal, or homes' annual electricity use.
According to the study, digitally downloading a game results in CO2 emissions of 0.017kg, while buying a physical copy emits more than twenty times that at 0.39kg of CO2. This is due to the manufacturing emissions of handling plastic, paper and aluminium.
FIFA 20's physical sales were down 7% compared with those of FIFA 19, while the video game industry saw a 3.4% drop in sales overall, meaning FIFA 20 sold around 11,114,124 total units over the past year – just 10% of which were physical copies.
FIFA 20 also reached 10 million players in October 2019. The average CO2 emissions across all games consoles for FIFA 19 was 0.73kg, based on the average 29 hours players spend playing the game. This means that those million players could have wracked up CO2 emissions of 730 tonnes alone.
Emissions by games console – FIFA 2019 
Players could also reduce their carbon emissions by choosing to play FIFA 20 on a different console – looking back at the average time players spent on FIFA 19 last year, the Nintendo Switch is the most eco-friendly console, while the PlayStation 4 is the most polluting.
Converting the average power usage of each console into CO2 emissions overall reveals that the PlayStation Classic is the most eco-friendly, while Xboxes account for the highest carbon footprint on average with 0.031kg/CO2e per hour.
With 21 gaming companies – including Sony – having pledged to reduce their collective CO2 footprint by more than 30 million tonnes by 2030, it's crucial that major console companies continue to prioritise sustainable power usage and quick download times moving forward.
To read more about the environmental impacts of digital downloads and plastic production in Console Carbon Footprint, visit: https://www.slotsonlinecanada.com/most-eco-friendly-games-console/