Films
Published on July 9th, 2017 | by Damien Straker
Reservoir Dogs – 25th Anniversary Screenings at Dendy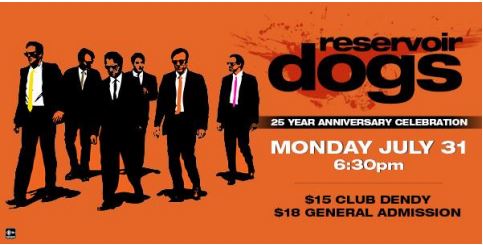 Dendy Cinemas across all locations are gearing up to host a series of retro screenings themed to feature food, drink and moments reminiscent of those in the movies.
On Monday July 31st at Dendy Newtown and Dendy Canberra locations, Dendy is set to host screenings of the iconic movie Reservoir Dogs – in a 25 year anniversary special of the iconic Quentin Tarantino film.
Dendy Cinema-goers can attend a 6:30pm session with beer & hot dog in hand and witness a very special limited screening of the 90's classic.
With tickets at just $15 for a Club Dendy ticket or $18 for everyone else, don't miss a chance to come dressed as your favourite mister. Booking online has never been easier as Dendy has said goodbye to booking fees. Patrons can now book online to secure their seats, skip the queues and never pay Booking Fees again.