Comics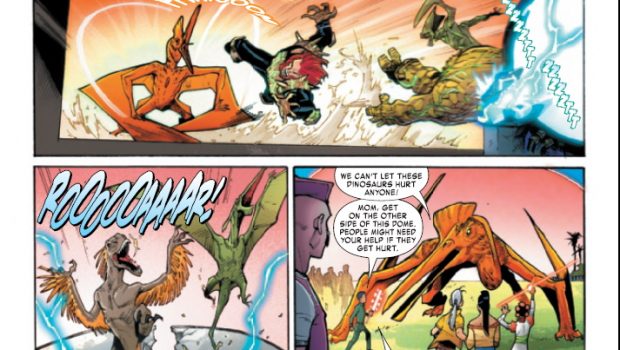 Published on September 27th, 2021 | by Tim Chuma
Reptil #4 (2021) Review
Summary: An interesting concept for a superhero and it didn't feel like I had missed out much in the story even starting four issues in. Worth a look.
Humberto Lopez finds an amulet that allows him to transform into any prehistoric creature but unfortunately he finds that someone else wants it to control dinosaurs from another dimension and ends up getting in a fight. In this instalment he is explaining what happened to the people who are now looking after him and promises not to get into any more trouble. As this is a comic book you can be assured that he does but it does change things around a bit with the main character becoming a hero to the community.
This story is geared towards younger readers it seems and is a bit along in the storyline but I did not feel like I was missing anything coming into it at this point as they explain everything well enough during the story.
I would recommend this one if you are a fan of dinosaurs and action or like stories with younger characters. It is set in the extended Marvel universe and Spider-Girl does get a mention at one point but I am not sure who is going to make an appearance in the story going forward.
Comic details:
Writer: Terry Blas
Penciler: Enid Balam
Cover Artist: Paco Medina
Publisher: Marvel
Published: September 22, 2021