Uncategorized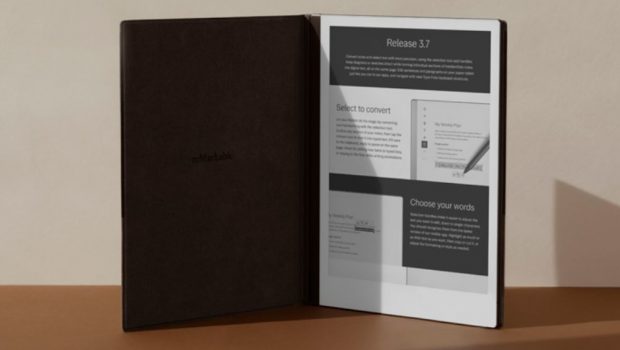 Published on October 8th, 2023 | by Andrew Bistak
reMarkable's new software transforms the annotation experience on digital paper
reMarkable, the leading innovator in the paper tablet category, today began rolling out software update 3.7, which further strengthens the interplay between handwritten and typed text on reMarkable, making it easier to use both on the same page. The release brings three key enhancements: handwriting to typed text conversion with the Marker, selection handles on the paper tablet, and new keyboard shortcuts for Type Folio.
Select to convert
With software update 3.7, the Marker can now smoothly convert handwritten notes into typed text. This feature makes it easy to work with the Marker in documents with typed text, like adding new items to typed lists, or staying in the flow while writing annotations. It also shines when dealing with long pages filled with handwritten notes, enabling users to convert only the sections they need.
Choose your words
The addition of selection handles on reMarkable's paper tablet offers precise control over text, down to single characters. This new feature should be familiar to anyone who's used the reMarkable mobile app: to bring up the handles, just double-tap the text cursor within a notebook and copy or cut the desired amount of text, or add bold or italic formatting just where it's needed.
Take a shortcut
Type Folio, the keyboard cover for reMarkable 2 launched in March 2023, can now be used for navigating in more of My files, including the main menu. Software update 3.7 also adds a handful of new keyboard shortcuts:
Quickly switch between menu sections by pressing the tab key.
Open the drawer for instant access to recent and favorite documents with a press of ctrl + tab.
For a complete overview of all the keyboard shortcuts on Type Folio, users can access a menu by holding either the ctrl or alt key for three seconds.
The update is now rolling out to all reMarkable users, and they can access it by following the instructions in the settings menu on their devices and updating the apps.