Hardware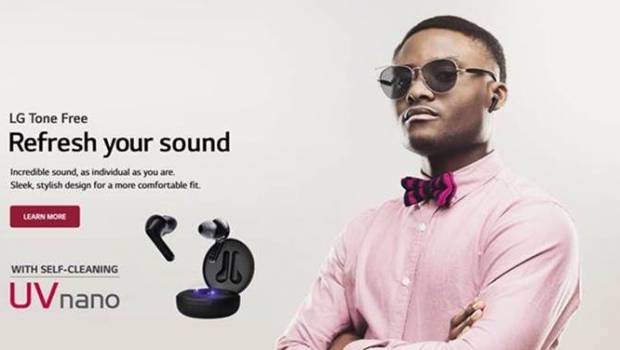 Published on August 28th, 2020 | by Adrian Gunning
Refresh Your Sound: LG Electronics Australia Introduces Company's First Wireless Earbuds with UVnano
LG Electronics Australia (LG), leaders in premium audio technology, today unveiled the company's new LG TONE Free wireless earbuds (LG TONE FN6) delivering premium life like listening experiences through Meridian Audio technology. The FN6 model features the industry-first UVnano case, which kills 99.9% of E. coli and S. aureus bacteria on the earbuds after 10 minutes of charging1 and the in-ear earbud design delivers a comfortable fit in a matte black finish. In addition, when paired with the LG TONE app, users can control sound settings and locate lost earbuds through the 'Find My Earbuds' feature.
Continuing the company's long-standing relationship with Meridian, the UK-based pioneers of high-fidelity audio for over 25 years, have once again immersed their premium technology into another LG product. The LG TONE earbuds deliver an immersive audio experience through three-dimensional sound courtesy of Headphone Spatial Processing (HSP) technology via Digital Signal Processing (DSP). DSP technology allows absolute control over the audio signal. Meanwhile, HSP overcomes the challenges of headphone listening, such as compact size and lack of 'crosstalk' between the left and right channels. Therefore, this recreates a realistic soundstage that simulates the experience of listening to real loudspeakers and delivers vocals with pristine clarity for a premium audio experience.
In addition, the LG TONE FN6 features four Meridian EQ pre-sets and two customised EQ sound settings, which users can adjust via the LG TONE app.  Each model offers unique pre-sets to deliver a tailored listening experience: Natural for authentic and balanced sound; Immersive for an expanded sense of space; Bass Boost for that extra punch and Treble Boost for clarity and vocal performances. Featuring Echo Cancellation and Passive Noise Cancellation, the close in-ear fit provides a seal that helps block out surrounding noise while the high-performance dual microphones work simultaneously to detect and minimise unwanted noise. The microphone positioned at the end of the stem on the LG TONE FN6 picks up and amplifies the user's vocals, even in a crowded space. On the other hand, Ambient Sound Mode allows users to hear what's going on around them with a press on the side of the earbuds, which is useful when users need to have a quick conversation, pick up an announcement on public transportation or cross a street.
What's more? Revolutionary Master Quality Authenticated (MQA) technology (created by Meridian) efficiently streams music as the producer intended it to sound. This precision is made possible with a 6mm custom-built driver that optimises how users experience Meridian, promoting vocal clarity and intensifying rich bass.
"At LG Australia we're proud to continue delivering a selection of innovative and premium audio products to our customers. The LG TONE earbuds are an exciting new addition to the range. Our ongoing partnership with Meridian truly helps users reimagine how sound should be heard – whether that be high-res music, podcasts or movies," said Tony Brown, Marketing Manager for Home Entertainment at LG Electronics Australia.
Unique to the LG TONE Free FN6 earbuds is the UVnano charging case. The  charging case kills 99.9% of bacteria after charging for 10 minutes, thanks to the built-in ultraviolet light, and the earbuds'  medical-grade silicone ear gel. 2 Rated IPX4, the LG Tone earbuds are splashproof while Bluetooth 5.0 connectivity delivers a convenient hands-free solution for audio listening and taking and making calls.
LG TONE FN6 earbuds and charging case deliver up to a total of 18 hours of listening.3 This includes up to six  hours of  playtime without the need to recharge in the case and the charging case provides up to 12 hours of listening, before needing to recharge the case itself. On top of this, with five minutes of charging users can experience up to one hour of playback.3 Furthermore, the LG TONE earbuds are voice command compatible for convenient voice access with Google Assistant and Siri through a connected smartphone.4 The intuitive touch commands built-in to each earbud enable users to play, pause, skip and control the volume level without reaching for their phone, tablet or compatible LG TV remote.
Engineered to fit comfortably in the ears, the LG TONE earbuds feature head-centred weight distribution that helps them stay snug and secure. The flexible, medical-grade silicone ear gels conform to the shape of the ears, so users can enjoy music longer without noticing the earbuds in their ears.  The LG TONE FN6 earbuds sense when users place the earbuds in their ears and pairs immediately with connected devices. In addition, audio is automatically paused when they take the earbuds out. For consumers worried about losing their earbuds, the 'Find My Earbuds' feature on the LG TONE app has the ability to locate lost or misplaced earbuds.
LG TONE Free earbuds are special in that they are designed to cater to a variety of consumer preferences and activities: studying or working; cooking at home or connecting to the TV for a private viewing experience. In fact, our consumer research shows that 59 per cent of Australians are using earbuds most in the home and 40 per cent during daily tasks.5 The earbuds can either immerse users deep into the audio or give them flexibility to hear surrounding sounds to assist with multi-tasking," Brown added. "Ultimately these multi-purpose earbuds provide convenience and a high-quality audio experience, anywhere."
The LG TONE Free wireless earbuds will be available in September. For more details, please visit http://www.lg.com/au.
Key Specifications:
Earbud size
16.1 x 32.8 x 25.0mm
Charging case size
54.6 x 54.6 x 27.5mm
Battery capacity
Earbuds: 55mAh x 2

Case: 390mAh

Fast Charging Time3
5 minutes for up to 1 hour of play
Battery Life3
Talk: up to 5 hours

Play: up to 6 hours

Case: up to 12 hours

Earbuds + Case: up to 18 hours

Connectivity
Bluetooth 5.0 (Single Device Connection)
Speaker
2 Layered Dynamic
Microphone
2 Outer
Compatibility
Android (5.0+) / iOS (11.0+)
Bluetooth Audio Codec
SBC / AAC

Bluetooth 5.0

Colours
Matte Black