Comics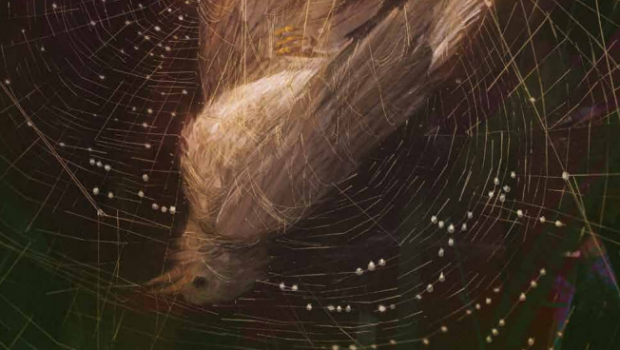 Published on November 8th, 2017 | by Dana Folkard
REDLANDS #4 REVIEW
Summary: Menacing and mysterious, this issue explores some curious developments.
The coven has been rattled by a near-death experience of one of their own. The serial killer, Redbrandt is dead, leaving the witches the chance to focus on other cases. Tensions, however, are high, and a deeply troubled Bridget delves into an interesting cold case that reveals a dark secret that takes her down an unexpected path.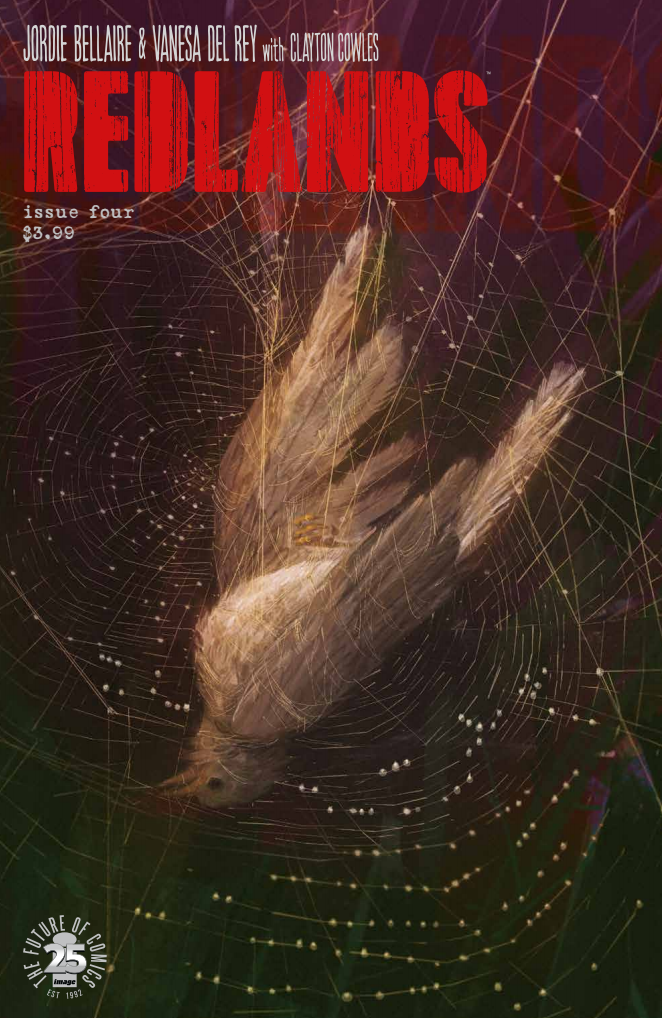 Redlands #4 begins with Ro curled up in bed, reading the book, Salem's Lot, to a young girl named Itsy. The story is interrupted by a phone call from Alice, who quickly informs Ro that Bridget was involved in an accident. Ro arrives at the Police Department, where she finds Bridget wrapped up in a blanket, seated on a bench in the morgue. She is fine, but clearly shaken from the incident, bearing a nasty injury to the side of her face. Alice is clearly upset, and decides to take her frustration out on Ro for taking so long to arrive and answer her phone. Their frustration quickly turns to Laurent, who they question and interrogate over what happened. He recounts the nights events, explaining how Bridget got injured and that he killed Redbrandt. Clearly upset with Laurent, Ro orders him to leave and voices her bitter disappointment at putting Bridget in harms way. He leaves devastated and broken-hearted.
We are then introduced to Dani, a hopeless drunk and a drug user, who is close to Alice. She has been arrested for being drunk and disorderly in public, and is locked in a cell for the night. Her exchange with Alice is heated, as she blames these three women for her supposed afflicted curse – which gives her the ability to see ghosts – and the damnation they have brought with them to the town of Redlands. The following day, Bridget arrives at the Police Department with Ro, wishing to work, so as to distract her from the previous night's attack. Not feeling herself, she begins work on a cold case, with the investigation leading her down a troubling path, filled with death and forgotten pasts.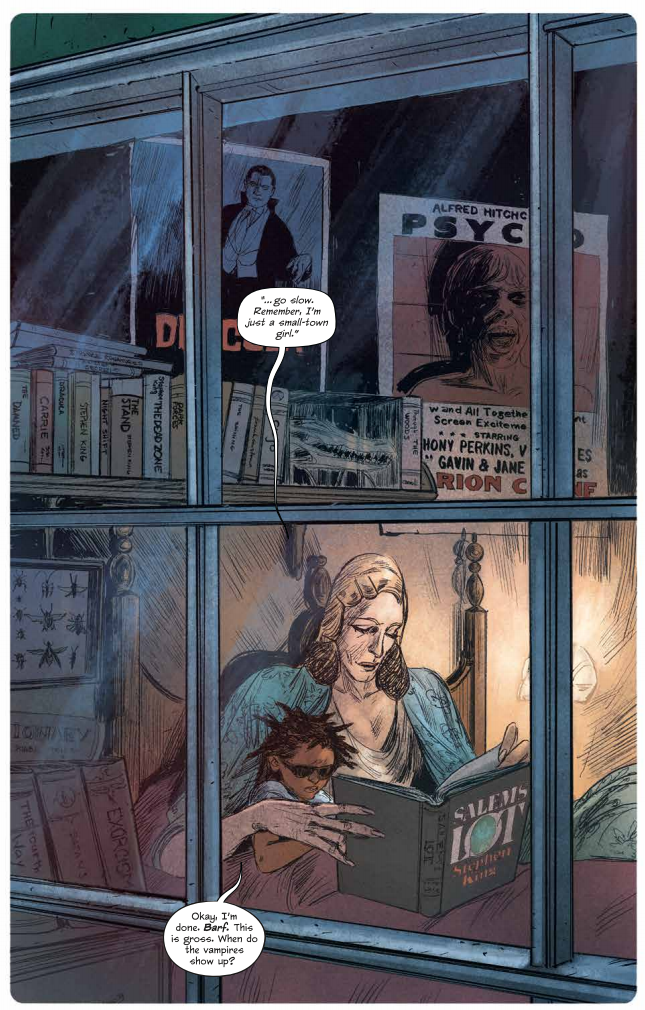 It's the aftermath of Redbrandt's murder and the coven is in a state of flux. Bridget is clearly disturbed by the attack and feeling out of sorts from the whole ordeal. Her near-death experience has changed her, leaving a rather dramatic shift in her character and relationship with the other witches. I find that Alice is such an intense character, and is highly critical towards everyone, especially Ro. She clearly disapproves of Ro's "daughter", Itsy, calling her a freak accident. This is all clearly hurtful for Ro, who only wishes to have a daughter that she can love and care for. Alice comes across as being more detached than the others in this respect. I find her to be an interesting and complex character, who is quick to cast a critical eye on others, but is driven by a fierce and protective love towards her fellow sisters.
We are also introduced to a few peculiar developments, that herald a change in the narrative. There is a rather dark development with Bridget towards the end of the issue, which amps up the mystery and suspense, and has left me asking a lot of questions, that I'm looking forward to having answered. I also rather like how the end of each issue is treated like a police file, documenting particular points of interest and clues that entwine with the larger narrative. All of these little pieces of the puzzle allow us to piece together snippets of information, thus coming to theories and conclusions about what is going on ourselves. I rather enjoy this autonomous way of interpreting things, as it makes us feel like we are a part of the investigations as well.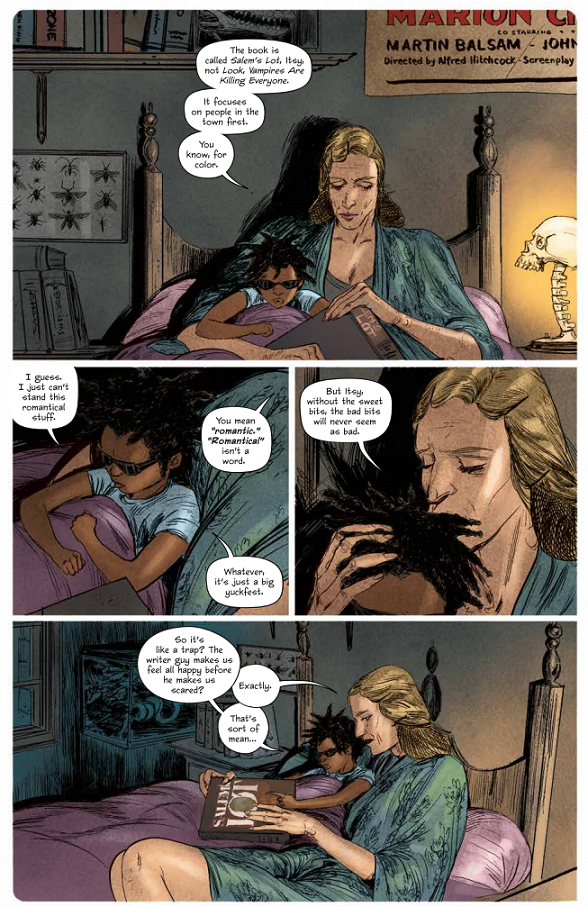 The art by Vanesa R. Del Rey, perfectly reflects the gritty nature of the narrative. I really like the expressive faces that she draws, capturing the full spectrum of intense emotions that these women are experiencing. Through looking at them, it's easy to fully grasp how they are feeling and understand how these recent events are impacting all of them. Del Rey's detailed linework frames this story in a very edgy mood, whilst also bringing a wonderful sense of texture as well. Jordie Bellaire, not only writes but colours this issue as well. The palette is dark, which heightens the troubling sense of unease that is bubbling under the surface. I also love the sense of light that is achieved, which brings a feeling of warmth to each page. I particularly loved how the light sparkled on a spider's web at Ro's house. It's pretty and actually gives everything a somewhat magical aura. Overall, the art and colouring come together to create a powerful visual narrative, that captures the tonal shifts of the story.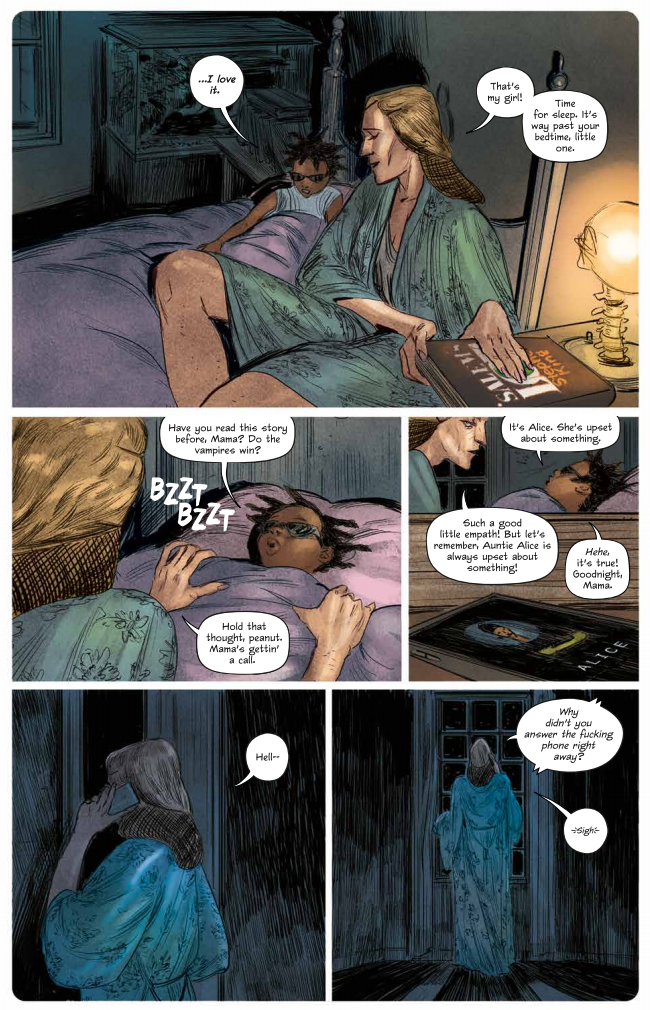 Redlands #4 is a dark and revealing chapter in this story. Sinister, mysterious and deeply unsettling, this issue explores some curious developments, whilst also focusing on the personal dynamic within the coven. There is a sense of menace in the air!
I'm giving this issue 4.5 out of 5 stars!
---
COMIC DETAILS
CREATIVE TEAM: Jordie Bellaire, Vanesa R. Del Rey and Clayton Cowles
PUBLISHER: Image Comics
PUBLICATION DATE: November 08, 2017
REVIEWER: Dana Folkard