Comics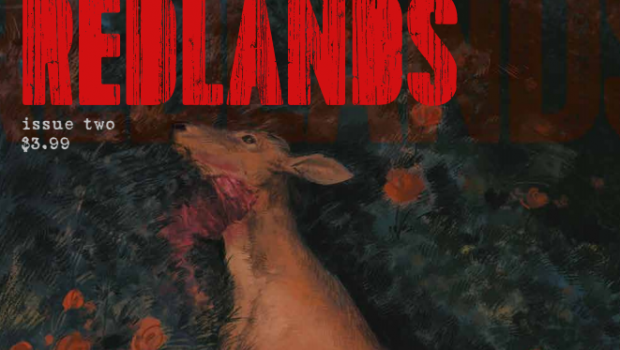 Published on September 13th, 2017 | by Dana Folkard
REDLANDS #2 REVIEW
Summary: Compelling story-telling, combined with beautiful and engaging art.
A coven of witches call the shots in the town of Redlands, however, order is maintained at a high cost. The arrival of a mysterious killer who threatens to expose their dark secret, heralds a menacing threat. Blood is spilled in more ways than one, with the whiff of magic in the air.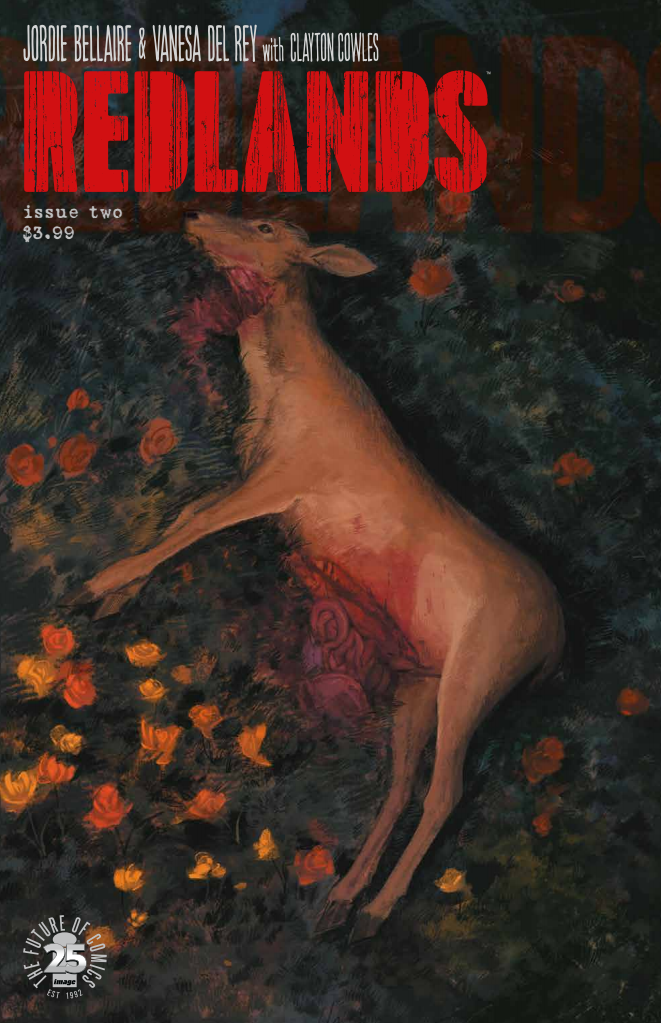 We begin Redlands #2 at the local Police Department, where we see Bridget, Ro and Alice discussing a string of murders that have been plaguing the town. Tensions are high, and Alice and Bridget begin to snap at one another, however, their bickering is interrupted when Ro comes bearing the news of another murder. They depart and arrive in an isolated field, where they are escorted to the crime scene, taking in the disturbing scene before them. Three young women are tied and lined up on the ground in a crucifixion pose, each with a herbal infused rose petal inserted inside each of their mouths…this crime scene smells of magic! After inspecting the evidence, Bridge receives an anonymous call from a man claiming to be the serial killer. He calls himself "the voice of rebellion" and threatens to expose their secret. An ominous call indeed. These recent murders couldn't have come at a worse time for these witches, as it's Feast Day and a ritualistic offering must be made. A sacrificial offering of blood!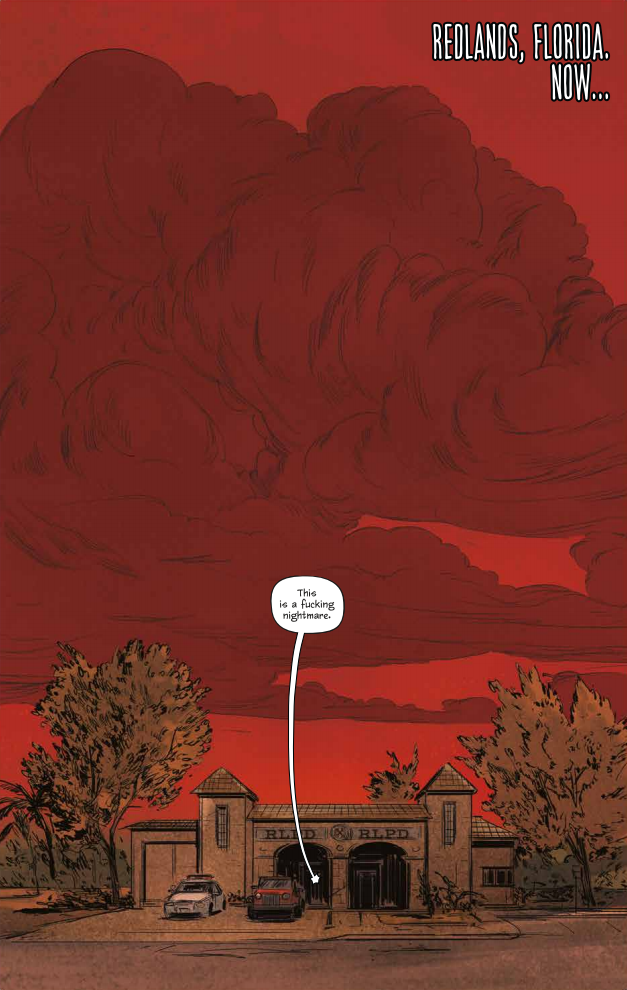 First of all, I've got to say that I wasn't expecting these witches to be detectives. It's actually kind of cool seeing them walk around using detective jargon, whilst at the same time talking about ritualistic sacrifices, medieval alchemy and the Feast Day solstice. It's an interesting contrast that strangely enough works. With the first issue, the dynamic was clearly established, as we saw the witches taking over the town of Redlands, claiming it as their own from the corrupt officers. This was a dramatic introduction, that gave us a small glimpse into the powers that these women possess, allowing us to grasp the full brutal and unforgiving nature of these women. The second issue introduces us to their unusual world, their job and the serial killer that threatens them. I like how we become more acquainted with Bridget, Alice and Ro, understanding how their group dynamic works and the roles that each of them fulfill. In my opinion, Jordie Bellaire has done a great job at the characterisation of these women, and their sharp banter is witty and fun to read. I also like how Bellaire has blurred the lines between good and evil, with a lot of ambiguity surrounding the intentions of these witches and whether they are good or bad.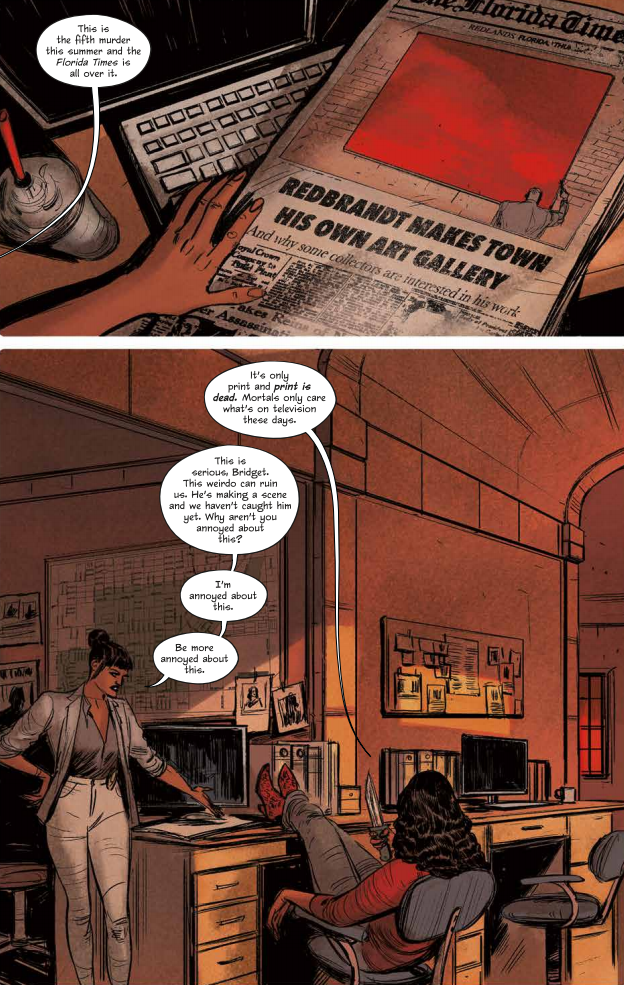 The art, by Vanesa Del Rey is detailed and emotive, capturing the haunting tone of this story effortlessly. I particularly enjoy the way the witches are drawn, each possessing their own unique look and style. They each have their own personal facial nuances, which gives them all an original and distinctive look. I also find Del Rey's art to be immersive in an evocative and compelling way, with each page filled with beautiful details, fine linework and heavy shading. I also found the scene during the Feast Day sacrifice to be incredibly intense and compelling, possessing a very sensual quality, and the interesting combination of images in the panels creates a captivating visual narrative. The colouring, by Jordie Bellaire, reflects the tonal shifts that we see as the story progresses. I rather like how shades of red dominate the colour palette, giving everything an intense quality. The mood is sinister and uneasy, and the art and colouring come together to reinforce this haunting atmosphere.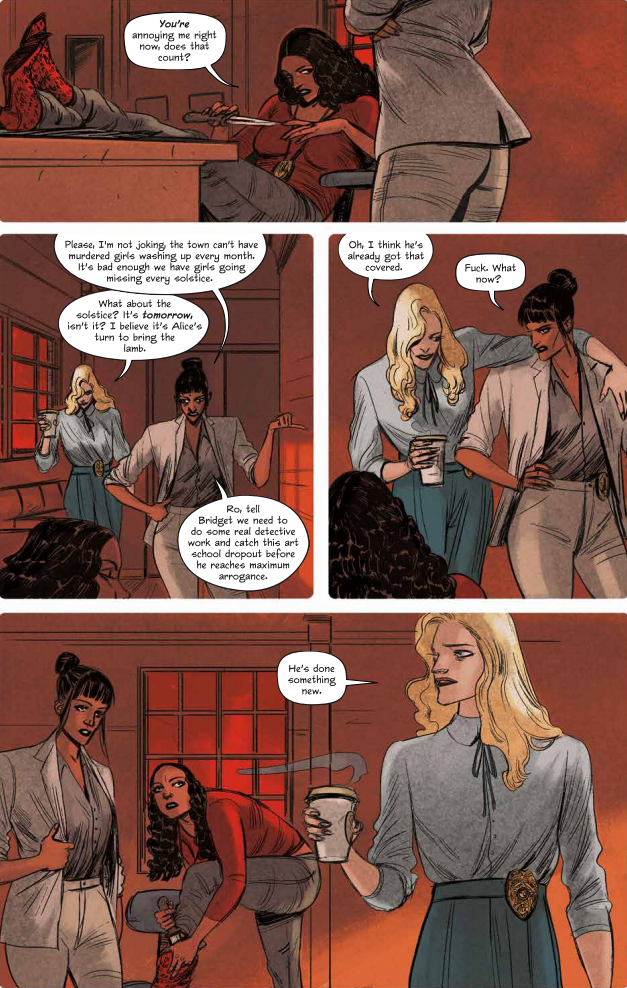 Redlands #2 dives straight into an intense and gritty story, that is both engaging and immersive. I'm curious to see how this story will unfold and where things will go from here. It's hard not to like what Jordie Bellaire and Vanesa Del Rey have created, with its compelling story-telling, complex characters and striking art.
I'm giving this issue 4.5 out of 5 stars!
---
COMIC DETAILS
CREATIVE TEAM: Jordie Bellaire, Vanesa R. Del Rey and Clayton Cowles
PUBLISHER: Image Comics
PUBLICATION DATE: September 13, 2017
REVIEWER: Dana Folkard