Comics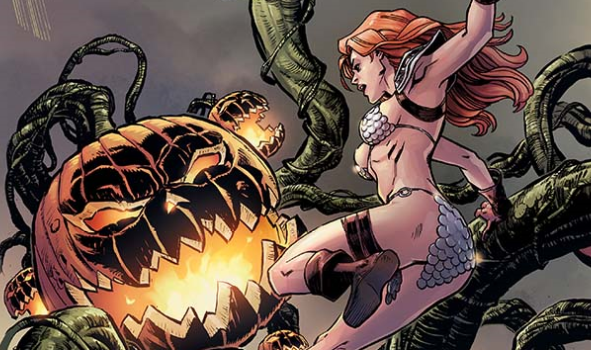 Published on October 25th, 2018 | by Dan Lix
Red Sonja Halloween One-shot 2018 Review
Summary: Fun and engaging tale of the supernatural.
Review
Just in time for the season, Red Sonja sets out to slay supernatural horrors in the Red Sonja Halloween 2018 one shot. This tome of terror contains two such tales. Curse of the Wolf is a story written by Erik Burnham and illustrated by Tom Garcia. It begins when Sonja rides into town during the Festival of Valahiei, a time in which the dead are easily able to cross into the world of the living. She wants nothing to do with things, and finds solace in rowdy company and a cup of ale. Her night is disturbed by an old woman who enlists her aid in rescuing her son before Valahiei ends, when he will be consumed by the monster who has taken him.
The second tale is more of a mini-story following the main feature. Hail Halcoose was written by Tom Defalco, Anthony Marques and Liam Marques, with art by Anthony Marques and Avery Marques. In this story, Sonja is ambushed by cultists when—you guessed it—she's in the midst of enjoying her ale. After surviving this ambush, she's forced to take a break from her revelry to go slay a Lovecraftian horror.
Story
Curse of the Wolf was fun to read, and is really filled with the Halloween spirit. Sonja comes off as a reluctant hero—when the old woman tries to enlist her aid, Sonja sighs and with her head in her hands, asks the old woman to tell her what needs to be done. Her friend is taken aback by her willingness to help, and reminds her of how dangerous things can be during Valahiei.
Despite his objections, he chooses to accompany her to avoid being painted as a coward. His characterization feels like just enough to paint him as a disposable side character, but for the theme of this story it works. The tale itself kept me flipping the pages, and I especially enjoyed the shade of Sonja's nemesis showing up to repeatedly taunt her during battle. The story doesn't take itself seriously, and it was nice a welcome dose of humor to go along with Sonja's struggles against the beast.
Hail Halcoose was a short little diversion more than anything, but it was an entertaining follow-up to Curse of the Wolf. The cultists were silly, and from start to finish there doesn't really feel like much is at stake. I enjoyed it for what it was, though—yet another disruption from Sonja's night of drinking to go slaughter a beast most foul.
Art
The artwork in both stories differs dramatically. Curse of the Wolf features much more serious tones and images. While it's light-hearted, it's much more serious than the other. Kulan Gath is a decomposing horror, and the spirits of the dead look ghastly enough in their own right, even though Sonja quickly dismisses them as "mere shades".
Hail Halcoose features much more cartoony artwork, but the style suits the narrative and the silliness is a nice palate cleanser after the more serious note upon which Curse of the Wolf ends.
Overall
While this Red Sonja comic doesn't exactly explore new territory, it does what it does really well. I enjoyed Curse of the Wolf quite a bit, and Hail Halcoose was a nice little added bonus. If you're a fan of Red Sonja, you'll enjoy the Red Sonja Halloween 2018 issue. If you're just looking for a fun and entertaining Halloween story, this book has you covered as well.
Story: 4/5
Art: 4/5