Games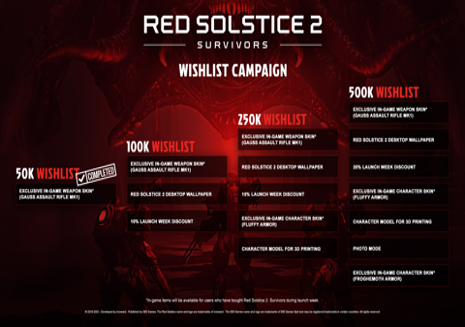 Published on February 28th, 2021 | by Adrian Gunning
RED SOLSTICE 2: SURVIVORS BLASTS ONTO STEAM FOR PC WITH 505 GAMES
505 Games is sending players on a mission to liberate Mars as the global publisher prepares to storm the red planet with developer Ironward's Red Solstice 2: Survivors, launching on Steam for PC June 17.
Ahead of the game's launch, a Steam Playtest is set to start Friday, March 12 through Monday, March 15. Access to the Playtest can be requested through the official Steam product page.
Red Solstice 2: Survivors takes place in the year 117 After Earth when corporations rush to secure dominance over the last remnants of humanity. Players command a team of up to eight in online co-op or can blast their way through a deep single-player campaign as they work strategically to lead operatives, research new technologies, and counter a mutant invasion taking over the colonized planet.
"When we launched the original The Red Solstice years back, we were blown away by the massive amount of praise the game received from players," said Hrvoje Horvatek, CEO, Ironward. "With Red Solstice 2, we are building upon elements that fans loved as we revisit Mars, giving players a single player and co-op experience as they chase to save the planet. Red Solstice 2 is a true real time tactical battlefield game which means that players need to prepare, plan and adapt in the field with its given available assets in order to prevail against the enemy. Each mission will be randomly generated including each parameter of the level."
Playable in single-player or eight-player co-op, Red Solstice 2: Survivors combines tense claustrophobic action with careful strategic planning. Across both in-depth strategy gameplay and engaging real-time combat missions, players will need to be quick feet to survive this hostile world and determine the fate of the planet. Besides full English localisation including audio, Red Solstice 2: Survivors will support a variety of additional languages (for more info, please visit the official Steam store page).