Games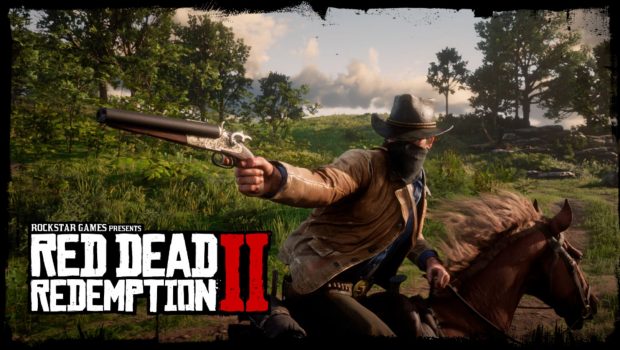 Published on November 6th, 2019 | by Alex Novus
Red Dead Redemption 2 Now Available for PC
Rockstar is pleased to announce that Red Dead Redemption 2 is now available for the PC. The first game in the Red Dead Redemption series to be featured on the PC platform, Red Dead Redemption 2 for PC debuts with a range of graphical and technical enhancements to bring new life and detail to the story of Arthur Morgan and the Van der Linde gang, on the run from the law across America in the final days of the 19th Century.
Red Dead Redemption 2 for PC is optimized to take full advantage of the platform with new graphical and technical enhancements, including increased draw distances for better navigation, higher quality global illumination and ambient occlusion for improved day and night lighting, support for high-end display setups with 4K resolution and beyond, multi-monitor configurations, widescreen configurations, faster frame rates, higher resolution shadows, improved textures and much more.
In addition to all the technical enhancements, Red Dead Redemption 2 for PC features new updates to the game's Story Mode, including:
3 New Bounty Hunter Missions: Apprehend a trio of wanted fugitives – thief Herman Zizendorf, Ex-Confederate Officer Camille de Millemont and gang leader Bart Cavanaugh.
2 New Gang Hideouts: Take on the deadly Del Lobos gang at Gaptooth Breach and Solomon's Folly.
2 New Treasure Maps: Hunt for treasures across the new Landmarks of Riches and The Elemental Trail maps for Gold Bars and other rewards.
New "To The Ends of The Earth" Mission
A host of new Weapons, Horses and Trinkets to collect.
Plus, Red Dead Redemption 2 for PC includes a new Photo Mode, with an assortment of tools to unlock the beauty of the frontier in Story Mode. Capture images with free form camera movement and add Filters, Stickers or Text then upload them to Social Club to share with the community.
Red Dead Redemption 2 for PC also features Red Dead Online, the robust and continuously evolving world that includes numerous different ways to make your way in the last vestiges of the wild west:
Frontier Pursuits: Carve your own path as a Bounty Hunter, Trader and Collector, each provide their own distinctive experiences where you can unlock new items, benefits and skills as you progress.
A Land of Opportunities: Multi-part, story-based cooperative missions for two to four players where you assist the recently widowed Jessica LeClerk and her right-hand man Horley in their quest for revenge against the men who killed her husband.
Free Roam Missions: Find Stranger icons throughout the map alone or with your Posse to embark on Free Roam Missions where you'll encounter familiar faces from Story Mode and discover missions that can vary based on how noble or nefarious you are.
Showdown Modes: A series of competitive modes where players and teams compete in classic gunfights and objective-based endeavors like capturing territory or supplies.
Poker and More: Visit poker tables at towns and outposts across the map to participate in public or private games of Hold 'Em. Plus, complete Daily Challenges to earn Gold Nuggets and XP, put your skills to the test against other players in competitive Free Roam Events, and more.
And keep an eye out for ongoing updates to the world of Red Dead Online – like new game modes, additions to the Wheeler, Rawson and Co. Catalogue, weekly bonuses and more. For more details, visit the Red Dead Online site.