Games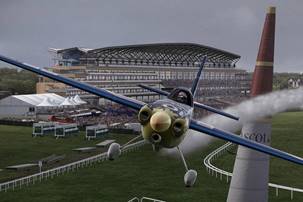 Published on August 17th, 2016 | by admin
Red Bull releases Air Race The Game
The ultimate motorsport series in the sky, Red Bull Air Race, has today released its first free-to-play PC game, "The Game", at Gamescom in Cologne.
Recreating the fastest motorsports series in the world, the world-first game allows players to select Red Bull Air Race pilots as avatars to take on authentic locations, which emulate where the real motorsport series takes place around the world.
The Game boasts cutting-edge graphics and gameplay, which allows the ultimate motorsport series to continue in full glory on PC. The Game also invites players to hook up Oculus Rift and experience the same high-speed dynamics and nail-biting action of the global motorsport.
With no other flying game quite like it, The Game also promises no gated content through advertising, ensuring fair treatment among players, who do not have to pay for advancement.