Comics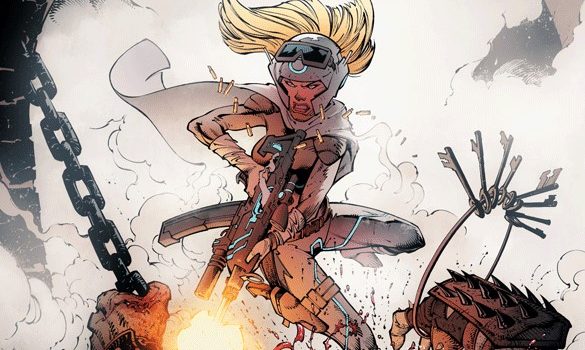 Published on January 24th, 2017 | by Dana Folkard
REBORN #4 REVIEW
Summary: An impressive issue with epic art, heroic battles and a few interesting plot developments.
5
Exciting and action-packed!
Bonnie and her dad are trapped and surrounded by enemies. With the odds stacked against them will they be able to escape and resume their quest to find Bonnie's husband or will they be delivered right into the arms of their enemy, Lord Golgotha?
Reborn #4 starts right back where the previous issue finished, with Bonnie and her dad captured and surrounded by all manner of orcs, goblins and vile creatures at IL Margo's dungeon in the Dark Lands. Overwhelmed, unarmed and chained, this duo is stuck in a hell of a predicament, however, hope is on the horizon as Bonnie's powers activate and her survival instincts kick in, awakening her inner warrior and badass fighting skills. After taking a risk that backfires on them, Bonnie and her dad are chained and taken to the ominous Black Wish Mountain where she encounters an old enemy and an unexpected visit from an old acquaintance. From out of the frying pan and into the fire, this duo can't seem to catch a break!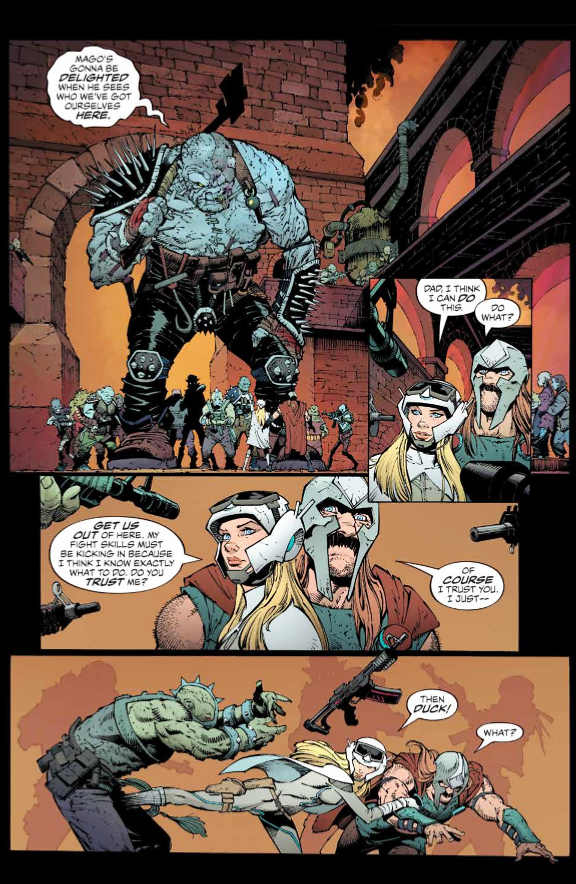 Wow, Bonnie is my new hero! Strong, fierce and badass, Bonnie is the ultimate warrior chick! She is going through some intense physical and also mental changes, which is making her unstoppable. Being told that she is the saviour of Adystria and is destined to right the wrongs in this world is a heavy piece of news to digest. Bonnie however, takes it all in her stride and embraces her new, heroic role as shieldmaiden of Adystria. With a lot of nasty, bad and downright sinister things going on around her, Bonnie remains the one shining light throughout all of this. It seems like she can't be phased, even when confronted with an old acquaintances that would love nothing more than to see her wiped from this world. Normally I would question how someone can embrace such upheaval and sudden change but with a character like Bonnie, it just works. I feel that this has to do with Mark Millar's clever character development. From what we've glimpsed from Bonnie's past, we know that she is a pragmatic and logical woman and it seems that this has carried over with her to this new life. This has served her well because if it was me, I would be a blubbering mess still trying to come to terms with the fact that when you die that you are reborn into a wild fantasy world. As you can tell, I think Bonnie is great and I'm looking forward to seeing her grow more and truly evolve into the warrior and protector that she is destined to be.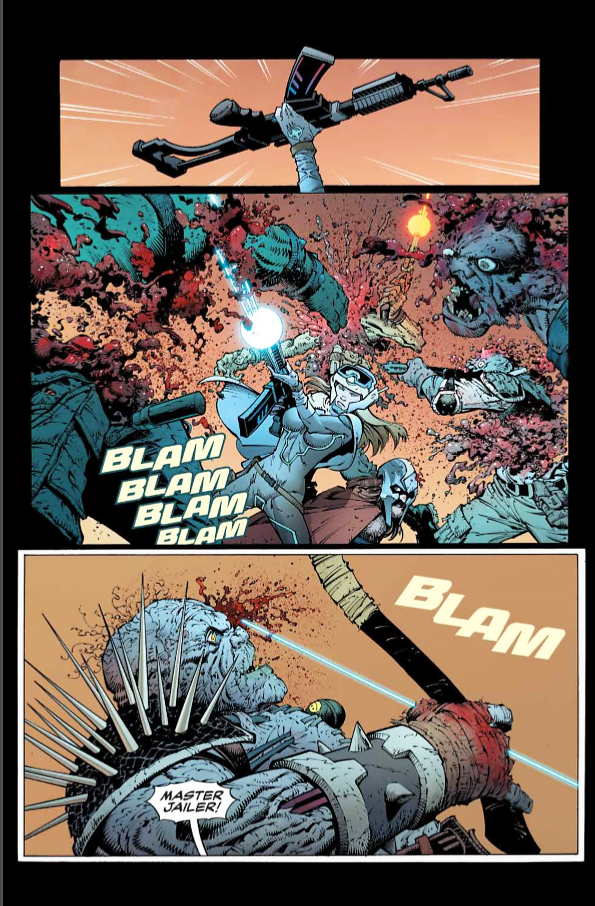 Greg Capullo's art takes a dark and sinister turn in this issue. We are in the Dark Lands, which is filled with all sorts of foul and twisted creatures and landscapes. I love seeing hordes of grotesque orcs, charging forth into battle with rayguns and bits of broken tech protruding out of their bodies, like they are some kind of cyborg orc. It all looks very brutal and so much is going on, and it really feels like you're right in the thick of a fighting frenzy. Capullo also captures the sense of movement perfectly, which creates a feeling of fluidity during these action scenes. It's all very exciting and easy to be swept up in the action of these scenes filled with blood, gore, guns, axes and powerful spells. What's not to love about that? Colourist, FCO Plascencia and inker, Jonathan Glapion, reinforce the sinister and gritty tone of this issue. Everything is dark, muted and bathed in shadows. It suits the ominous atmosphere and there is a real sense of something evil and menacing about this place.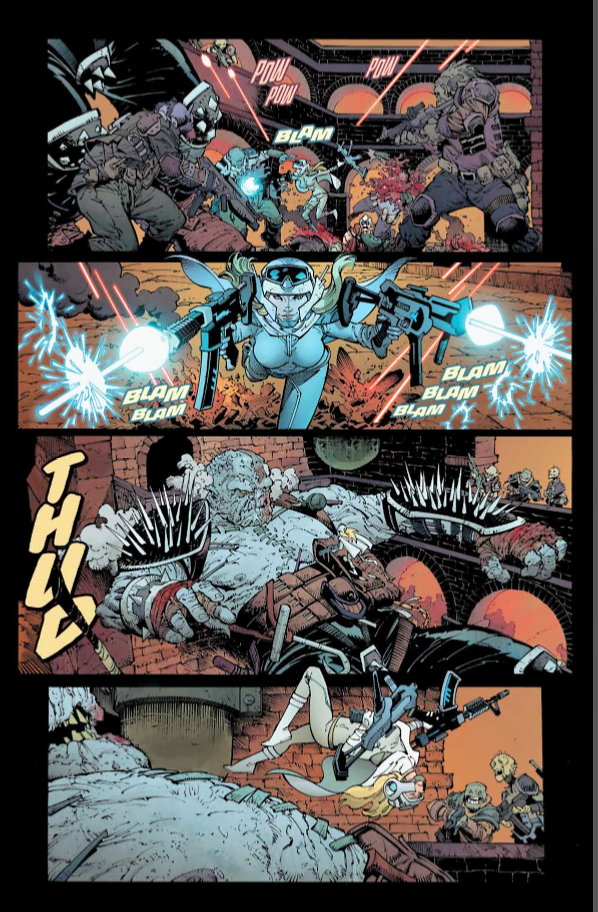 Reborn #4 launches straight into action. Bonnie is going through some epic changes and right now it seems like nothing can halt her in her quest to find Harry. All in all, it's an impressive issue with epic art, heroic battles and a few interesting plot developments. Do yourself a favour and grab a copy and be prepared to jump into the fray!
I'm giving this issue 5 out of 5 stars!
Comic Details
Title: Reborn #4
Publisher: Image Comics
Creative Team: Mark Millar, Greg Capullo, FCO Plascencia, Jonathan Glapion.
Reviewer: Dana Folkard