Games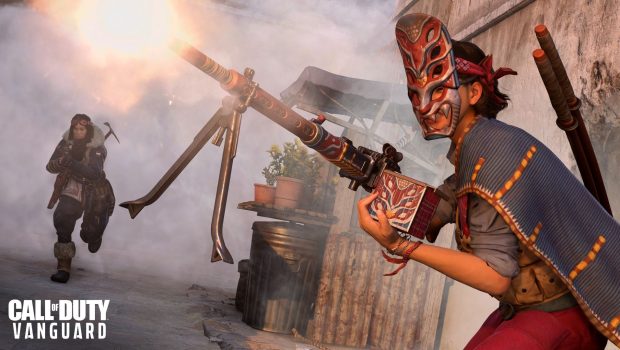 Published on March 22nd, 2022 | by Adrian Gunning
Rebirth Reinforced: New Features Locked in for Call of Duty: Vanguard and Call of Duty: Warzone Season Two Reloaded
Lock and reload with the massive Season Two Reloaded update for Call of Duty: Vanguard and Warzone, going live from tomorrow AEDT/NZDT.
From a new mode featuring vehicular combat to Rebirth Island's biggest update since its launch, Operators may need to call for backup even with all of Task Force Yeti on the scene… Prepare for a new mission across the Alps, and look for two new weapons and additional Bundles in the Store.
In Warzone, prepare for the below and more to go live in game following an update on 24 March at 3am AEDT/5am NZDT:
Rebirth Island Reinforced. Perseus's reconstruction of their island significantly altered several points of interest, including Stronghold, and added a new one known as Dock.
Three Modes Given New Life. Payload, Blood Money, and a new Resurgence Solos mode will be featured in weekly playlists alongside classic Rebirth modes.
Get Weapon Blueprints, Tons of XP, and New Features. The Rebirth Reinforced Event offers rewards for the entire community, including Weapon Trade Stations and in-game events for Rebirth Island. This will launch alongside new QoL changes.
The action will begin in Vanguard following an update on 23 March at 3am AEDT/5am NZDT. See below for some of what's to come:
New 12v12 Mode. Trek across the Alps to capture or take out bases to dominate the enemy, building your Loadout with Cash earned from eliminations and objective play.
Explore the Alps with New Vehicles. Call in Motorcycles, CD12 Transport Vehicles, and Tanks to travel across the snow and ice between bases.
Climb to the Top with New Rewards in Ranked Play. Treyarch delivers the Top 250 Skill Division and Leaderboard, new Season Two rewards, and party & menu updates for competitive fans.
Zombies Gets New Covenants, Dedicated Server Pause & More. Treyarch is set to introduce Critical Expertise and Explosives Expert Covenants, plus additional updates for Vanguard Zombies.
For more information on everything coming to Vanguard and Warzone with Season Two Reloaded, check out the blog.
Additionally, this April, a new Operator is coming to three Call of Duty games – Call of Duty: Mobile, Vanguard and Warzone. And if you don't know, you better ask somebody… You really better ask somebody.
We're just as excited as you are to reintroduce one of the most iconic rappers alive to Call of Duty. We know it's kind of hard being Snoop D-O-Double-G, but it's also tough keeping the community waiting on official details for his Vanguard and Warzone Bundle. Snoop Dogg — aka the Doggfather, FKA Snoop Lion, and the now owner of Death Row Records — is returning to Call of Duty nearly a decade after lending his voice to the franchise as a Voice Pack in Call of Duty: Ghosts. Only this time, he's his own one-man Task Force, and he's getting off the mic to drop in like it's hot all over Warzone and Vanguard.
Prepare to fight as the D-O-Double G, and you don't need any Signs to see "it's legit — you know it's a hit." More information can be found here.