Comics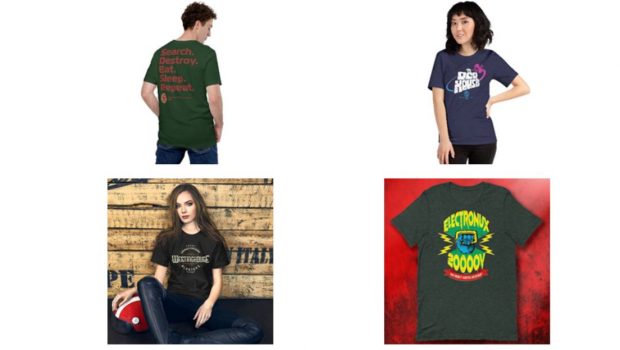 Published on May 4th, 2023 | by Adrian Gunning
REBELLION UNVEIL NEW MERCH LINE TO MARK STRONTIUM DOG 45TH ANNIVERSARY
For 45 years they've been taking down the scum of the galaxy and to celebrate the anniversary of the debut of Strontium Dog, Rebellion has unveiled a brand new slate of merchandise!
From T-shirts to pint glasses, from mugs to iron-on patches, the new anniversary Strontium Dog range is the perfect gift for the mutant bounty hunter in your life.
This new line of merchandise is inspired by and pays homage to one of 2000 AD's most popular ever series, an epic sci-fi Western created by writer John Wagner and artist Carlos Ezquerra that debuted in Starlord, 2000 AD's short-lived sister title, in 1978.
One of the most iconic strips in the history of British comics, the bounty hunters of the Search/Destroy Agency – derisively dubbed 'Strontium Dogs' – are members of a persecuted minority of mutated humans, their bodies warped by Strontium 90 fallout, who are despised by the 'Norm' population, barred from public life, and herded into ghettos.
The only job open to them is as bounty hunters and, from the orbiting 'Doghouse' base, Johnny Alpha and his Viking partner, Wulf Sternhammer head out to track down criminals for cold, hard cash – from deep space to Hell itself, from Adolf Hitler to Ronald Reagan!
The series has had a cultural impact far beyond its pages, with director Edgar Wright and actor Simon Pegg famously citing the death of Johnny Alpha in their acclaimed comedy TV series Spaced.
The new line of merchandise, available from the Rebellion online store, pays tribute to this popular and influential series, referencing key locations and individuals from the rich history of the last 45 years, all of it coming from the fertile imaginations of Ezquerra, Wagner and his writing partner, the late Alan Grant.
Designed by Salvador Lavado – who has worked with major brands and international artists including John Williams, Metallica, Jay-Z, Mercury Records and many more – the new merchandise digs deep into the history and lore of the strip to produce designs that will delight fans while remaining intriguing to those unfamiliar with the landmark series.
The new T-shirts reference just some of the series' legendary weaponry – including 'Westinghouse', the supplier of Johnny Alpha's preferred Variable Blaster firearm, and the iconic 'Electronux' electrical stun knuckle-duster, while posing as an employee of the famous 'Doghouse' space station. There is a fun 'Sternhammer Ale' design which pays tribute to Wulf's legendary thirst and love of good company, while another advertises the services of the Gronk, Alpha and Sternhammer's weak-hearted medic.
And thirsty bounty hunters will be able to quench their thirst with the first Strontium Dog pint glasses – featuring the 'Sternhammer Ale' and the 'Property of The Doghouse' designs – as well as a mug from the Doghouse Canteen and others sporting the 'Doghouse' and 'Westinghouse' designs.
The new range of Strontium Dog is available now from the Rebellion online store at shop.rebellion.com