Hardware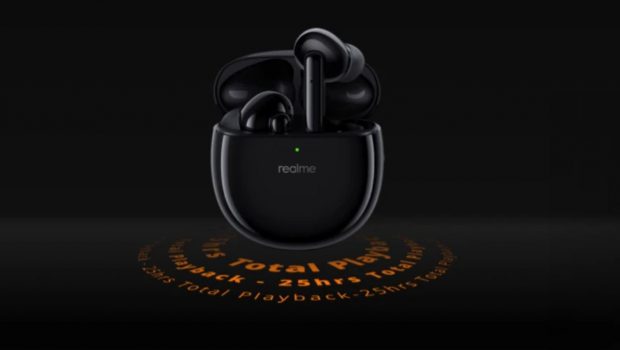 Published on April 25th, 2021 | by John Furness
realme Buds Air Pro Review – with Active Noise Cancellation and great Battery Life!
Summary: It's hard not to be impressed by the realme Buds Air Pro. With Active Noise Cancellation and great connectivity, they offer quality sound, long battery life and have a comfortable lightweight design.
If you're like me, when researching a particular product to purchase you don't like to compromise quality over cost. However, the best value-for-money is always a consideration. I often steer clear of the lower end and do likewise at the upper more pricey end. If you're like me then it's hard not to be satisfied with where realme have landed on their wireless earbuds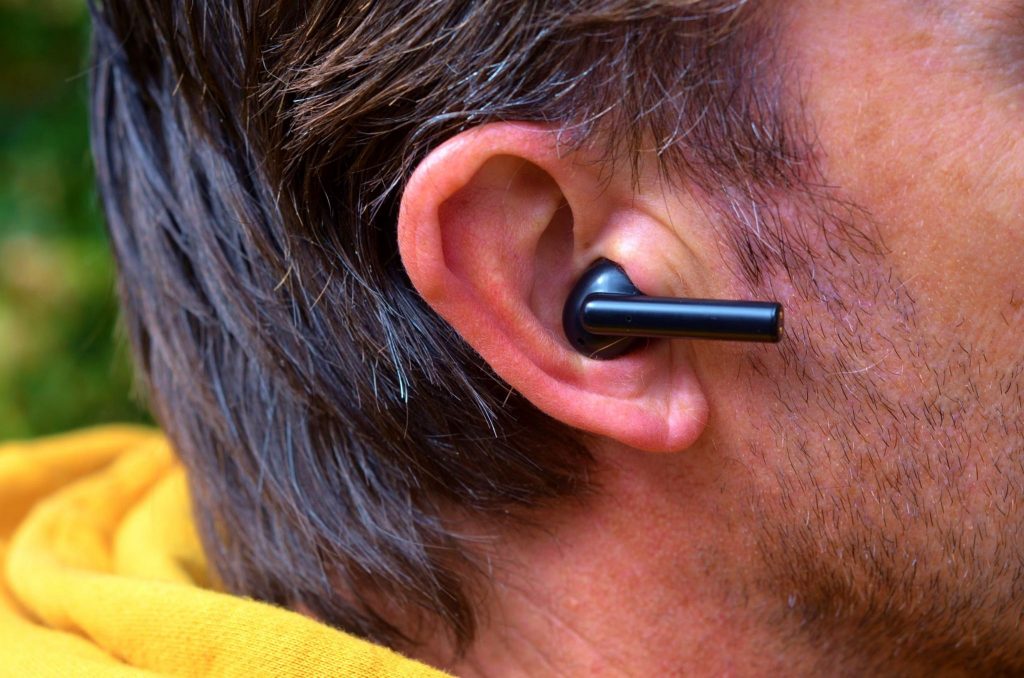 I trialled the realme Buds Air Pro for several weeks and there was a lot I liked. A massive upgrade on my previously wired earbuds, I had only limited experience with the wireless alternative. I listen to music and podcasts on a daily basis and had taken the tangled mess I experience each day when rummaging through my work-bag for granted. I was particularly excited about the Active Noise Cancellation (ANC) feature as had previously only experienced these in my headphones. From a quality slick design through to great sound quality and an impressive battery life, there was little that let these wireless earbuds down.
In the Box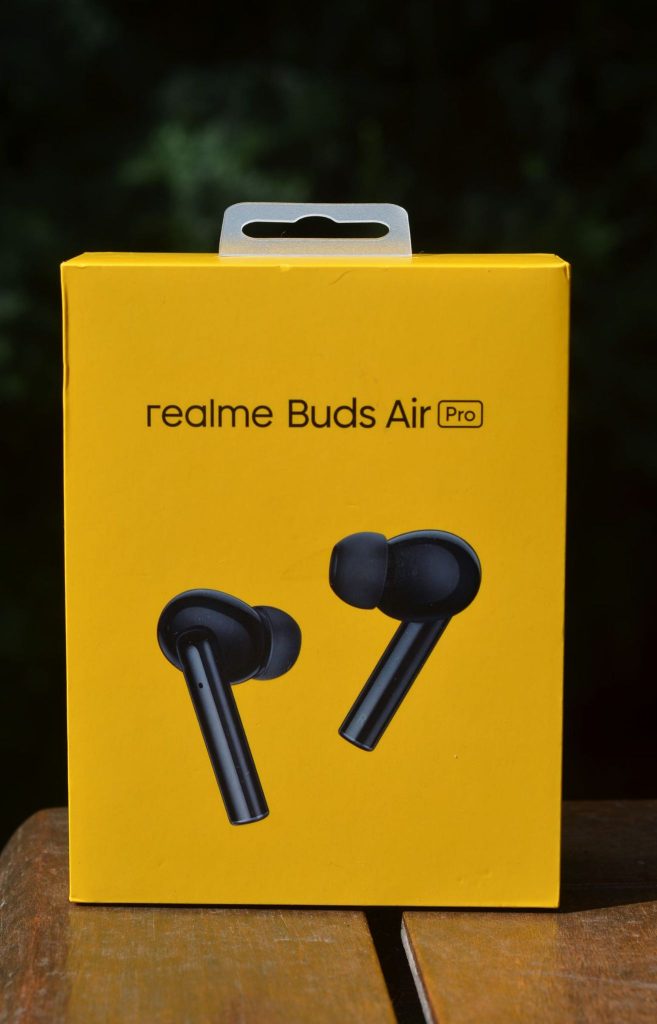 Lets kick this review off with what you get in exchange for just under $200 (AUD) of your hard earned. The small, modestly designed signature yellow realme box arrived on my doorstep several weeks ago and it contained the following:
2 small black earphones packed neatly into a black cobble-stone shaped case
a short (approx 15cm long) yellow Type C USB cable
A set of 3 spare ear-tips (size S, M, XL)
An instruction manual
Design and Functionality
realme Buds Air Pro come in 2 colours: Rock Black and Soul White. The small bulbous buds present themselves on a short 3cm stem. They're really lightweight and comfortable (approx 5g). I can wear them for 1-2 hours at a time and unlike previously trialled earbuds they're not at all uncomfortable. Having said this, while I can comfortably ride/run with them in, they do seem to catch the wind a little which can interfere with sound quality. The shiny cobblestone case is attractive, although it does mark easily. Even though my case is only a few weeks old, it is already blemished by several scuff marks. My other criticism is the level of difficulty I have getting the earbuds out of the case. They're magnetically held in place and the smooth round bulbous top means getting a grip to pull them out is more difficult.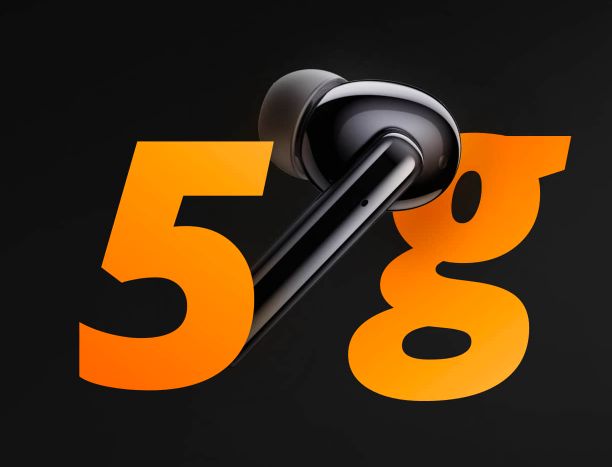 The touch controls are fairly intuitive and are apparently modifiable on the realme Link app. I say apparently as the app doesn't support Apple products so I was unable to download it to my iPhone. Having said that, pairing is really easy and doesn't require the App. I quickly got used to all the touch controls as described in the manual: Single tap for answering calls, double tap for hanging up, double tap to play & pause, triple tap for skipping to the next track, and a long hold to move between Transparency and Active Noise Cancelling modes. I'm not a huge gamer, but my well-practised son is and he trialled them and felt they were excellent. realme claims only 94ms latency so they're excellent for gaming or watching Youtube videos.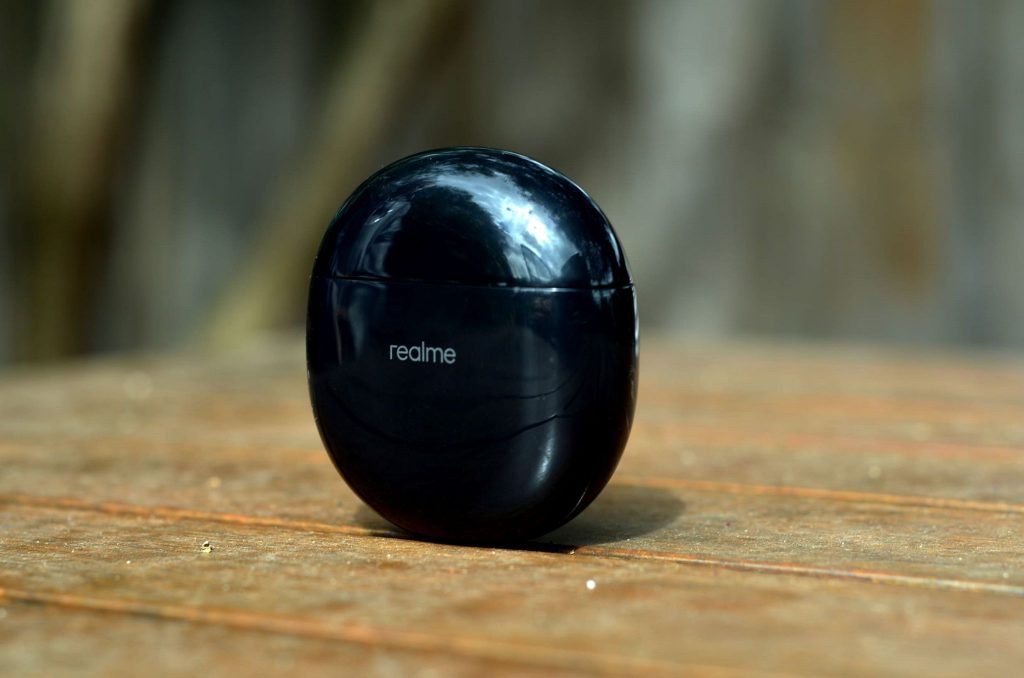 Active Noise Cancellation (ANC)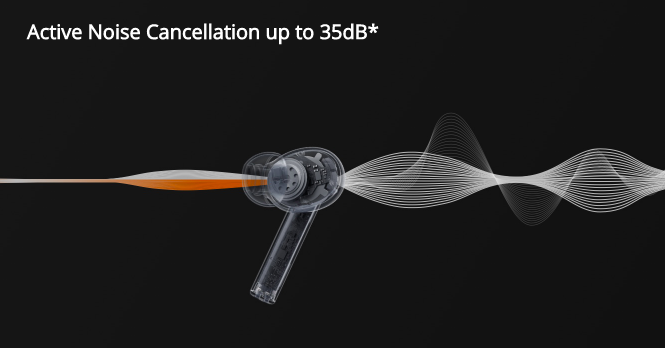 Now for what got me super-excited: Active Noise Cancellation! First of all, what is it and why is it important? A bit of background… We measure noise/sound in decibels (dB). A whisper is about 30 dB, normal conversation is about 60 dB, a lawn mower is 90 dB and a motorcycle engine running is about 95 dB. Noise above 70 dB over a prolonged period of time can start to damage your hearing. Loud noise above 120 dB can cause immediate harm to your ears
There are 2 types of Noise Cancellation: Active and Passive. Passive is effortless and is simply dependent on the seal made between the rubber ear tip and your ear canal. ANC utilises mikes on the earbuds that cancel/phase out surrounding noise. realme Buds Air Pro claims up to 35 dB ANC. It doesn't sound much, but when combined with an effective seal, the result is really good. It is really important though to make sure you have a good seal. Without a quality seal, ANC is virtually useless. So make sure you try on your spare/alternate ear tips to find the seal that fits best.

Sound Quality & Connectivity
realme claim quality sound with a big contribution coming from both their 10mm Bass Boost Driver and a Dynamic Bass Boost (DBB) enhancement algorithm. I'm a huge fan of deep rich bass and I have several go-to tracks that deliver plenty of throaty resonant booming bass. I picked 3 contrasting tracks that all deliver plenty of Bass: Another one Bites the Dust (Queen), Stand By Me (Ben E King) and Schism (Tool). I was genuinely impressed. The sound quality was great and with ANC engaged, the sound was smooth and the quality was high.
Clarity of conversation during phone calls is also impressive with little static and at least as good as my wired earbuds. realme report a modest 10m connectivity distance from phone, and I felt this was fairly accurate. Understandably walls have an impact. One criticism I have is that when moving from Transparency to ANC modes (long press on the side of earbud) there is a voice-over which interrupts your track. Perhaps this could easily be replaced by a single syllable beep?
Battery and Charging
realme Buds Air Pro score another goal with their fantastic battery life and quick easy charging. They claim 5 hours of continuous playback at 50% volume with ANC on and 6 hours in Transparency mode. With the help of the case (as a charging station) the buds reportedly last 20 hours in ANC and 25 hours in Transparency mode. While I was just shy of these figures (I was closer to 20 hours with a mixture of ANC and Transparency modes) I was more than satisfied with this lengthy battery life. Charging is fast with the earbuds reaching full charge (from empty) in around 1 hour. 3 hours of playback is achieved within a quick 10mins of charging.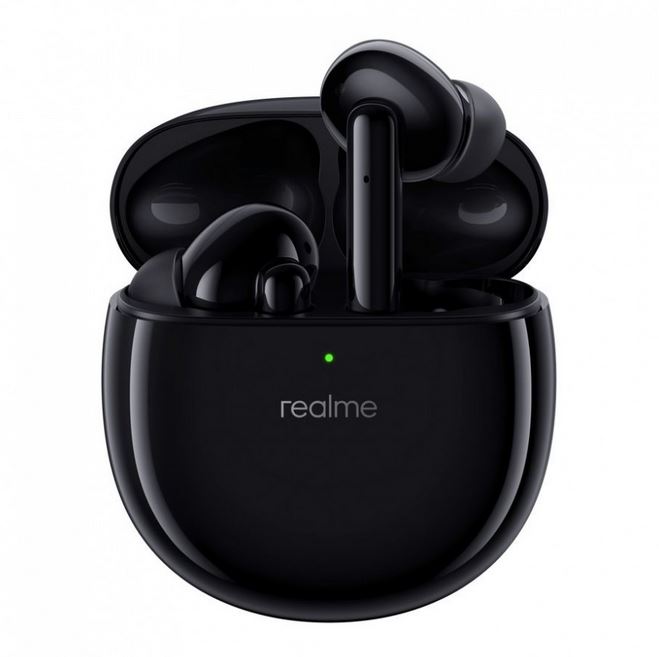 Final Thoughts
It's hard not to be impressed by the realme Buds Air Pro. With Active Noise Cancellation and great connectivity, they offer quality sound, long battery life and have a comfortable lightweight design. While there are a few niggly annoyances, the overall package is great with little to dislike.
Score: 4.5/5
Where Can You Purchase realme Buds Air Pro?
These wireless earbuds can be purchased from multiple sites including:
realme website https://www.realme.com/au/realme-buds-air-pro $199
Office Works: https://www.officeworks.com.au/shop/officeworks/p/realme-buds-pro-rock-black-rma210blk $198
Specifications
Product Name
Realme Buds Air Pro
Bluetooth version
5.0
Colour
Rock Black / Soul White
Noise Cancellation
Active Noise Cancellation(ANC)+ Environmental Noise Cancellation(ENC)

Up to 35 DB

Battery life
Charging case & earphones:20hrs playback time at 50% volume and AAC quality with Noise Cancellation on; 25hrs playback time at 50% volume and AAC quality with Noise Cancellation off;

Earphones: 5hrs playback time at 50% volume and AAC quality with Noise Cancellation on; 6hrs playback time at 50% volume and AAC quality with noise Cancellation off.

Charge time

2hrs fully charge for charging case and earphones; 1hr fully charge for earphones;

10mins charge for 3hrs charging case & earphones playback(Noise Cancellation off, played at 50% volume, AAC)*

*When the batteries in the earphones and charging case are drained, place the earphones in the charging case and charge the earphones and charging case together for 10 minutes for 3 hours of playback.

Sound driver size
10mm
Effective range
10m (in an obstacle-free environment)
Water resistance rating
IPX4 (only earphones)
Audio codec 
AAC, SBC
What's in the box
1x realme Buds Air Pro

1x Charging case

6x Ear tip

1x Type-C cable

1x User Guide, Safety Standard Card, Warranty Card

1x Tips card