Games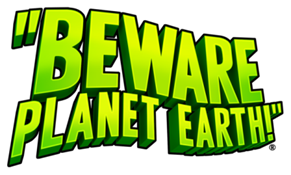 Published on April 15th, 2014 | by admin
REACH YOUR ZAPPER! BEWARE PLANET EARTH! FOR STEAM IS NOW AVAILABLE
-Lightmare Studio's latest game is now available for STEAM with extended content!-
SYDNEY, AUSTRALIA April 15th, 2014 – BANDAI NAMCO Games Europe S.A.S announced today that BEWARE PLANET EARTH! for Steam is available now on a worldwide scale! BEWARE PLANET EARTH! is a beguiling mix of classic tower defence and time management developed by Lightmare Studio. This new game is available on PC via Steam with tons of exciting & exclusive content! 
BEWARE PLANET EARTH! is a game inspired by the cheesy horror/Sci-Fi movies from the '50s. In the game you have to defend and save your cows from a crazy Martian invasion. In order to do so, players will have several options at their disposal such as building effective defences using towers, hilarious traps and objects or firing their Zapper directly at the invading force of little green men!
In addition to the Martians army, Valve's games universe will be joining the invasion too! Players who buy BEWARE PLANET EARTH! on Steam will have access to special characters, maps and achievements from their most beloved franchises for free!
"We are thrilled and proud to release BEWARE PLANET EARTH! on Steam with the help of our partners at Bandai Namco." said Lightmare Studio development team. "We hope you will enjoy playing the game as much as we enjoyed developing it! Last but not least, a big THANK YOU to the Steam Community who upvoted this game on Greenlight! On behalf of the development team and the Martians: you rock!"
"We are really happy to work hand in hand with an independent team as brilliant and as passionate as Lightmare Studio." said Mathieu Piau, EMEA Marketing Director at BANDAI NAMCO Games Europe. "At BANDAI NAMCO Games, we truly believe that indies are essential for the video games industry because they aren't afraid of coming up with exciting and fresh games. And BEWARE PLANET EARTH! is a great example of what independent video gaming has to offer." 
BEWARE PLANET EARTH! is now available for STEAM and will follow shortly on Smartphones. For the latest news and updates on BEWARE PLANET EARTH! join us on the official website and Lightmare Studio website. For more information about BANDAI NAMCO Games' entire line up, go to www.BandaiNamcoGames.com.au