Hardware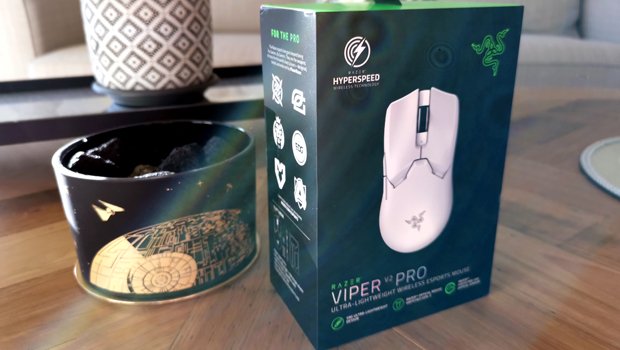 Published on May 22nd, 2022 | by Andrew Bistak
Razer Viper V2 Pro Review (White Edition)
Summary: The Razer Viper V2 Pro is pure wireless perfection!
Razer Viper V2 Pro Review: Esports has a new apex predator. As successor to the award-winning Razer Viper Ultimate, its latest evolution is nearly 23% lighter and armed with all-round upgrades for enhanced performance. With one of the lightest wireless gaming mice ever, there's now nothing holding you back.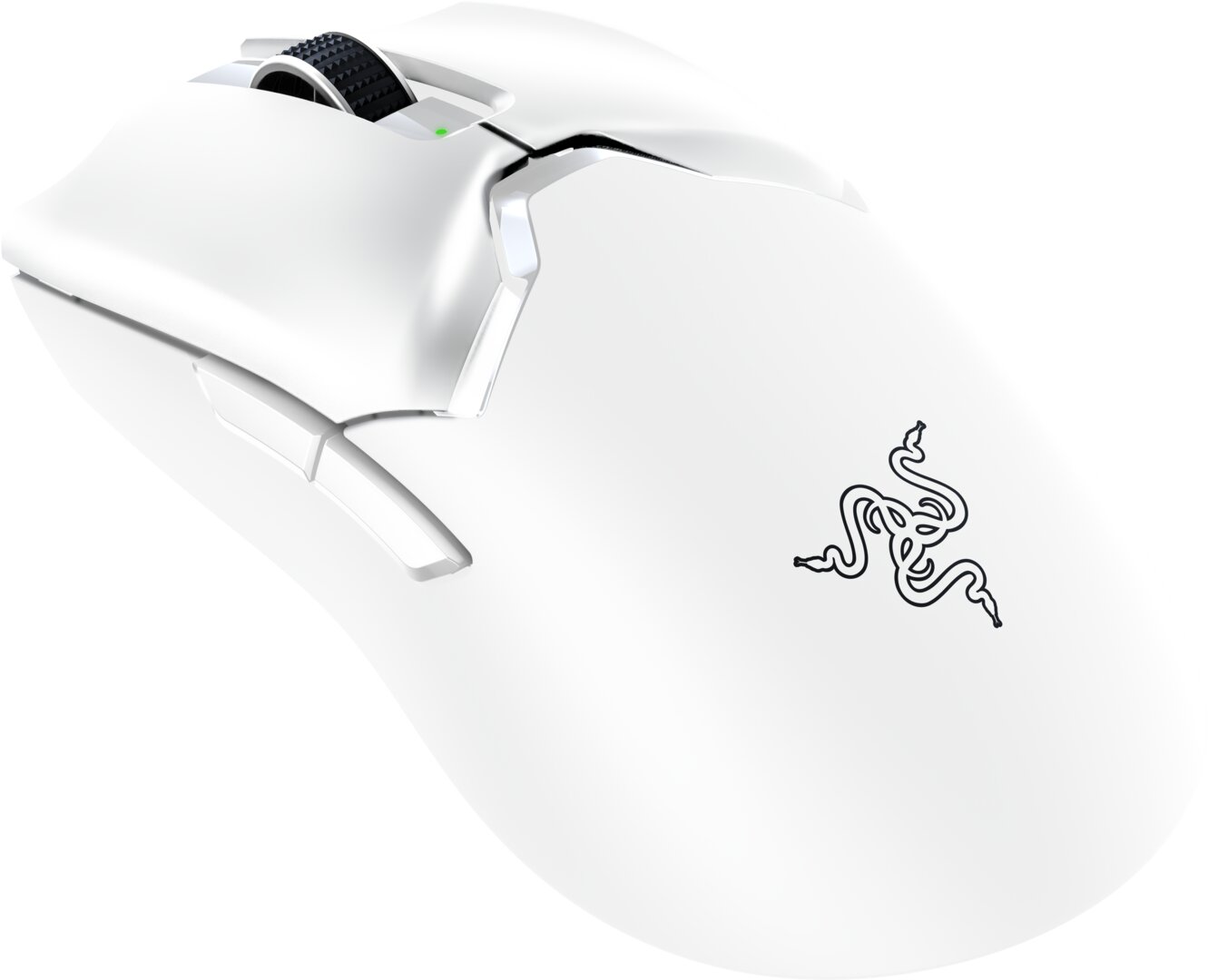 The King is dead! Long live the KING!
The Razer Viper V2 Pro is here which is the evolutionary successor to the Razer Viper Ultimate (2019) that has been redesigned to offer unparalleled high-speed performance with up to 80-hours of wireless gaming that weighs in at just 58 grams. At its core, the Razer Viper V2 Pro is one of the best eSports gaming mice around with an Australian retail price of around $250AUD (May 2022) which really lets you cut the cords if you're seeking a high speed device.
Additionally this well-crafted wireless mouse from Razer boasts 5-programmable buttons that is powered by the Focus Pro 30K optical sensor which allows 70G of acceleration. Further adding to the overall design are the following benefits;
Asymmetric Cut-Off
Enable Asymmetric Cut-off to individually set a lift-off and landing distance that's tuned to your playstyle—with 26 granular levels of height adjustment compared to only 3 in the previous version.
Smart-Tracking
With Smart Tracking, the Razer™ Focus Pro Optical Sensor is able to maintain a consistent lift-off distance no matter what surface it's used on, allowing for greater control and accuracy.
Motion Sync
With Motion Sync, the Razer™ Focus Pro Optical Sensor syncs its signals to the exact intervals your PC extracts information, ensuring you'll get the most current updates of your mouse position for more consistent tracking.
.
And with Top Gun 2 just around the corner… I feel the need, the need for speed which is true with the Razer Viper V2 Pro!

Well packed from Razer, the first thing that I noticed about the Viper V2 Pro was just how light this mouse was. While it is a featherweight in this aspect, it hits like a heavyweight and more importantly feels perfectly molded for for your hand.
Box Contents
Razer Viper V2 Pro
Wireless USB dongle + USB dongle adapter
Type-A to Type-C Speedflex cable
Razer Mouse Grip Tape
Important Product Information Guide
In terms of size, it is very similar to other desktop and gaming mice at 126.7 x 57.6 x 37.8mm.
Aesthetically it looks Razer and I'm a huge fan of their gaming looks and it comes in two colours, white (reviewed) or black. Further, the five buttons are well placed with responsive clicks due to the third generation of optical switches from Razer, including a flowing scroll wheel. Oh… the clicks sound quite good as well!
The Razer Viper V2 Pro also comes a high quality braided USB cable if you want to connect it directly to your PC for a wired experience or charging. Underneath the mouse, there is a power button and a DPI button. When the mouse is standby mode, there is a microsecond delay to power-up and you know the mouse is working by a small LED near the scroll wheel. Obviously by removing RGB lighting from the Viper V2 Pro, Razer have upped the battery life… and for me, it's not missed.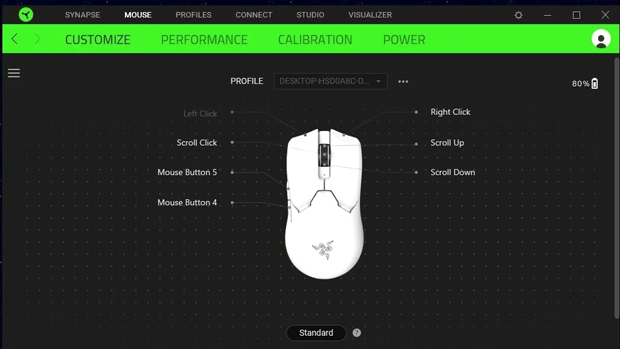 Setting up the Viper V2 Pro is super easy and while it works immediately once connected to your PC via the 2.4Ghz wireless dongle, you do need download the Razer Synapse software (see screenshot above) that gives you full control over the device itself, including fine tuning your gaming needs and checking for Firmware updates so you're ready to get your game on. The mouse has onboard memory which saves the last Razer Synapse profile, including settings for DPI, Polling Rate and Lift-off Distance, including DPI adjustments on the fly.
In terms of wireless, the mouse didn't skip a beat and was super responsive to all our testing that included Halo Infinite, Call of Duty Vanguard, Overwatch and Doom Eternal. The highlight was of course, the speed of the Razer Viper V2 Pro, including its responsive buttons that makes it perfectfor first person shooters due to its receptiveness. Civilization VI and Warhammer Age of Sigmar: Storm Ground which are both strategy games again performed well with no issues whatsoever. So clicking, scrolling, moving were lighting fast. Furthermore, the feet of the Razer Viper V2 Pro really makes it glide across multiple services and even on glass!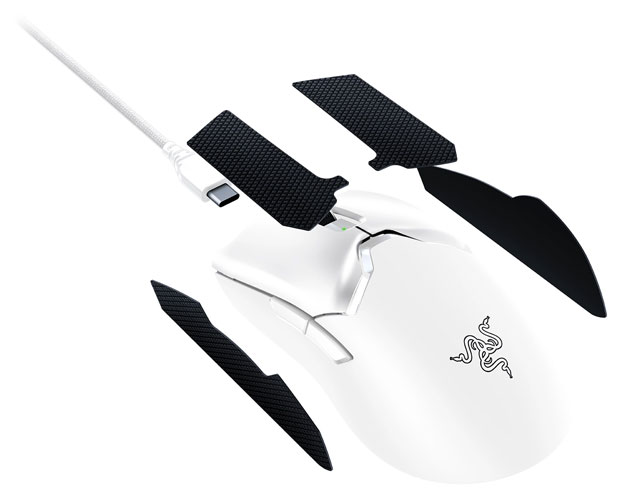 While the mouse is plastic, you can install additional grips on the Viper V2 Pro to give you… well, improved grip during your gaming sessions and only slightly adds to the weight of this featherweight mouse.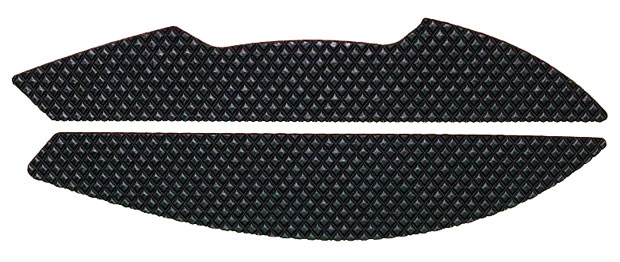 In terms of wireless vs corded with this mouse, there is no difference and with up to 80-hours of gaming, that's almost over 5 1/2 hours of wireless per day over a two week period.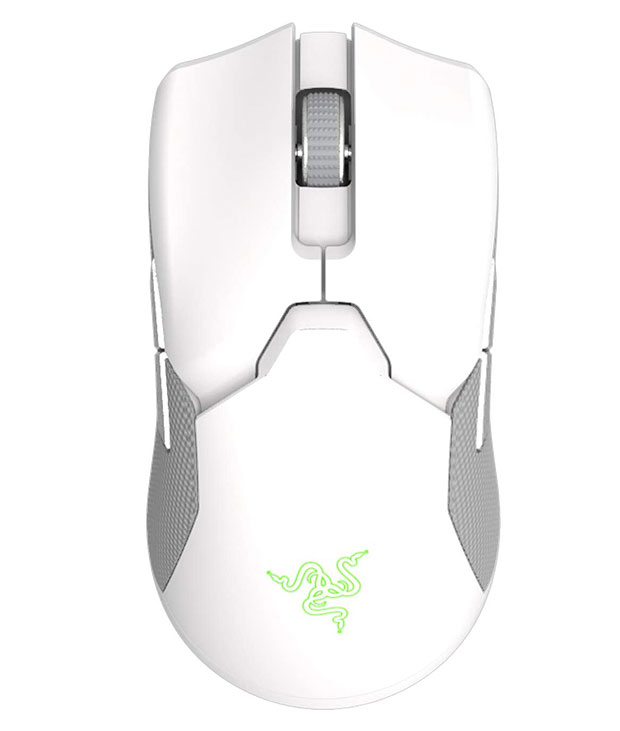 To charge, you simply connect the Razer Viper V2 Pro to your PC via USB and let technology do its magic. While the mouse is schmick for gaming, it works equally as well as a desktop gaming mouse. Navigating Windows 11, the Internet and programs such as Adobe Photoshop and Microsoft Excel were flawless experiences. Additionally photo manipulation with Photoshop provided excellent responsiveness that definitely gave you more control over your editing.
Final Thoughts?
The Razer Viper V2 Pro is the definitive wireless gaming mouse of 2022 that has been designed for speed and is a true featherweight in its weight, however a real heavy hitter when it comes to performance. With an almost non-existent setup, up to 80-hours of wireless and a design that feels just right, this has new mouse from Razer has become my go-to mouse for all my gaming and PC needs.
Highly Recommended!
Razer Viper V2 Pro Specifications
FORM FACTOR: Right-handed Symmetrical
CONNECTIVITY: Razer Hyperspeed Wireless (2.4GHz), Wired (Type C)
BATTERY LIFE: Up to 80 hours (constant motion at 1000Hz)
SENSOR: Focus Pro 30K Optical Sensor
MAX SENSITIVITY (DPI): 30,000
MAX SPEED (IPS): 750
MAX ACCELERATION (G): 70
PROGRAMMABLE BUTTONS: 5
SWITCH TYPE: Optical Mouse Switches Gen-3
SWITCH LIFECYCLE: 90-million Clicks
ON-BOARD MEMORY PROFILES: 1
MOUSE FEET: 100% PTFE
CABLE: RazerTM Speedflex Cable Type A to Type C
TILT SCROLL WHEEL: No
DIMENSIONS: 126.7 mm x 57.6 mm x 37.8 mm
WEIGHT: 58g
Gallery