Hardware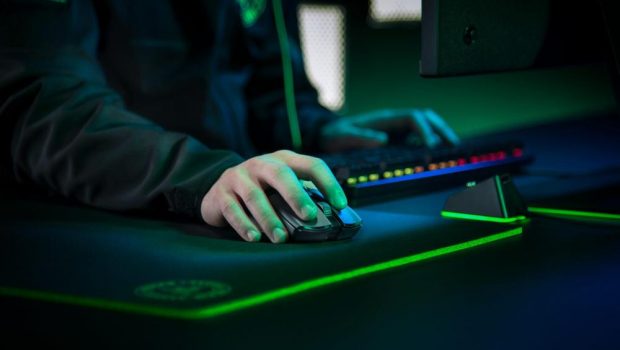 Published on December 16th, 2019 | by James Wright
Razer Viper Ultimate Wireless Gaming Mouse Review
Summary: Razer Viper Ultimate Wireless Gaming Mouse is almost the perfect wireless mouse... very close indeed!
Welcome to the world of high-speed wireless gaming with the new Razer Viper Ultimate Wireless Gaming Mouse that boasts an impressive 20,000 DPI sensor with 99.6% resolution accuracy, excellent battery life and a comfortable ambidextrous build so not matter what your hand preference is, you're literally in good hands with this product. Cost wise, the Razer Viper Ultimate Wireless Gaming Mouse retails for around $259AUD (December 2019).
While the Viper Ultimate Wireless Gaming Mouse channels those stylish Razer aesthetics, it is indeed a good looking mouse that is oozing with gaming style. It's also quite lightweight (74 grams) and feels quite good (& comfortable) while you are using it. Installation is almost non-existent as it is plug and play, however if you install the software from Razer, it allows you to fine-tune the gaming mouse to suit your virtual worlds. It's also cool how the dongle can be safely kept inside the mouse itself as well.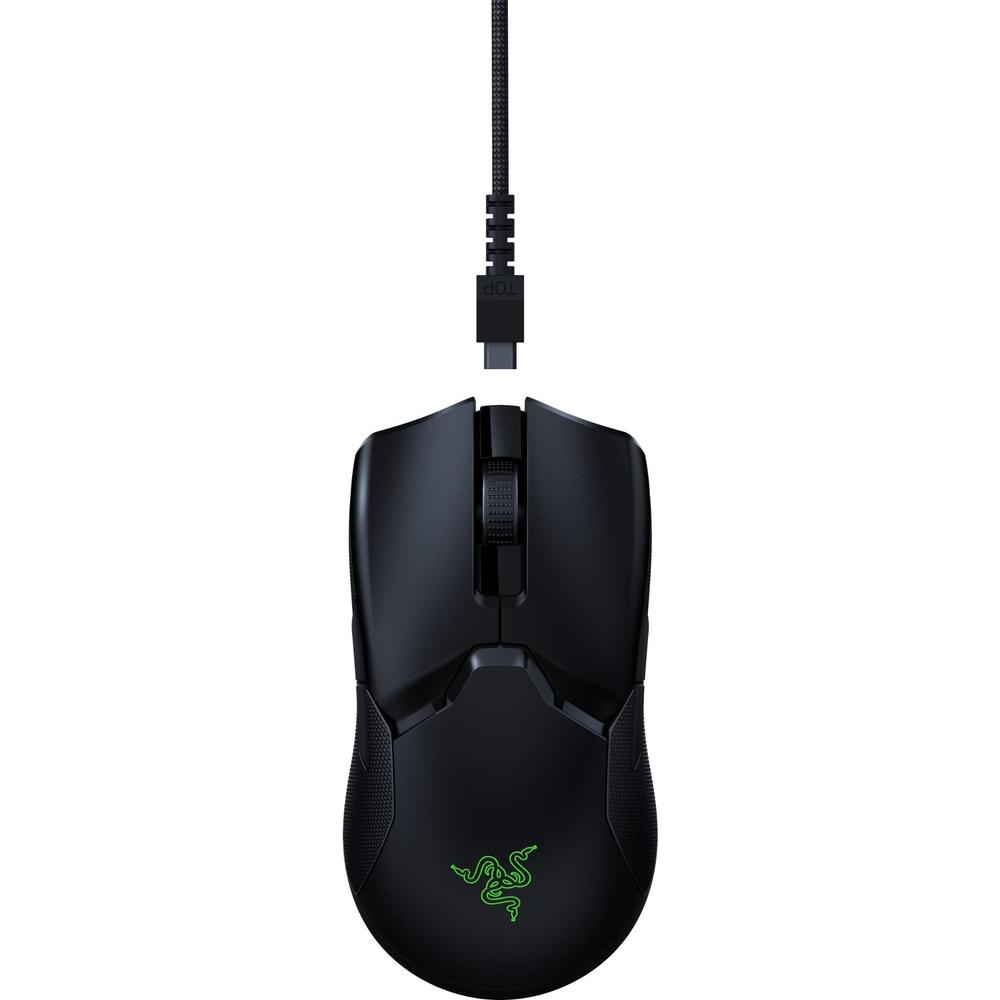 Well packed from Razer, the first thing I noticed about the Viper Ultimate was its professional and sturdy build, including its ultralight weight design. Button place feels good as does the scroll wheel which are all located where they should be. Furthermore, the buttons and wheel has just the right amount of sensitivity when used.
Not all wireless mouse are created equal
– Razer
Speaking of sensitivity, the Viper Ultimate has insanely powerful 20,000 DPI sensor which puts this on par with other high-end wired gaming mouse. Adding to the performance is the 650 IPS (inches per second) tracking speed that more importantly works flawlessly thanks to Razer's HyperSpeed Wireless technology. As a result, lag is a word that doesn't exist thanks to the 0.2 millisecond latencies produced by this mouse.  I also like that the Viper Ultimate is an ambidextrous mouse as I quite often swap between hands, depending on what I am doing on my PC.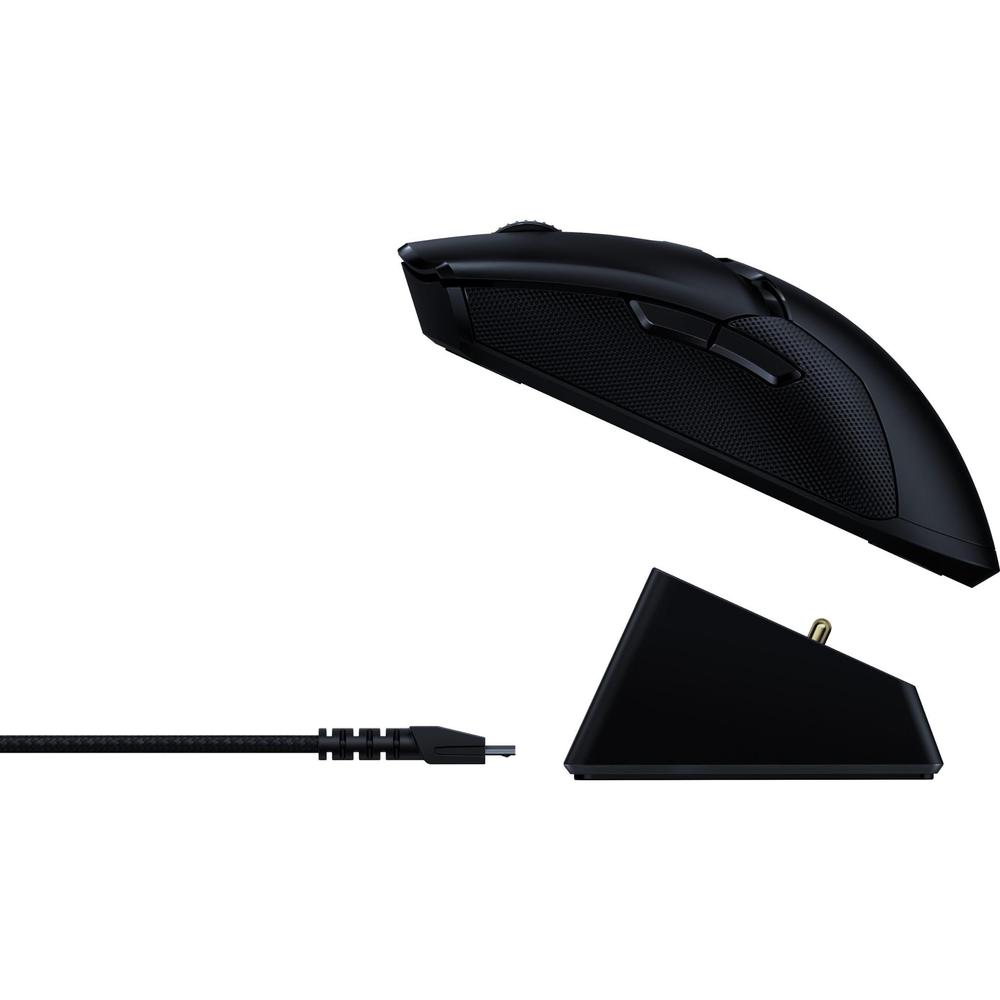 While this mouse is more a generalist gaming mouse (e.g. it works with all mouse games), we tested a wide gamut of titles that included Call of Duty Modern Warfare, Fortnite, Star Wars Battlefront II and World of Warcraft that all worked great. There are also 8 programmable buttons that allow you you customise how you game plus 5 on-board memory profiles to ensure that you're always ready to play.
However by using the Razer Synapse 3 software, this allows you to seriously fine-tune this gaming mouse, not to mention tweak the thoroughly impressive Chroma effects like wave and heartbeat but all titles worked straight out of the box. DPI can also be changed on the fly as there is a button located underneath the Viper Ultimate. Oh.. the main buttons use Razer's optical mouse switch technology which are basically like mechanical switches for super fast responsiveness.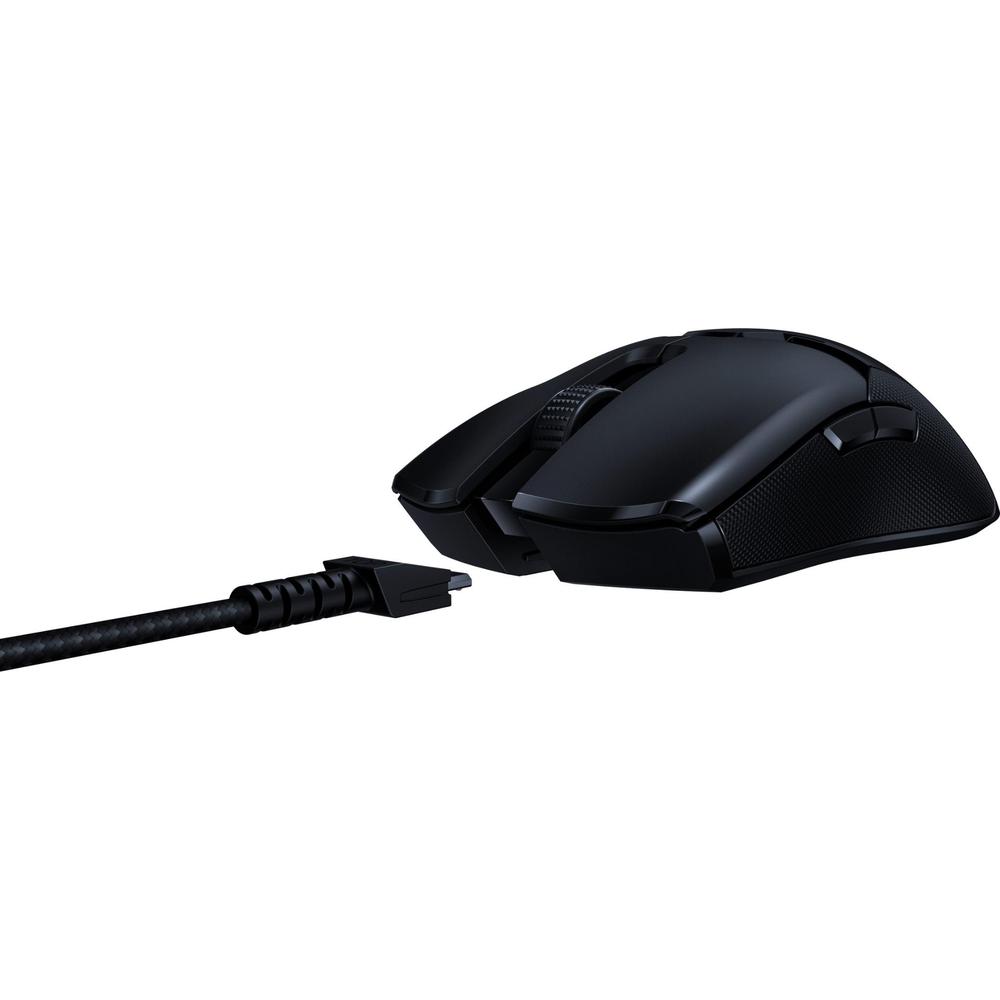 When it comes to battery, Razer state that the Viper Ultimate Gaming Mouse will give you 70 hours of play and after using this product like there was no tomorrow, I can concur that out mileage was between 66 to 72 hours of play. If you are using it for a mixture of regular daily use (e.g. surfing the net, Windows navigation) plus gaming, you'll definitely exceed the 70 hours, especially if you turn off Chroma lighting. To charge, Razer include a charging dock that uses LED's to inform you of how much charging is left. If it does come down to the 'wire' and you need to charge while still playing, can you plug the included cable from the charger into the mouse.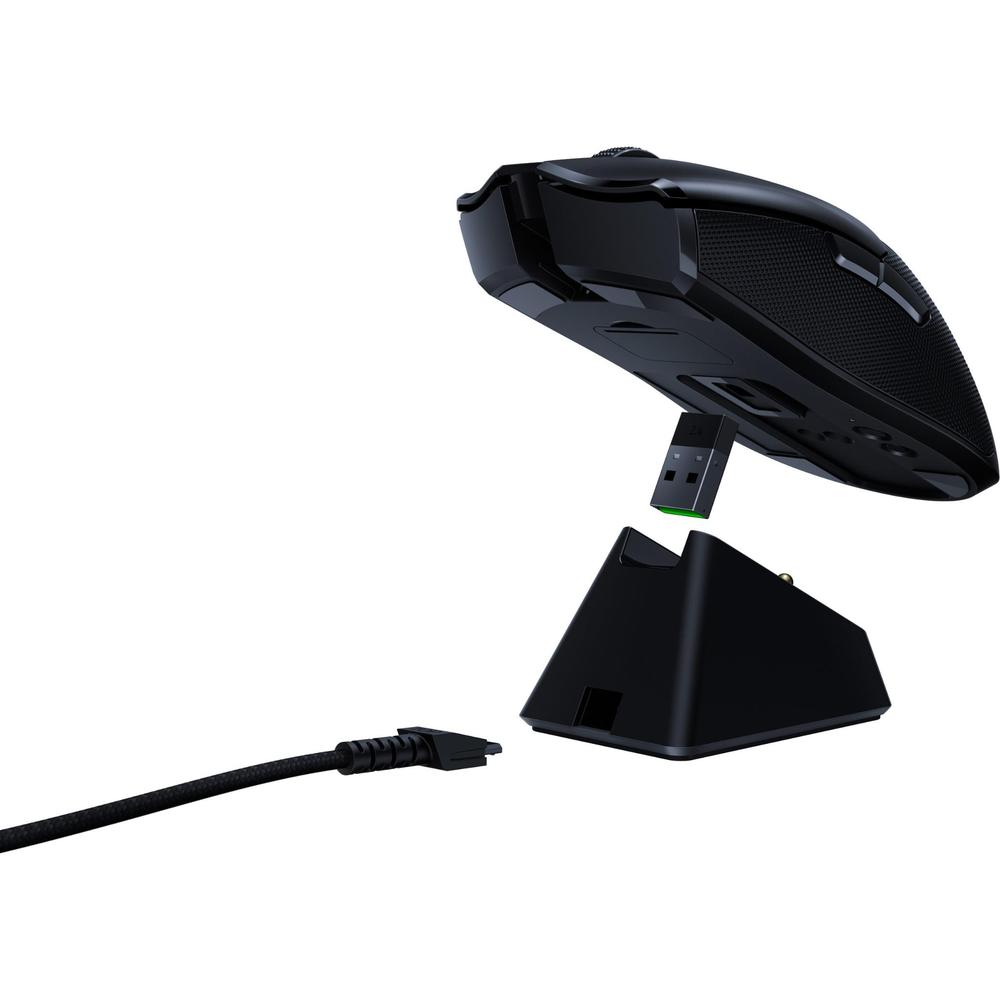 Final Thoughts?
If you're looking for the one wireless gaming mouse to rule them all, I think we've found it with the Razer Viper Ultimate that is not only super responsive but boasts an impressive charge because as we all know, nothing is worse than charging our wireless peripherals all the time. Adding to this is the excellent charger that makes charging a breeze because once you have finished, you simply put the mouse on the dock and presto, charging begins. All in all, a high-performance mouse for both lefties and righties!
Recommended!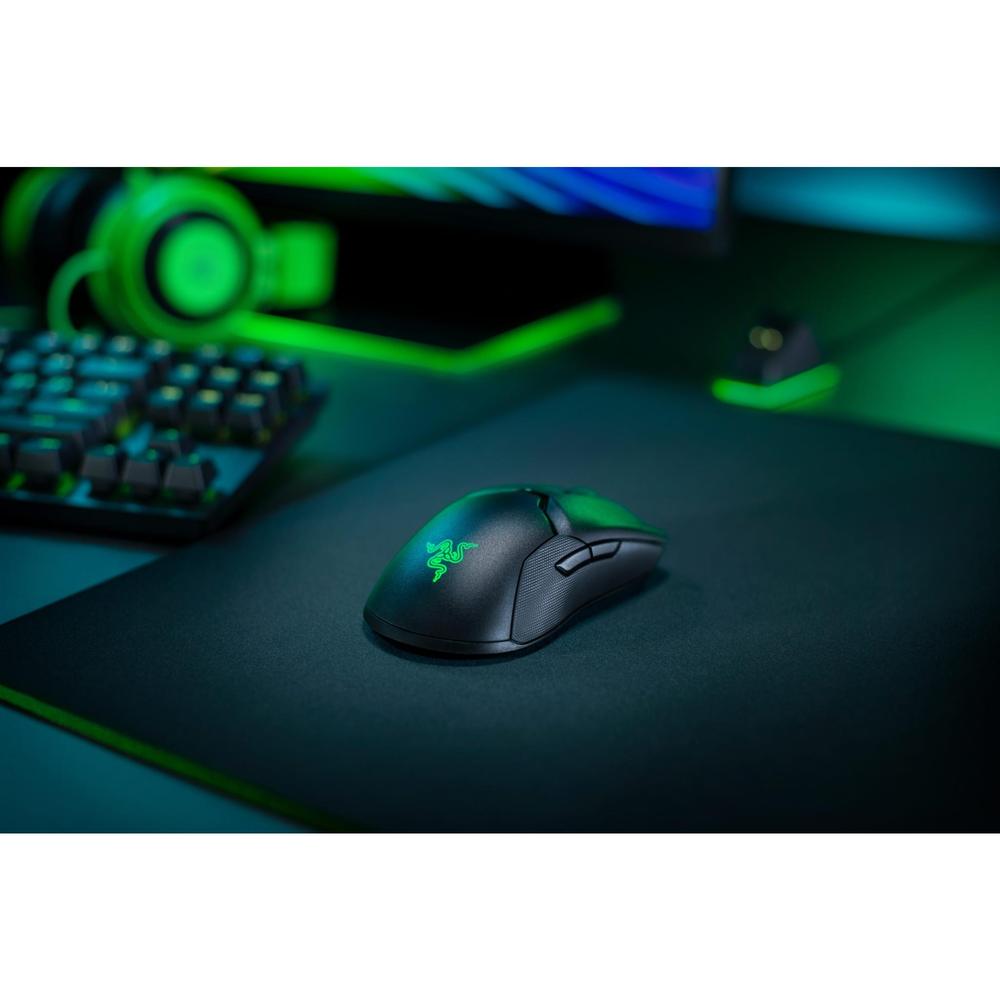 Technical Specifications
True 20,000 DPI Focus+ optical sensor with 99.6% resolution accuracy
Up to 650 inches per second (IPS) / 50 G acceleration
Advanced Lift-off/Landing distance customization
HyperSpeed wireless technology
Eight independently programmable buttons
Razer™ Optical Mouse Switches rated for 70M clicks
True Ambidextrous shape
Gaming-grade tactile scroll wheel
On-The-Fly Sensitivity Adjustment (Default stages : 400/800/1600/2400/3200)
Hybrid On-board and Cloud Storage (4+1 profiles)
Razer Synapse 3 enabled
Razer Chroma™ lighting with true 16.8 million customizable color options
Inter-device color synchronization
Wired and Wireless usage modes
2.4 GHz dongle
1.8 m / 6 ft Speedflex cable for charging and wired use
Razer Mouse charging dock compatible
Battery life: Approximately 70 hours (without lighting) (Battery life depends on usage settings)
Approximate size: 126.7 mm / 4.99 in (Length) X 66.2 mm / 2.61 in (Width) X 37.8 mm / 1.49 in (Height)
Approximate weight: 74 g / 2.61 oz (Excluding cable)
Compatible with Xbox One for basic input