Hardware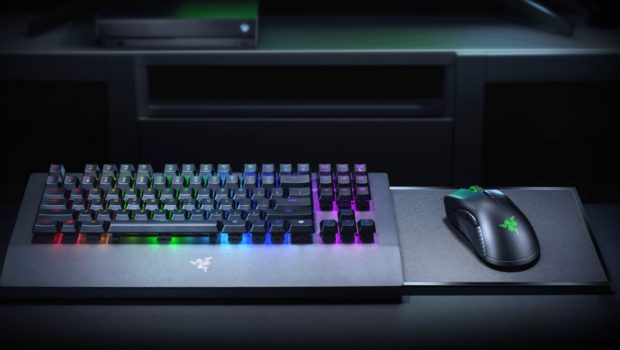 Published on July 9th, 2019 | by James Wright
Razer Turret for Xbox One Bundle Review
Summary: Razer Turret for Xbox One Bundle works flawlessly on this console, however it needs more officially supported games!
To quote Han Solo from Star Wars The Force Awakens, "it's true all of it…", that's right, Razer have released the world's first wireless mechanical keyboard mouse combo for the XBox One and XBox One X with their Razer Turret. What witchcraft is this? A keyboard and mouse for your console? That's right and while amazing in its own right, it does have some kryptonite but read on…
Aesthetically while it channels that the Razer "look", it is a good looking gamer keyboard that contains a few surprises under the hood on both the keyboard and mouse… especially the dedicated Xbox key to access the operating system dashboard by just a key press for true easy access.
It's also an ergonomic keyboard with a comfortable wrist rest, has an ultra-slim form factor to play from your lap and doubles as a PC keyboard (that works brilliantly) but while aimed for XBox One owners, it is quite an expensive console luxury at $429.00AUD (July 2019).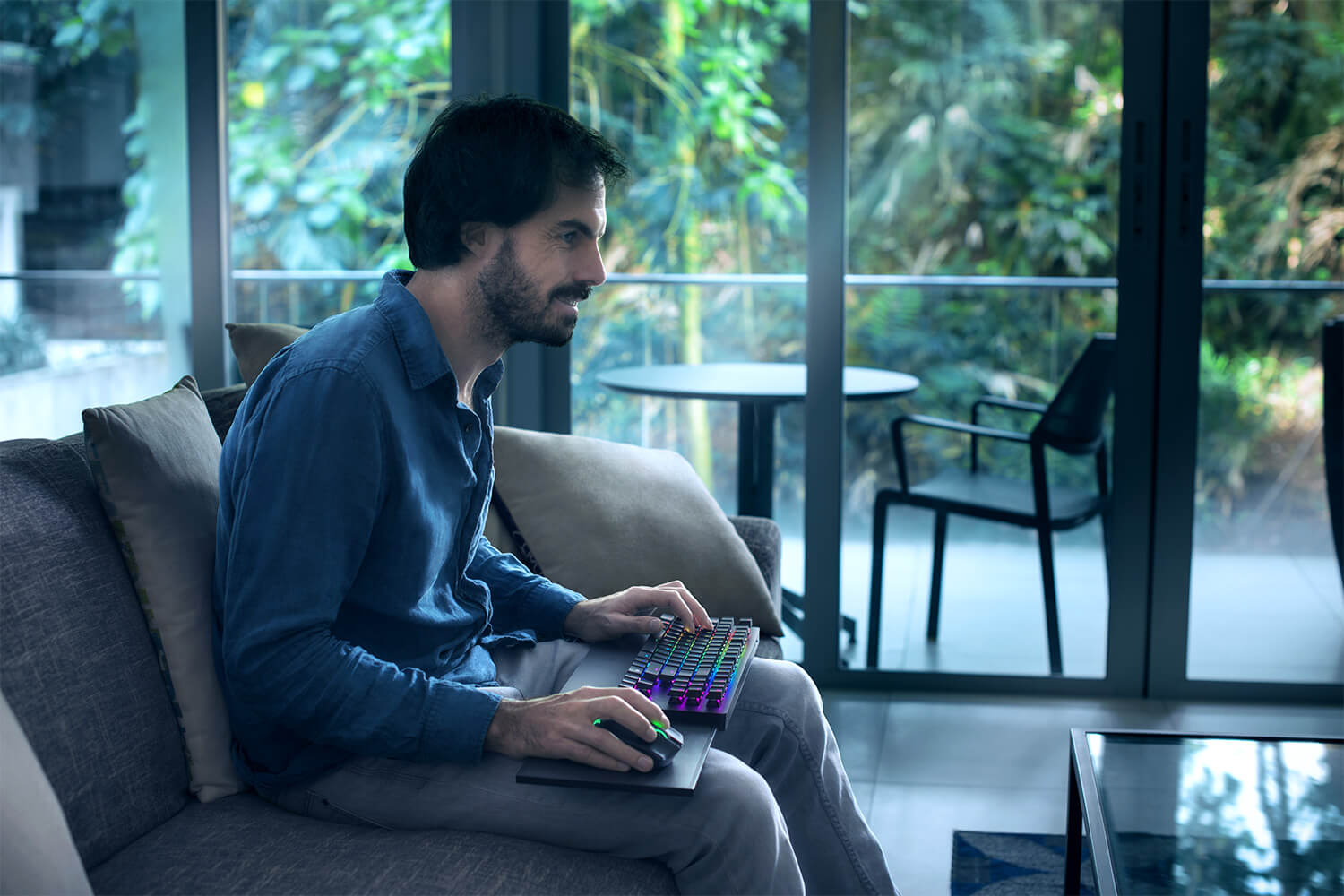 We are proud to partner with Microsoft to bring you the world's first wireless keyboard and mouse designed for Xbox One—the Razer Turret. Equipped with our industry-leading gaming technologies, discover a new way to play in your living room.
– Razer
So while corded keyboards and mice have been available, Razer have significantly upped the ante in order to provide a true PC experience with no lag whatsoever. This achieved with Razer's Adaptive Frequency Technology which uses the 2.4Ghz band that offers a very responsive connection that scans and switches between frequencies to ensure stability. The only additional piece of hardware you need which is included in this bundle is the dongle that connects into your XBox One console and enables the wireless connection.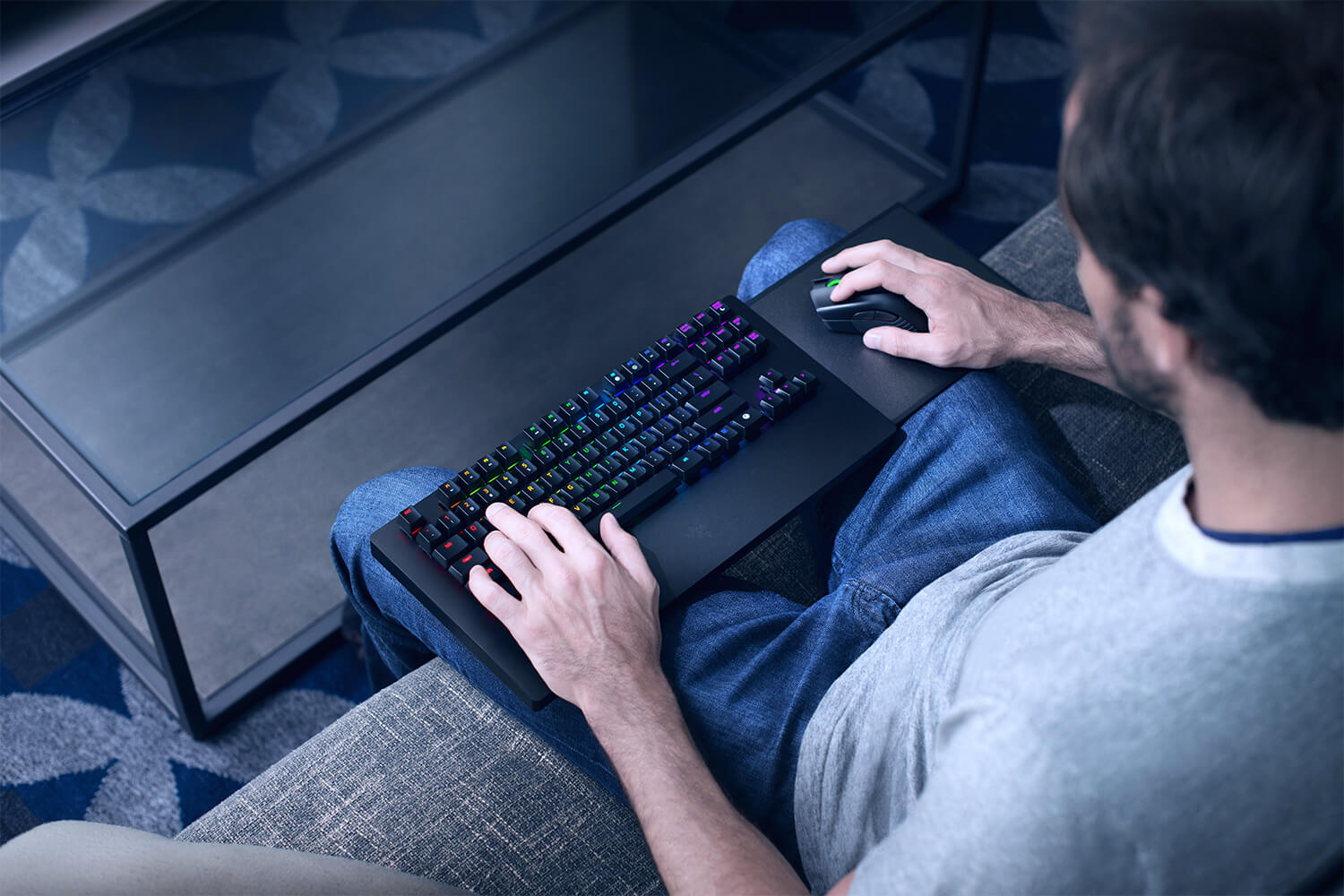 Another highlight of its design is… get this… a retractable mouse mat. That's right, the keyboard has an in-built mouse mat with an optimised tracking surface that is great while playing from the couch, including the ability to dock your mouse which is really outside the box in terms of development. Furthermore, both the mouse and keyboard have a professional build quality with excellent buttons.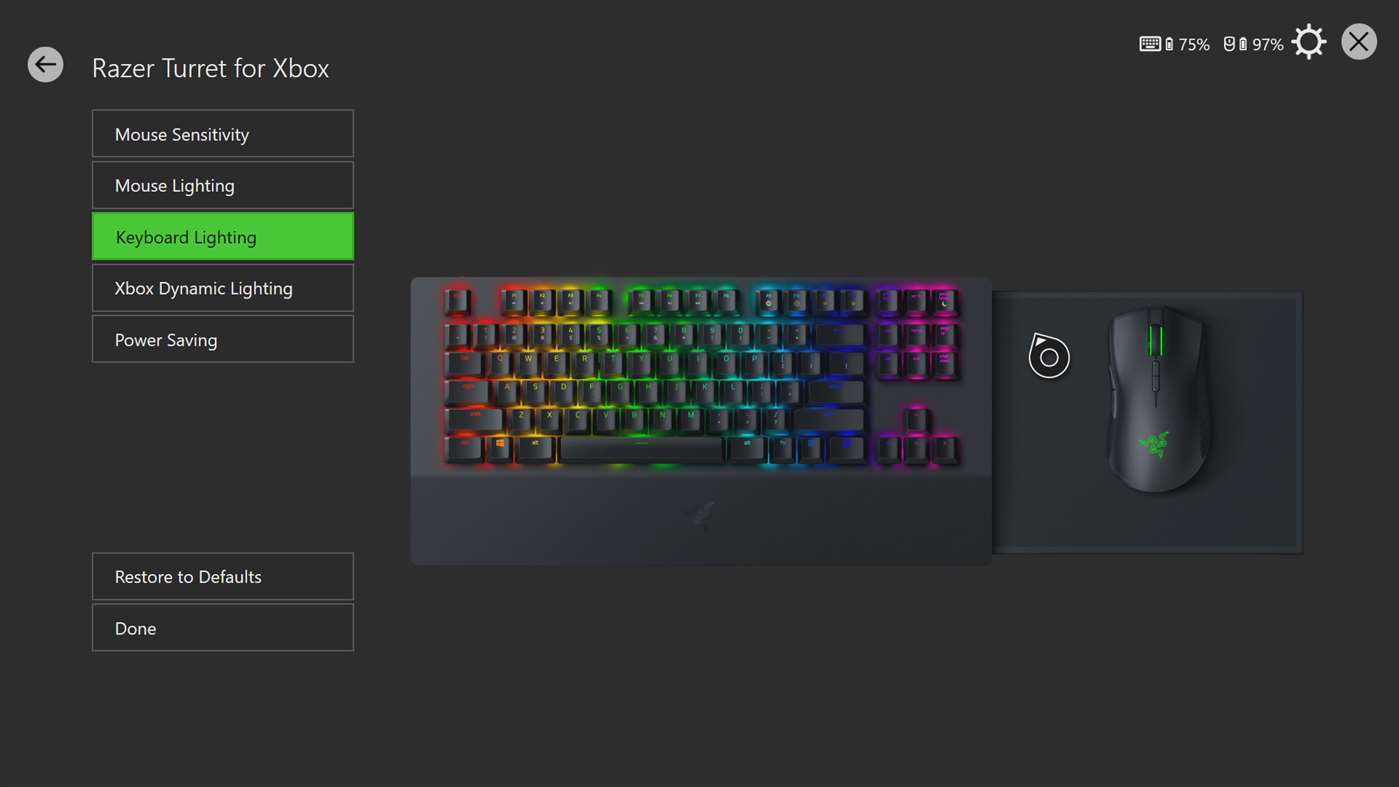 Both the Turret keyboard and mouse have mechanical switches with the keyboard providing green mechanical switches that provides the perfect resistance and of course, speed with no ghosting and excellent memory to register your input. The mouse also supports a DPI of 16,000 plus a 5G advanced optical sensor which makes this peripheral extremely accurate. Like its PC brethren, the Razer Turret includes Razer Chroma and Xbox Dynamic Lighting as this bundle lights up with a multitude of colours and special effects such as breathing of waves to help immerse you into your console experience.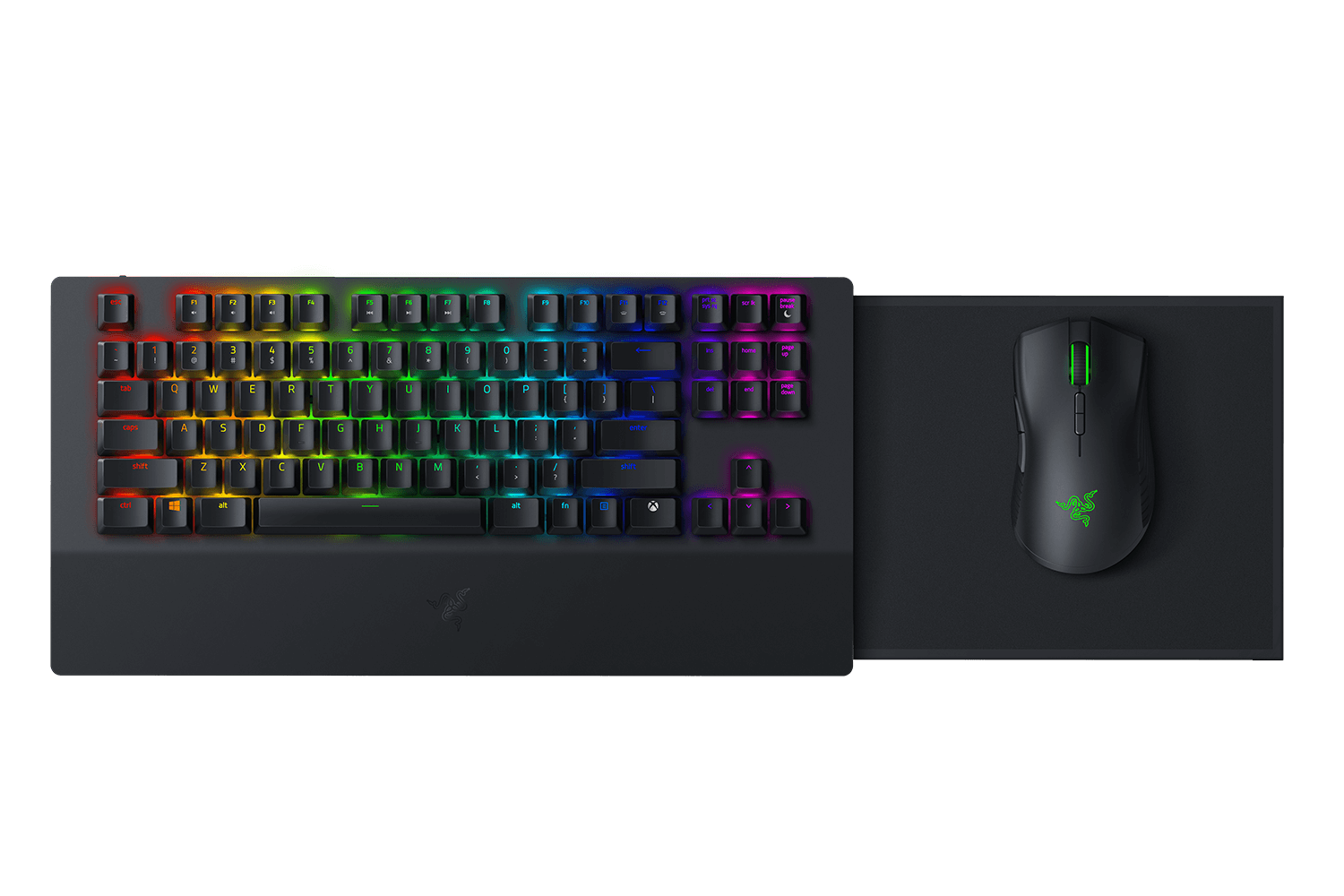 The battery life on the keyboard and mouse is difficulty to test because a number of factors come into play such as using the Chroma lighting effect, the amount of key or button presses or even what games you play. However as a guide, Razer state that mouse will last up to 30 hours with the default lighting effect enabled or if disabled completely, 50 hours.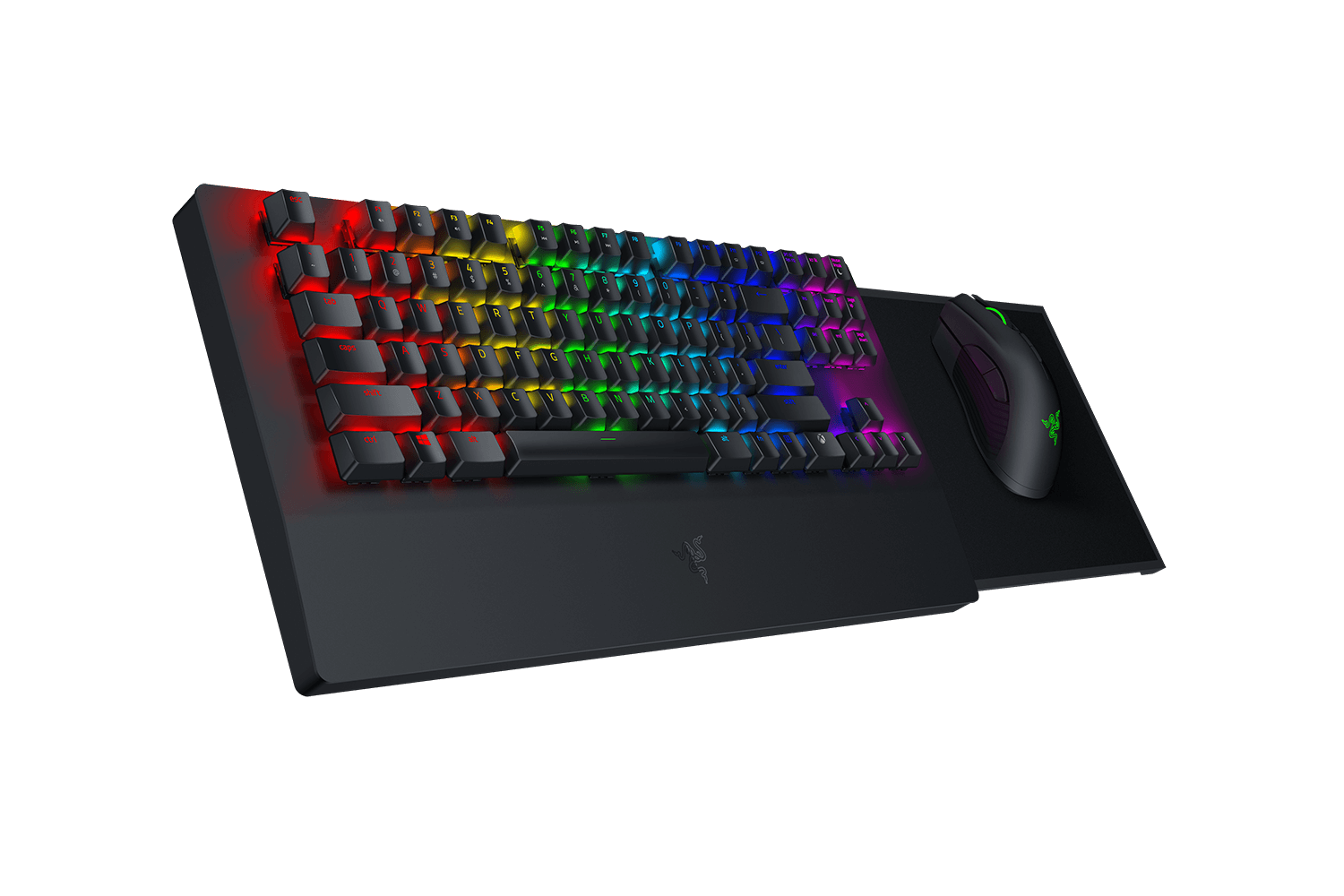 The keyboard on the other hand which is a considerable larger product will last up to 11 hours with the default lighting enabled or if disabled, an impressive 43 hours. However for charging, Razer have included two 2 metre cables that may be a little short for people using their Xbox One on a large flat screen which means you may need a USB extension cable.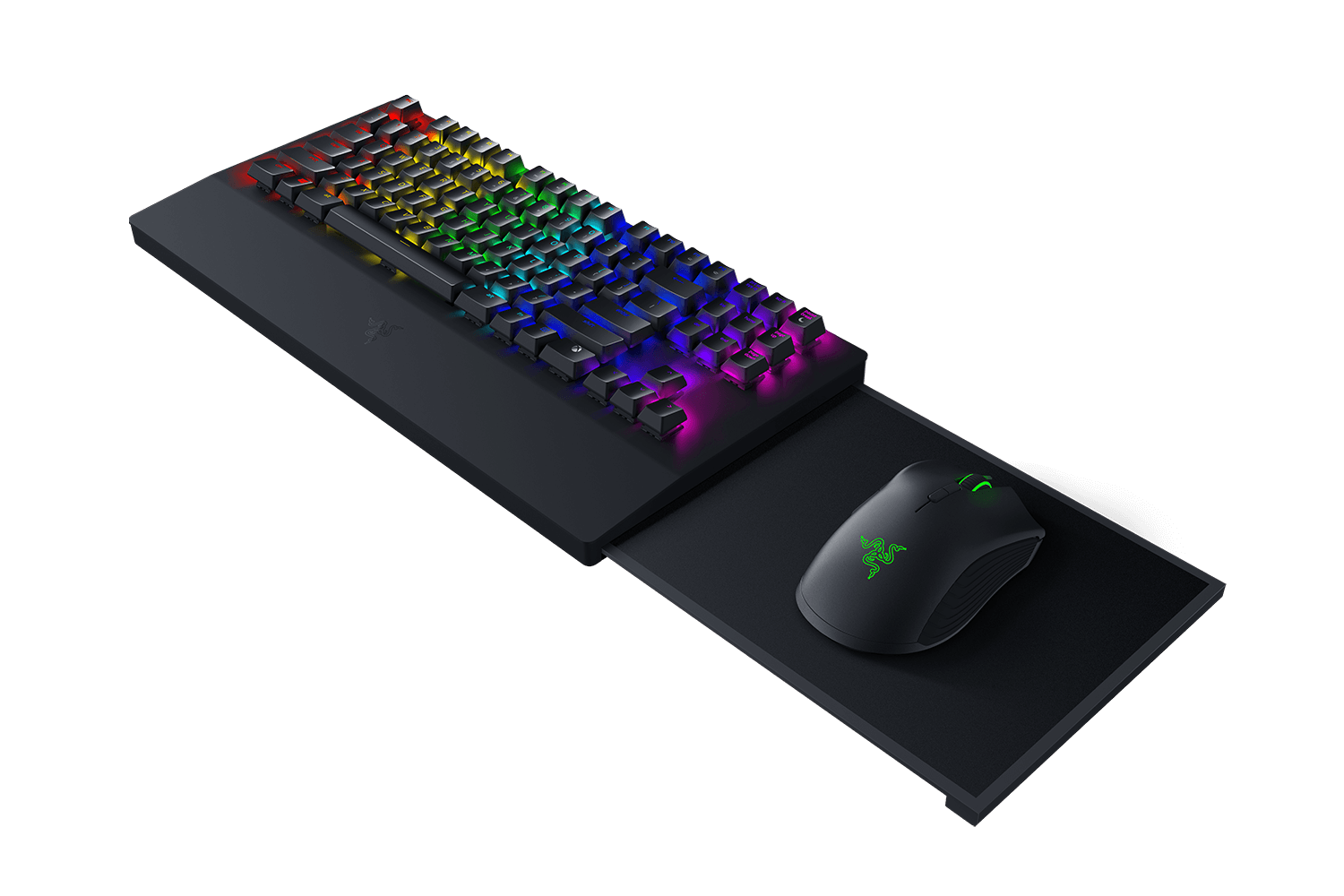 As mentioned, this keyboard has some kryptonite on the Xbox One and that is the number of titles that "officially support this product with 20-games. These officially integrated games with the keyboard and mouse are listed below, however not all are available at the moment such as Gears 5. Nonetheless, we tested a handful of games such as Fortnite which worked perfectly on the Razer Turret and it definitely channeled that PC experience. Minecraft is another go-to game and works so well on this system as does Deep Rock Galactic.
Another title that we found worked well was Strange Brigade and for us, far superior and more accurate than just the controller. More importantly, the keyboard was extremely accurate and fast as was the mouse. No lag or issues whatsoever! For PC games, well… this is a PC gaming keyboard and we could not fault it!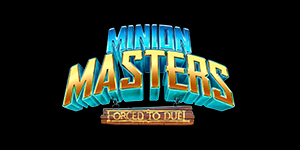 Given that this keyboard was designed for your lap and surprisingly, it works very well. While it is a little heavy at 1.8kg, it does feel good and with the inclusion of the wrist rest and mouse mat, it comes together quite well for games. If you want to use the "Chroma" lights, you need to download the Razer Turret app from the Xbox store which allows you to change the colours and effects, however compared to the PC version it is a little limited.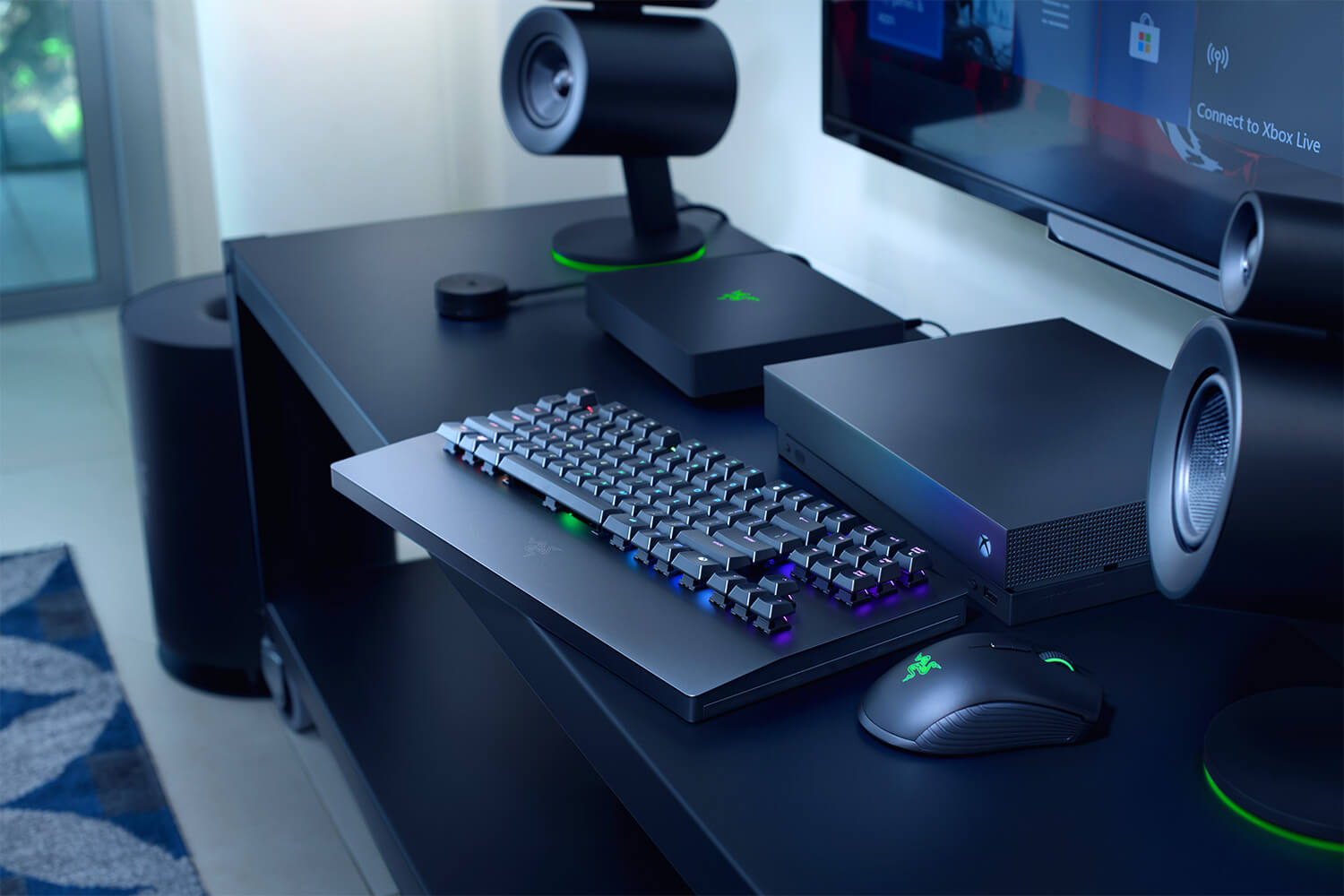 Final Thoughts?
If you have been searching for a wireless mechanical keyboard and mouse for your Xbox One or Xbox One X, the gaming gods have spoken and Razer have delivered with their Turret combo. Not only is this is a fast keyboard and mouse but the company also offers 2 years of warranty, including tech support should you need it. Given the quality of Razer products, I sincerely doubt you'll be accessing either of these. Nonetheless, the Razer Turret ticks all the right boxes for Xbox owners but just be warned that it comes at a cost, $429.95AUD (July 2019) to be precise which is more expensive then the XBox One S but cheaper than the XBox One X! However it does work awesomely as a PC gaming keyboard as well!
Technical Specifications & Features
Dedicated Xbox Key
Xbox Dynamic Lighting and Razer Chroma™
2.4 GHz wireless connection
Unified dongle for keyboard and mouse
Mechanical Switches
5G Optical Sensor
Razer Turret Keyboard (Xbox One Edition)
Razer™ Mechanical Switches with 50 g actuation force
80 million keystrokes
Xbox Dynamic Lighting
Powered by Razer Chroma™ with 16.8 million customizable color options
Compact layout
Ergonomic wrist rest
Mid height keycaps
Razer Synapse 3 enabled
10 key roll-over anti-ghosting
Fully programmable keys with on-the-fly macro recording (PC only)
Gaming mode option (PC only)
1000 Hz Ultrapolling
Instant Trigger Technology
Up to 11 hours battery life on a single charge with default lighting enabled
Up to 43 hours battery life on a single charge with lighting disabled
Approximate size: 194 mm / 7.64 in (Length) X 390 mm / 15.35 in (Width) X 36.93 mm / 1.45 in (Height)
Approximate size (with tray expanded): 194 mm / 7.64 in (Length) X 600 mm / 23.62 in (Width) X 36.93 mm / 1.45 in (Height)
Approximate weight: 1860 g / 4.10 lbs
Cable length: 2 m / 6.56 ft
Razer Turret Mouse (Xbox One Edition)
Razer 5G Advanced Optical Sensor with true 16,000 DPI
Up to 450 inches per second (IPS) / 50 G acceleration
1000 Hz Ultrapolling
7 independently programmable Hyperesponse buttons
Razer™ Mechanical Mouse Switches with 50-million click life cycle
Gaming-grade tactile scroll wheel
Ergonomic right-handed design
Xbox Dynamic Lighting
Powered by Razer Chroma™ with 16.8 million customizable color options
Hybrid On-Board Memory and Cloud Storage
Razer Synapse 3 enabled
Up to 30 hours battery life on a single charge with default lighting enabled
Up to 50 hours battery life on a single charge with lighting disabled
Approximate size: 125.70 mm / 4.95 in (Length) X 70 mm / 2.75 in (Width) X 43.20 mm / 1.70 in (Height)
Approximate weight (excluding cable): 106 g / 0.21 lbs
Charging cable: 0.15 m / 0.49 ft
USB cable length: 2.10 m / 6.89 ft