Hardware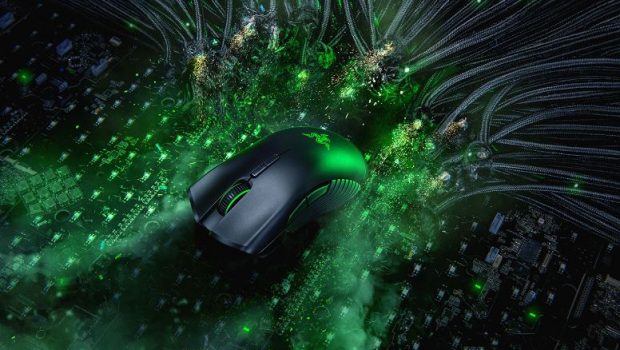 Published on October 15th, 2018 | by James Wright
Razer Mamba Wireless Gaming Mouse Review (2018)
Summary: The Razer Mamba Wireless Gaming Mouse (2018) provides true wireless precision!
The spiritual successor of Razer's 2016 Mamba has landed on our shores that tweaks the original mouse and delivers a much more punchy experience for the tech savvy gamer. With a true 16,000 DPI optical sensor, Adaptive Frequency Technology, improved battery life plus 7 programmable buttons and the 2018 version of Razer's Mamba Wireless Gaming Mouse definitely sounds good on paper… especially for those users who love the freedom of wireless!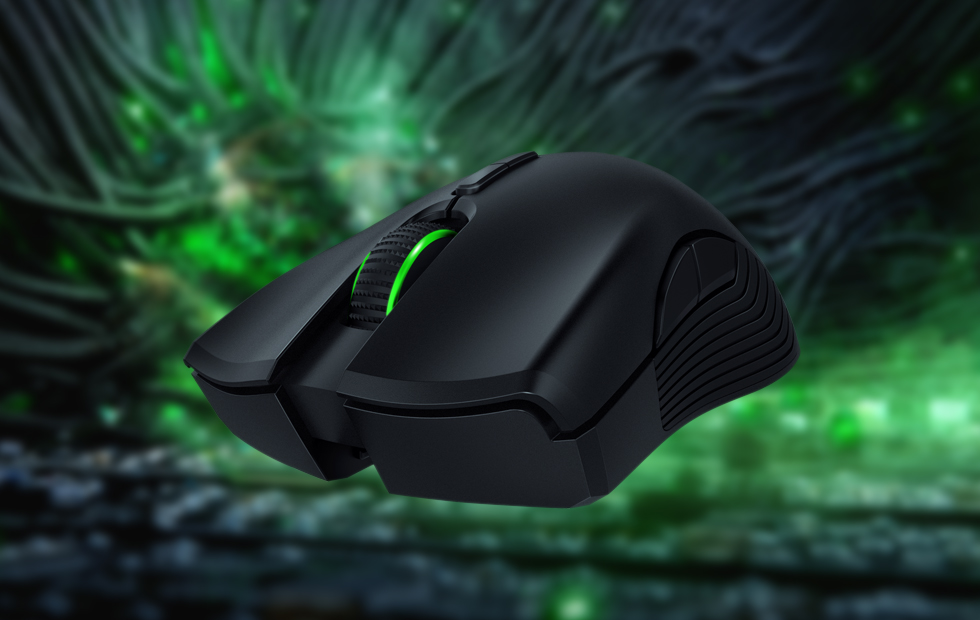 So before we jump into our review, let's check out what makes this beast tick!
Razer Mamba Wireless Gaming Mouse Specifications
Razer 5G Advanced Optical Sensor with true 16,000 DPI
Up to 450 inches per second (IPS) / 50 G acceleration
1000 Hz Ultrapolling
Seven independently programmable Hyperesponse buttons
Razer™ Mechanical Mouse Switches with 50 million clicks life cycle
Gaming-grade tactile scroll wheel
Ergonomic right-handed design
Razer Chroma™ lighting with 16.8 million customizable color options
Hybrid On-Board Memory and Cloud Storage
Razer Synapse 3 enabled
Approximate size: 125.7 mm / 4.95 in (Length) X 70.0 mm / 2.75 in (Width) X 43.2 mm / 1.70 in (Height)
Approximate weight (excluding cable): 106 g / 0.213 lbs
Cable length: 2.1 m / 6.89 ft
Price: $169AUD (October 2018)
As you can see from the specifications, the Razer Mamba definitely has all the power needed to meet your gaming needs and whether you're playing first person shooters, MMO's or whatever, this wireless mouse definitely meets the brief for speed and accuracy. Out of the box, this unassuming mouse is the perfect size that boasts a black matte finish with rubber grips on the side.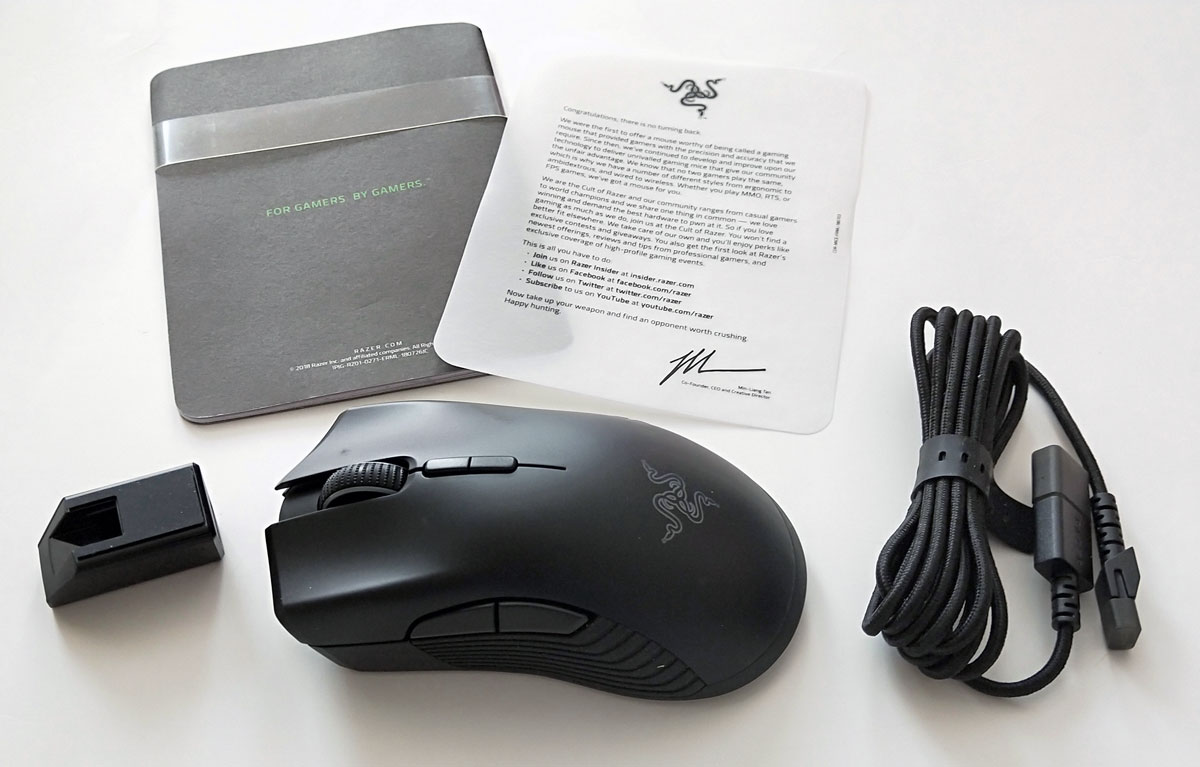 The scroll wheel works well as do the buttons, particularly the main buttons on the top which use mechanical switches. Just under the scroll wheel which is also a button are two additional buttons for DPI adjustment plus another two on the left hand side. On the palm rest is the Razer logo which does light up courtesy of their Chrome lighting technology and on the bottom is the profile indicator, profile button and the power switch. I also like how the USB wireless receiver is located underneath the Mamba. Charging is done via the included cable and according to Razer, the Mamba will last up to 50 hours and to charge this mouse, you simply connect it to a spare USB port. Given that, we got between 45 to 60 hours of gaming use which is decent.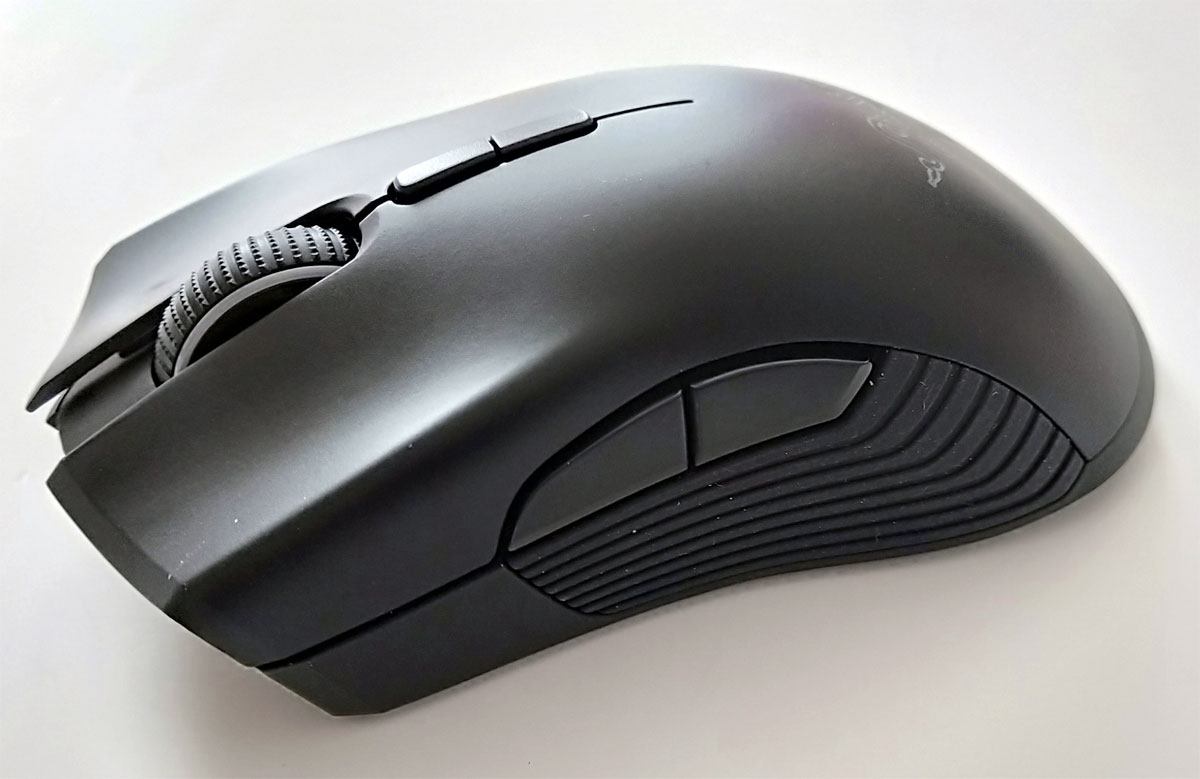 Inside the box, you of course get the Razer Mamba Wireless Gaming Mouse plus the USB receiver, a USB wireless receiver adapter, a USB to Micro-USB cable which is braided and the Production Information Guide, including stickers from this company. Although the mouse works straight out of the box, you do need to install the Razer Synapse 3 software to maximise this product which includes tweaking, profiling and adjusting the Chroma lights (e.g. a breathing effect or changing colours) which are some of the features this app offers. If you take your mouse with you to gaming events, the onboard memory allows you to save up to 5 profiles directly to the unit.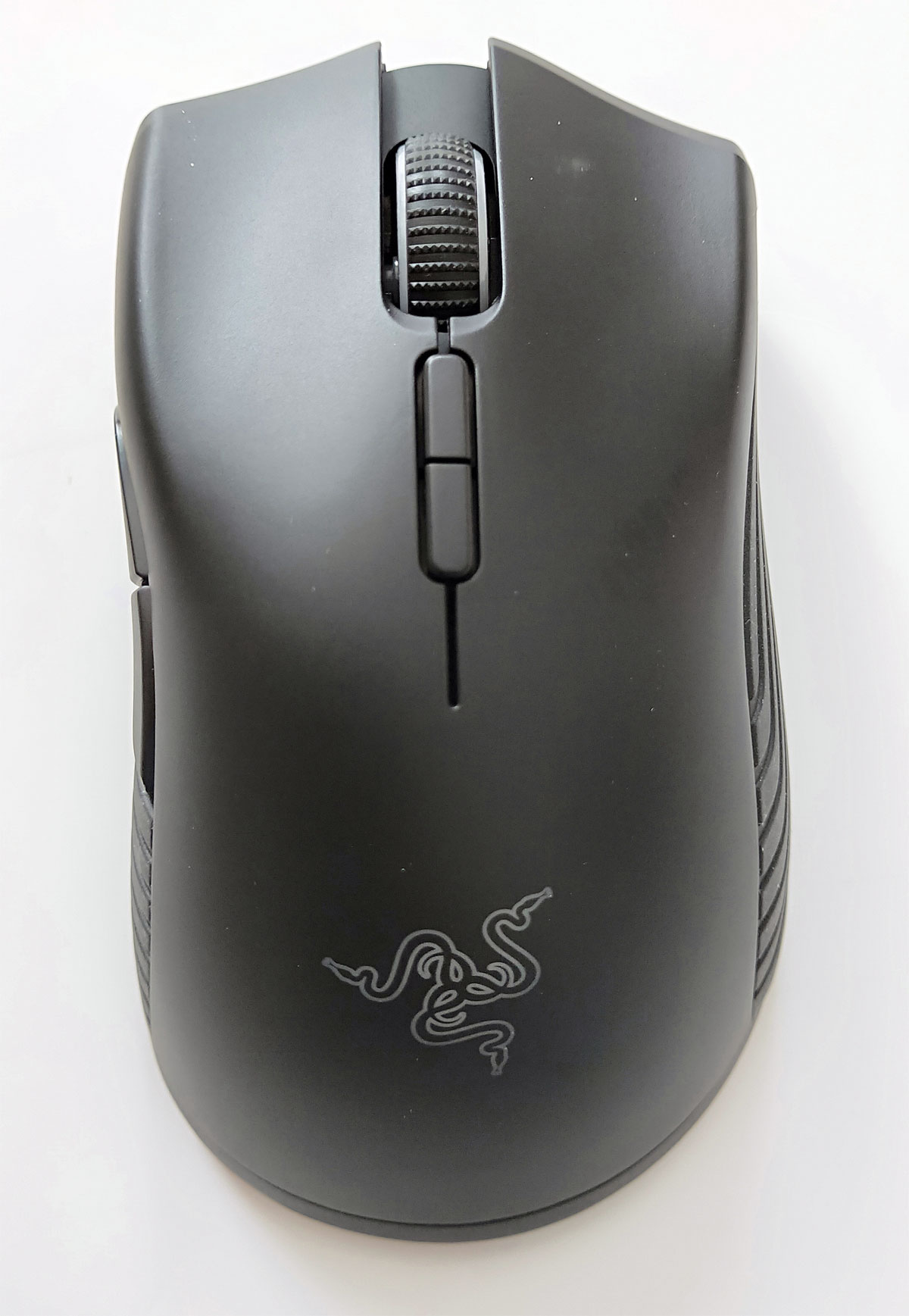 We tested the Razer Mamba with a variety of titles and this gaming mouse delivered a very accurate experience. The mouse also felt quite responsive and more importantly very comfortable while playing first person shooters such as Overwatch, Call of Duty Infinite Warfare and Battlefield 1. With the addition of programmable buttons, it does allow for a quicker interaction in your gaming world. Online games such as Paladins and World of Warcraft mirrored our first person shooter experience in terms of speed and accuracy.
It should be noted again that the Razer Mamba Wireless Gaming Mouse is very comfortable mouse to use courtesy of its ergonomic design that feels nice in your palm and when the action heats up, the ergonomic grips ensure that you'll be interacting with the gaming environment flawlessly. This also means using it for everyday use in Windows delivers a good experience to the user, whether that's surfing the net, using Photoshop or manipulating an Excel spreadsheet.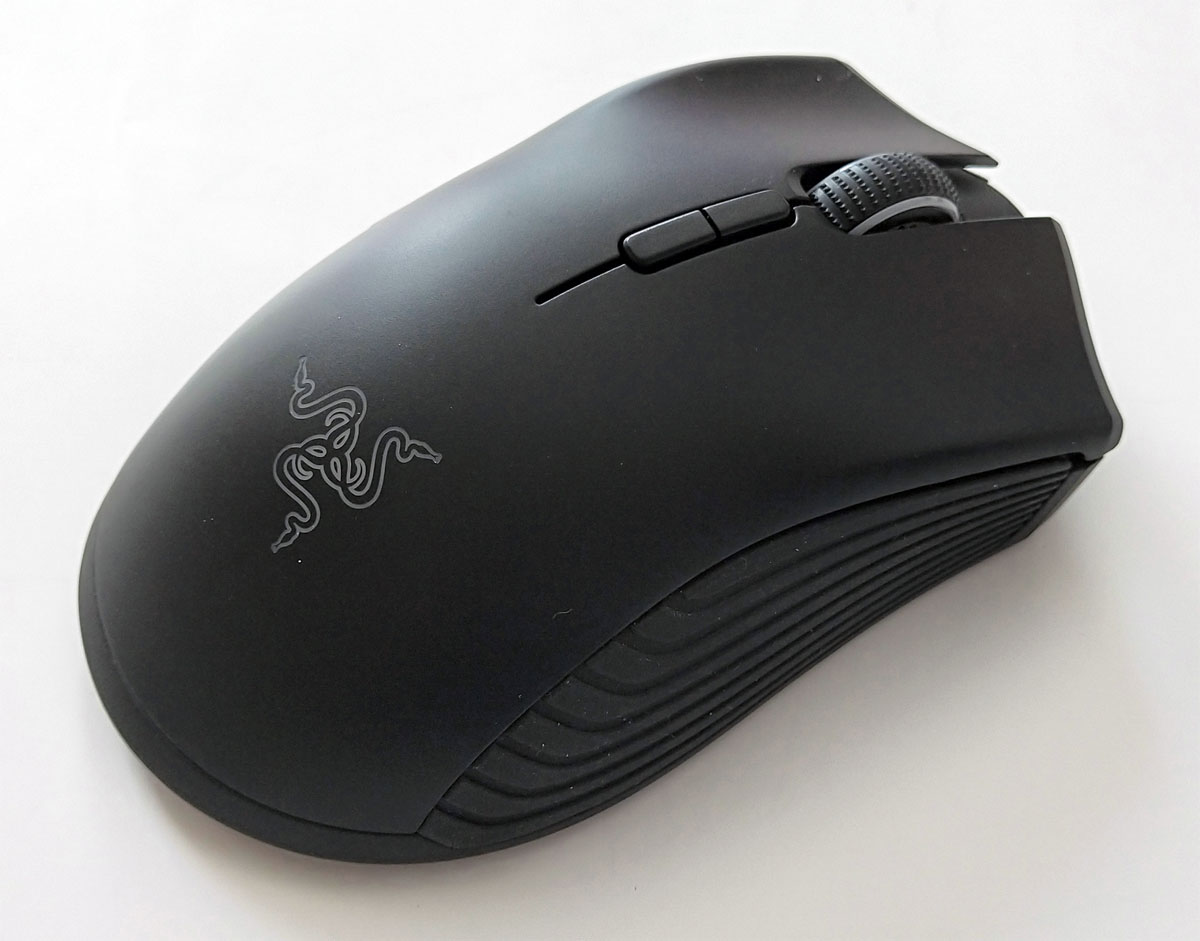 Final Thoughts?
The Razer Mamba Wireless Gaming Mouse offers gamers a true wireless gaming experience that matches its corded brethren. Not only is it fast and accurate but it has an excellent battery life of up to 50 hours and has a design that is extremely comfortable and comes with some great features like onboard memory for different profiles and the very sleek Chroma lighting effects.
So if you're in the market for a new wireless gaming mouse, do yourself a favour and check out the Razer Mamba Wireles Gaming Mouse.