Hardware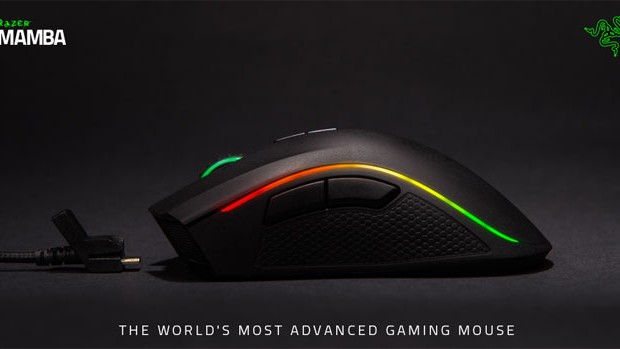 Published on November 26th, 2015 | by James Wright
Razer Mamba Review
Summary: The Razer Mamba is a must have mouse for gamers who love wireless but also performance!
It's all about E-Sports … or getting that extra edge against your competitors and sometimes you need a little help which is where this new mouse comes into play. Think of it like getting the Ferrari of mice and this is what Razer's new Mamba mouse is all about… speed, comfort, wireless or wired and more importantly that edge against your competitors, both AI and real which also looks very impressive! Oh… if the word Mamba sounds a little familiar, that's because it's named after the deadly snake of the same name which of course is known for its speed!
Specifications
16,000 DPI 5G laser sensor
Up to 210 inches per second / 50 G acceleration
Adjustable Click Force Technology
Dual gaming grade wired/wireless technology
1,000 Hz Ultrapolling / 1 ms response time
On-The-Fly Sensitivity Adjustment
Ergonomic right-handed design with
First and foremost is the speed of the Mamba which boasts one of the world's most precise gaming sensors with a DPI of 16,000. The Mamba even allows you to customise the click force of the mouse which makes it quite customisable for all sorts of gamers. Another highlight besides its sleek design is the incorporation of the Chroma which allows you to customise the colours of this mouse that when linked with other Chroma products gives users an automatic visual advantage.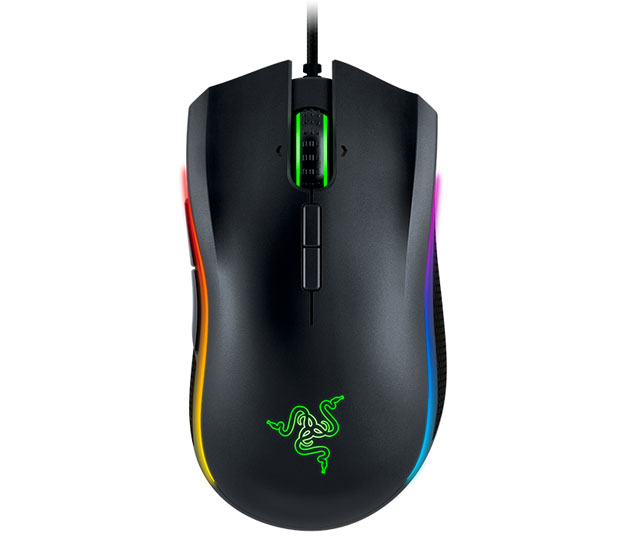 The Mamba is also a wireless mouse that boasts around 20 hours of gaming but for normal Windows use or surfing the net, this will increase considerably. Another highlight of the Mamba is that it comes with a charging dock so once you have finished using it, you can easily place it back on the dock in order to power-up the device for its next gaming grudge match. However by using some of its other features like Chroma, it will use more battery but just like the mouse, you can tailor these functions. Another trick that the Mamba boasts is the ability to use the mouse as a wired one which gives you another advantage on the battlefield should you have battery issues.
When it comes to design, Razer should be commended on creating such an impressive ergonomic mouse that feels extremely comfortable to use, including long gaming sessions. I've been using the Mamba just over two weeks now and it's definitely one of the most comfortable mice that I've used in quite some time. Thankfully the latest Starcraft II game was released when I received this mouse to review which definitely made my Protoss experience a thoroughly enjoyable one in Legacy of the Void. Star Wars Battelfront was another title that worked flawlessly with this mouse which allowed me channel my inner Jedi.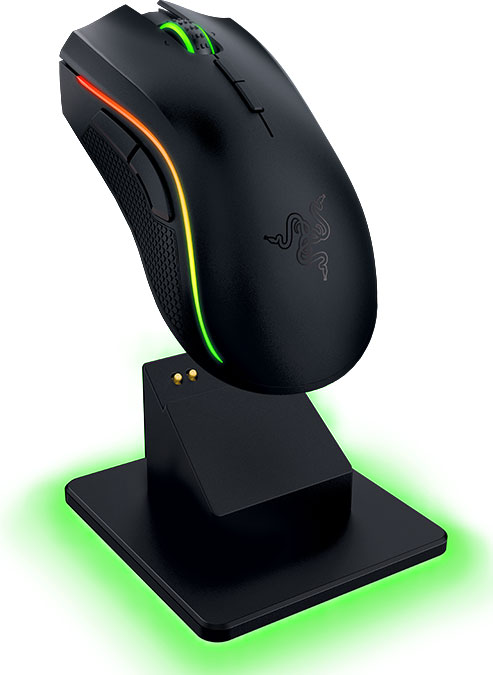 The mouse even  allows you to change the DPI on the fly which is located just below the scroll wheel. The texture of the mouse feels good as well and definitely gives additional control while using the product. Unfortunately if you're a left hander, this mouse has been specifically designed for right handers. Button clicks are quite accurate and the scroll wheel even allows you to move from left to right instead of just up and down. Weight wise, the Mamba weighs in at just 126 grams which is quite light.
Then you have the adjustable click force technology which allows users to customise the force behind your clicks with 15 different click feels that really tailors your gaming needs.This is easily tweaked by turning the mouse over and using the included tool to adjust. I found this quite useful in Black Ops III because my button pushing needed a bit more grunt then just a regular button. With that said, the Mamba is a little heavier than its wireless counterparts but I like a bit of weight behind my mice and this product suits both my gaming and non-gaming needs.
It's all about accuracy. With its high quality laser 16,000 DPI 5g sensor, the Mamba is one accurate mouse and whether I was playing a shooter (Black Ops III), an RTS (StarCraft II: Legacy of the Void), photo manipulation (Adobe Photoshop) or general Windows use, I had no issues whatsoever with the accuracy and for the majority of time, I managed to find my targets and dare I say, it did felt like the Mamba gave me an edge over my competitors. League of Legends and SMITE were some other titles that I tested and with all the customisation options like weight and macros, I had a blast using this mouse and really enjoyed the adjustable click force technology.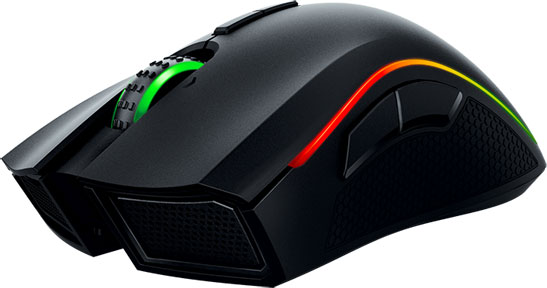 Final Thoughts?
If you're looking for a very versatile and customisable mouse with some unparalleled accuracy, then I could happily recommend the Razer Mamba because it hits the mark on all these features. More importantly, as a wireless mouse, the Mamba works exceptionally well that boasts some great battery life and also works as a wired mouse. It's definitely a high end product that is not only ergonomic but extremely comfortable to use that contains quite a few features like adjustable click force technology and Chroma compatibility. It's definitely the best wireless mouse that I've used for awhile and unlike wired products, it's all about freedom!
Recommended!