Hardware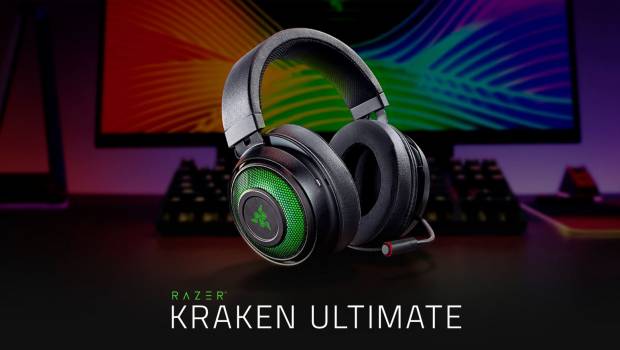 Published on March 26th, 2020 | by Alex Novus
Razer Kraken Ultimate Review (2020)
Summary: Razer Kraken Ultimate is pure audio gaming bliss!
BOOM! The Kraken has arrived and like the mythical beast of old, this new over the ear gaming headset from Razer promises a wealth of feature and more importantly, delivers above and beyond when it comes to an immersive audio experience as you fight your virtual battles.
Powered by the god Zeus… err… custom tuned 50mm drivers with a strong aluminum and steel construction with cooling gel cushions, the Razer Kraken Ultimate also boasts THX Spatial Audio. So what exactly is THX Spatial Audio?
Unlike traditional 7.1 surround sound, THX Spatial Audio creates a 360 degree audio experience that makes your gaming a much more fine-tuned experience that allows you to hear sound from all around you.
While not all games support this technology, the ones that do really adds to the overall gaming factor that for us, makes it feel like you are closer to the action as bullets and magic flies by. Check out the video below to help unleash your imagination on the potential of a THX Spatial Audio experience.
Online gamers will also appreciate that the Krazer Ultimate includes a retractable active noise-cancelling microphone that considerably reduces background sound. Add in Razer's excellent RGB lighting and your headphones will glow with this almost unearthly surreal light, including some impressive effects like breathing or wave and over 16.8 million colours at your fingertips through the easy to use Synapse software from Razer that allows you to fine-tine the lighting and customise the audio.
Out of the box, this beast is well packed from Razer and boasts a great design that not only feels sturdy but is very comfortable to wear thanks to its breathable leatherette foam padded cushions, particularly for longer than long gaming sessions and is quite lightweight.
Installation is a breeze and you simply connect this USB powered headset into your gaming rig and you're ready to go. However if you want to use the audio features of the headset, you do need to install the Synapse software that as mentioned is extremely easy to navigate and use.
I also like how the headset is a good fit while wearing them which makes it ideal for gaming, particularly if you get a little active so they stay on.
We tested a variety of games from Overwatch to Star Wars Battlefront II and Doom Eternal and the headset never missed a beat. Audio was super clear with excellent levels and the surround sound element definitely enhanced the overall gaming experience.
4K movies also sounded great such as Tomb Raider, Frozen II (shut up) and Avengers Infinity War. Music performed equally as good but in the end, this beast is made for gaming and it delivers remarkably well on this front.
Final Thoughts?
Unleash the beast with the Razer Kraken Ultimate that gives gamers a great payload to ensure that their audio reaches the levels that could almost be considered blockbuster. From its excellent design, comfort and pure audio, the Razer Kraken Ultimate is definitely a recommended product for PC gamers!
Razer Kraken Ultimate Specifications
Headphones
Frequency response: 20 Hz – 20 kHz
Impedance: 32 Ω @ 1 kHz
Sensitivity (@1 kHz): 112 dB
Drivers: 50 mm, with Neodymium magnets
Inner ear cup diameter: 65 x 60 mm
Connection type: USB Digital
Cable length: 2.0 m / 6.56 ft.
Approx. weight: 390 g / 0.86 lbs
Oval ear cushions: Designed for full-ear coverage with cooling gel, for sound isolation and comfort
Microphone
Frequency response: 100 Hz – 10 kHz
Signal-to-noise ratio: > 60 dB
Sensitivity (@1 kHz): -38 ± 3 dB
Pick-up pattern: Unidirectional ECM boom
Mute Function: Click-to-mute