Hardware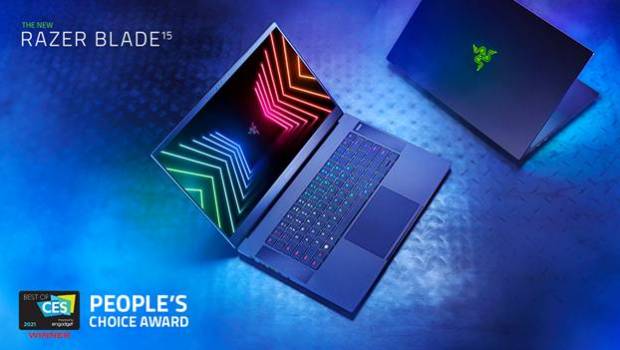 Published on January 20th, 2021 | by Adrian Gunning
Razer kicks off 2021 as the most popular brand in gaming
Razer™, the leading global lifestyle brand for gamers, took home a myriad of awards at CES 2021, including the official "People's Choice Award" for the 2nd year in a row and the 5th time overall, after having been nominated in the "Best Gaming Product" category. Strong demand for the company's growing ensemble of innovative gaming hardware was also recognised by the NPD Group's technology division for the "Top Increase in North American Market Share" for gaming accessories.
Beyond solidifying their place as the top gaming peripherals company in 2020 with their core products, Razer expanded into new categories such as gaming chairs, desktop cases, lifestyle products, and a new productivity line. At CES 2021, Razer continued to demonstrate their industry-leading innovation with these exciting products and concepts:
Razer Blade 15,the Best Gaming Laptop – featuring up to an ultra-fast 360Hz refresh rate display, NVIDIA® GeForce RTX 30-Series Laptop GPUs, and improved storage and memory, up to a 1TB NVMe SSD and 32GB DDR4 RAM, to meet the needs of demanding gamers and content creators.
Razer Blade Pro 17, the ultimate desktop replacement – offering robust connectivity, a massive 17.3" display with up to a 360Hz refresh rate display, and next-gen NVIDIA® GeForce RTX 30-Series Laptop GPUs.
Project Brooklyn, the next generation of immersion in gaming chairs – featuring a 60" rollout display, immersive tactical feedback, and fully-modular 4D armrests that roll out into an adjustable peripherals table.
Project Hazel, the World's Smartest Mask – designed for a more health-conscious future. It has N95 medical-grade respirator protection while offering excellent user-friendly features such as a transparent front panel to see the user's mouth, Razer VoiceAmp technology to help amplify the user's voice, a charging case with a UV-light interior to sterilise the mask, and Razer Chroma RGB for users to personalise their mask.
CES 2021 AWARD LIST
At the time of writing, Razer has received 19 awards from the following media:
Razer Blade 15
Best of CES, People's Choice Award – Engadget
Editor's Choice – Slickdeals
Editor's Choice – Reviewed.com
Best Gaming Laptop – Android Authority
Best Gaming Laptop – Best Products
Razer Blade Pro 17
Best Gaming Laptop – Techaeris
Razer Project Hazel
Best of CES – Window's Central
Best of CES – PC World
Best of CES – PC Mag
Best of CES – Mashable
Best Concept – How-To-Geek
Hottest of CES – TechRadar
Best in Show – Trusted Reviews
Best Concept – Tom's Hardware
Best in Show – Tech Advisor
Razer Project Brooklyn
Best of CES: Best Concept – Tom's Guide
Best of CES – Window's Central
Hottest of CES – TechRadar
Best in Show – Trusted Reviews