PS5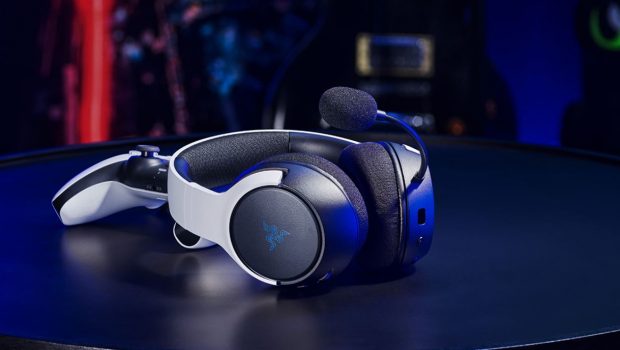 Published on March 18th, 2022 | by Adrian Gunning
Razer Kaira Wireless Gaming Headset for PlayStation 5 Review
Summary: The Razer Kaira Wireless Gaming Headset for PlayStation 5 provides owners of this next-gen console great value for money and excellent audio!
4.8
Wireless audio power!
Official Blurb: Whether you're on console or mobile, rule both realms with the Razer Kaira for PlayStation—a dual wireless PS5 headset powered by Razer™ SmartSwitch. Capable of connecting to a 2.4GHz and Bluetooth device at once, enjoy unrivalled convenience as you switch seamlessly between them.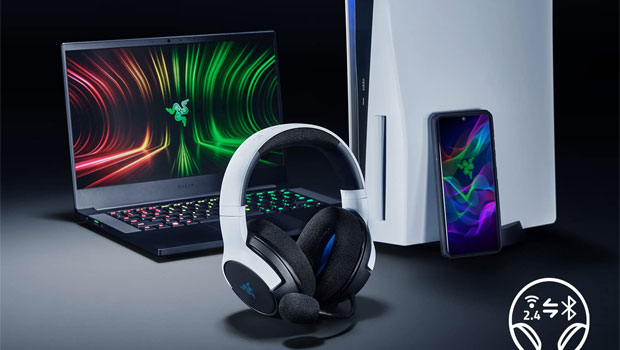 Razer Kaira Wireless Gaming Headset for PlayStation 5 Review
It's time for PS5 owners to experience the Razer Kaira Wireless Gaming Headset that not only produces strong audio courtesy of its "booming" 50mm drivers but it matches the stylish next-gen aesthetics of this console with it mirrored colours white, black and blue. Additionally it is a dual wireless headset which means it supports both the 2.4Ghz bandwidth and Bluetooth platform at once for instantaneous switching.
Further supporting the audio features of this headset is the inclusion of the Razer Audio app which allows you to tweak the audio settings of the Kaira (e.g more bass), including displaying the battery level and even enabling the first person shooter mode. It should also be mentioned that the Razer Kaira Wireless Gaming Headset works not just on the PS5 but also the PS4, PC and as you may have guessed, mobile device. So if you own a PlayStation and a PC, it's definitely a given in terms of cross-platform compatibility.
Unboxing
Very well packed from Razer, the first thing that I noticed about the Kaira Wireless for the PS5 was its weight at around 300 grams which is make perfect for long gaming sessions. While it is a plastic frame, it does feel sturdy and I love how Razer mimic the appearance of the PlayStation with its colour combination. The headset can be charged via USB with a total battery time of 30 hours which is more than ample.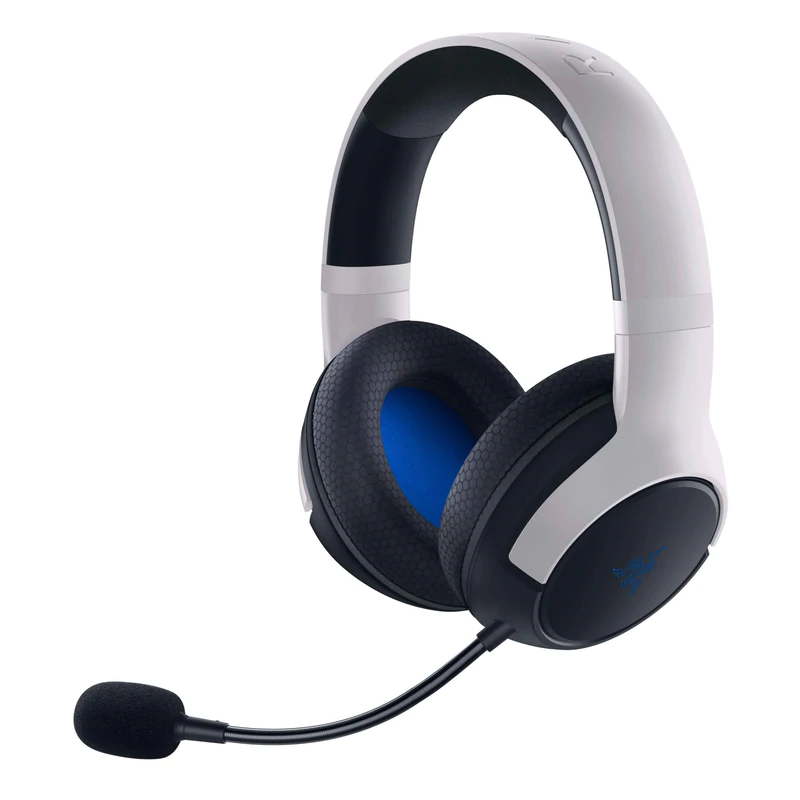 Further, the headband is comfortable as are the cushioned ear cups with its flowknit memory foam that makes it a well-designed gaming headset, including accessible controls. Additionally, Razer even offer a 2-year warranty for additional peace of mind.
Setup is almost non-existence, however to truly maximise your audio experience, you do need to install the Razer audio app that as mentioned allows you to adjust the settings, including Razer's Chroma RGB lighting special effects. However once "linked" to your PlayStation 5, the audio flowed flawlessly from the console to the headset via the magic of wireless technology.
In terms of games, I tested the Razer Kaira Wireless Gaming Headset with Horizon Forbidden West that really enhanced the overall gaming experience as it made the world of Aloy a much more immersive one. Further to this was Call of Duty Vanguard and Assassin's Creed Valhalla that both sounded fantastic and again, brought these two worlds to life. Multiplayer games such as Call of Duty and Fornite had no issues with communication and no complaints from allies… and enemies.
Final Thoughts?
Just like the Xbox Series X version, the Razer Kaira Wireless Gaming Headset for PlayStation 5 ticks all the right boxes and offers PS5 owners an affordable headset that produces great audio from games to streaming!

Recommended!
Key Features
Razer™ TriForce 50mm Drivers – For high-end audio Performance
The Razer Kaira features cutting-edge drivers that can tune highs, mids, and lows separately—producing brighter, clearer sound with richer trebles and more powerful bass.
Razer™ HyperClear Cardioid Mic – For enhanced voice capture
The bendable mic has been fine-tuned to suppress background noise from the back and sides for greater voice isolation, ensuring you'll always be heard loud and clear.
Razer™ SmartSwitch – To toggle between 2.4Ghz and Bluetooth
Easily switch between audio from your console and phone for total convenience while gaming.
Low-latency Bluetooth with Quick Connect – For seamless mobile gaming
Toggle Gaming Mode via the Razer Audio App to reduce latency for smoother mobile gameplay. Utilize its Quick Connect feature to switch between previously connected devices with just one tap.
FlowKnit Memory Foam Cushions – For long-lasting comfort
The ear cushions' breathable weave minimizes sweat and heat build-up, while the dense, ultra-soft foam greatly reduces the headset's clamping force for snug support during gaming marathons.
EQ Toggle – For advanced audio adjustments
Create a custom EQ or cycle through 4 presets via the Razer Audio app on Android/iOS, with options such as FPS Mode for a competitive edge, or Bass Mode for more 'oomph'.
Tech Specs
Headphones
• Frequency response: 20 Hz – 20k Hz
• Impedance: 32Ω at 1 kHz
• Sensitivity (@1 kHz): 108 dB
• Drivers: 50 mm, with Neodymium magnets
• Inner ear cup diameter: Width 45mm / Length 65mm
• Oval ear cushions: Designed for full-ear coverage with heat-transfer fabric, perfect for long-wearing comfort
• Connection type: Wireless via Type-C dongle / Bluetooth
• Wireless range: 10 m / 30 ft
• Wireless frequency: 2.4 GHz
• Battery life: Up to 30 hours
Microphone
• Fixed mic boom
• Frequency response: 100 – 10,000 Hz
• Signal-to-noise ratio: > 60 dB
• Sensitivity (@1 kHz): -54 ± 3 dB
• Pick-up pattern: Unidirectional