Hardware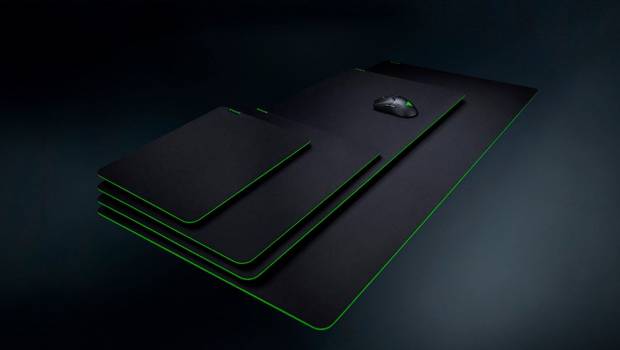 Published on July 31st, 2020 | by Andrew Bistak
Razer Gigantus V2 XXL (Large Mouse Pad) Review
Summary: The Razer Gigantus V2 XXL (Large Mouse Pad) makes your mouse razor sharp!
Okay the GIGANTUS V2 large mouse pad from Razer is almost epic in Greek mythological proportion and the XXL version that we reviewed measures in at a whopping 940mm x 410mm with a thickness of 4mm. If this is not large enough, there is also a 3XL version that gives you a crazy size of 1200mm x 550mm in real-estate, including two smaller sizes that are medium and large.
Gigantus V2 Medium vs. 3XL
At its core, the Razer Gigantus has been designed for gamers to ensure the best performance for their mouse for pixel precision accuracy while they battle ancient evils, fight wars with that latest high-tech weapons and anything else that uses a mouse.
Furthermore its designed with a textured micro-weave cloth surface with a high density rubber foam and anti-slip base. This helps keeps your mouse glide surface flat, smooth and more importantly, it doesn't move whatsoever when you are immersed in your virtual worlds, especially when the action heats up and is quit comfortable on your wrists and lower arms.
Highlights
Available in four different sizes: Medium, Large, XXL, 3XL
Textured micro-weave cloth surface
Thick, high-density rubber foam
Anti-slip base
Installation? HA! You just unpack it from the box and roll it onto your desk and abracadabra, you're ready to mouse and play!
So what's it like to use? It's definitely far superior than using just your desk or a standard mouse pad. The larger mats are great because they encompass your entire desk and gives you a larger space for your mouse to move. More importantly, the mouse glides on the pad quite well and additionally its quite comfortable on your wrist as well.
Final Thoughts?
Sure, it's a mouse pad but the Razer Gigantus V2 XXL (Large Mouse Pad) increases the real-estate space for your mouse considerably and the surface is extremely smooth. So if you're a gamer or even a designer for that matter, the Razer Gigantus V2 is a must have for your desk!
Tech Specs
Medium: 360 x 275 x 3mm / 14.17 x 10.83 x 0.12in
Large: 450 x 400 x 3mm / 17.72 x 15.75 x 0.12in
XXL: 940 x 410 x 4mm / 37 x 16.14 x 0.15in
3XL: 1,200 x 550 x 4mm / 47.24 x 21.65 x 0.15in